Away from the hustle and bustle of the city, Cluny Food Court is a multi-concept dining destination located within the lush flora and fauna of the Singapore Botanic Gardens.
The open-air casual dining space spans 4,036 square feet and sits 47 diners. Diners can choose from five hawkerpreneurial concepts with local foods such as Wanton Mee, Nasi Ayam Penyet and Satay. A drink stall offering local refreshments and local favourites is also available.
Here are some of the foods that we tried at Cluny Food Court.
Food at Cluny Food Court
Laifaba Express
Founded by Chef-owner Royce Lee, Laifaba is a noodle house best known for its "Bu Jian Tian" Char Siew & Wanton Noodles. With the brand's debut at Cluny Food Court, diners can look forward to signature dishes such as BJT Char Siew & Wanton Noodles.
Each bowl of signature QQ (bouncy) noodles is crafted locally from a proprietary recipe, before being tossed in a secret sauce and crowned with succulent wood-fired char siew, plump wantons and blanched Hong Kong kai lan. We really loved the sauce on this wanton mee and recommend giving this dish a try.
The stall's signature BJT Char Siew is prepared only with fresh pork, and gets its name from the prime cut used – pork armpit. This part is used because of its perfect fat-to-meat ratio.
Laifaba Express opens from Tuesday to Sunday, 10:30 am to 6 pm.
---
Mui Kee Express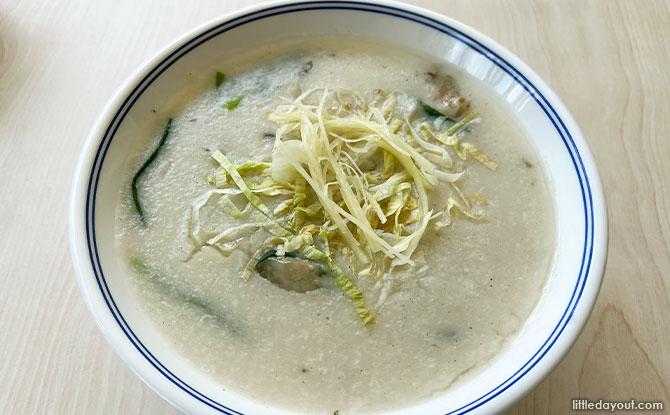 Mui Kee Express started with humble origins that date back to 1979 at a small stall opened by founder Mak Mui in a food centre located in Mong Kok, Hong Kong. It is now managed by its third generation and continues to offer its well-loved and heart-warming range of congee prepared with recipes and cooking techniques passed down from its founder.
At Cluny Food Court, Mui Kee Express offers all-time favourites such as Garoupa Belly Congee. The porridge has generous chunks of expertly-charred chunks of fish belly simmered with silky smooth congee with a tinge of the brand's signature 'wok hei' taste. Diners can also get side dishes such as Drunken Chicken in Shaoxing Wine or Mushrooms with Oyster Sauce.
Drop by on a weekday and tuck into a weekday-only Congee Set Lunch comprising a choice of Century Egg & Shredded Meat Congee or Sliced Beef Congee, with a side of Crispy Dough Fritters and Century Egg.
Mui Kee Express opens from Thursday to Tuesday, 8 am to 6 pm.
---
S'mao Barbecue
S'mao Barbecue specializes in authentic Texas-style barbecue meats as well as prime cuts that are seasoned with salt and coarse black pepper. The meats are grilled in-house over a hardwood fire and have a deliciously-smoky note. At Cluny Food Court, a selection of lunch and dinner options are available.
A highly-recommended option is All in Plate which is a dinner-exclusive platter with two pieces of bone-in pork ribs, honeyed pork belly, a side of pulled pork, fries, mixed pickles, house-made coleslaw and a choice of S'mao BBQ or Carolina Gold sauce, as well as S'mao Beef Burger. The lunch special features a juicy beef patty, melted cheddar cheese, caramelized onions and pickled cucumber and red onions between pillow-soft brioche buns, with a side of fries, coleslaw and a choice of chipotle aioli or green goddess sauce.
S'mao Barbecue opens from Wednesday to Monday, 11:30 am to 2:30 pm (lunch), 6 pm to 9 pm. It is closed on Tuesdays and closed for lunch on the weekends.
---
Piccante Pronto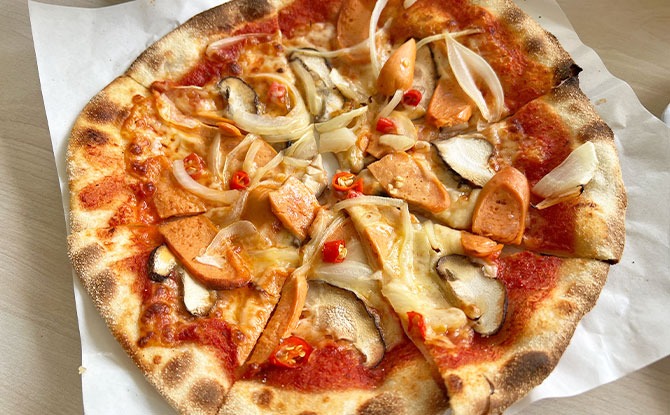 Helmed by a Muslim Chef, Piccante Pronto is the sister establishment of Peperoni Pizzeria. The brand name, 'Piccante', which means spicy or hot in Italian, refers to the fiery repertoire of dishes, while 'Pronto', refers to the fast-quick 'express' menu. Diners can expect hearty dishes such as Roman-style thin-crust pizzas, baked pasta, as well as antipasti, salads and sides peppered with a dash of local flavour.
Highlights include Suprema which is a thin-crust pizza topped with chicken sausage, shiitake mushrooms, onions, and a generous sprinkle of chilli padi. Some other options include that comes topped with bite-sized beef meatball morsels, turkey ham, beef pepperoni and mozzarella cheese. Those in the mood for pasta can try the Mushroom Alfredo which also comes topped with white truffle oil. The store is open from Friday to Wednesday, 11:30 am to 9:30 pm.
---
Project Penyek By Ansar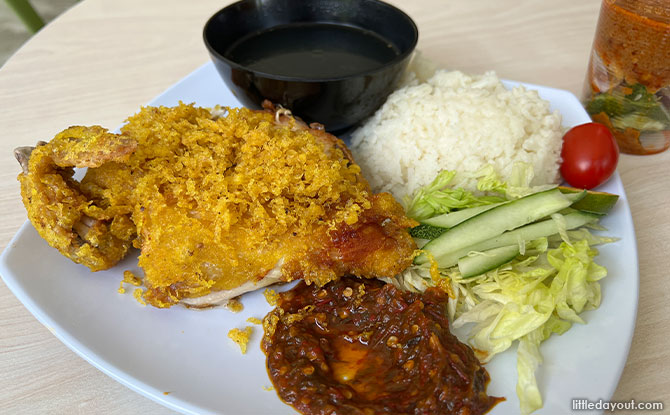 Known for its modern rendition of Ayam Penyet, Project Penyek by Ansar is run by Hairi Ansar, a second-generation hawker-preneur. The first shop was set up at ABC Brickworks Market and Food Centre in 2018. This stall at Cluny Food Court is the brand's second outlet.
Other than the brand's famed Nasi Ayam Penyet and Nasi Ikan Penyet. Project Penyek by Ansar also serves up its signature Seafood Platter which is ideal for sharing, larger appetites as well as a half portion for smaller groups. The dish has ingredients such as flower crabs, whole black pomfrets, succulent giant tiger prawns and sotong or squid, paired with fluffy steamed chicken rice, as well as two types of house-made sauces.
Customers should also try the Roxy Satay, a range of succulent skewers is also offered from 6 pm daily. Customers can choose from chicken, mutton, beef and tripe at $1 per stick, or BBQ prawns at $2 per stick. Satay sticker are served with a house-made peanut sauce, with an additional side of Sambal Kicap for customers who order BBQ prawns.
Project Penyek By Ansar opens daily. Mondays to Fridays, from 11 am to 2 pm and 6 pm to 9.30 pm. Saturday, Sunday and Public Holidays from 11 am to 9.30 pm. It is closed on first and third Monday of every month.
---
Drink Store
The drink store at Cluny Food Court is a little different as it serves local refreshments and some well-loved Singaporean dishes. For breakfast, diners can relish local staples like Traditional Toast Set, some Otah Thick Toast and other local dishes such as Nasi Lemak, Mee Rebus, Chicken Curry and more.
They can also cool down with a variety of homemade desserts such as Cheng Tng or Ice Jelly with Lime Juice.
The store is open daily from 8 am to 9:30 pm.
---
Cluny Food Court At Botanic Gardens
"We envisioned Cluny Food Court to be an incubator for aspiring hawker-preneurs w down through generations to creations paying homage to their personal experiences. We were lucky to be able to bring together these inspiring group of people behind these brands and are pleased to present a truly unique repertoire of cuisines for the project," shared Michele Chang, Group Head Marketing & Communications of Les Amis Group.'
At Cluny Food Court, customers can order across stalls within the free-seating concept. The establishment accepts cashless payments only, via Visa, Nets, Masters, AMEX, PayNow, and GrabPay (launching soon).
Cluny Fodo Court is located beside the Raffles Building at 1J Cluny Road, Singapore 259607