Welcome to the Bamboo Forest
The green hoarding you see at Collyer Quay from 12th to 19th October may not be hiding construction work, but part of a maze instead. Organised by Chengdu Pambassador, the Pandamaze is a fun and educational outdoor exhibition that seeks to raise awareness of the giant panda and panda conservation efforts.
Navigating in Green
The maze, which is open to the public from 11am to 9pm, invites visitors to navigate their way through its bamboo green corridors while increasing their knowledge of giant panda conservation. Along the way, visitors are given clues that point the way out of the maze. Choose the right answer and progress; choose the wrong answer and you would soon find yourself backtracking from a dead end. Panda-related facts are also scattered throughout the maze to educate and pique the interest of visitors.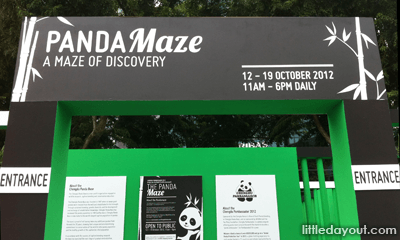 Entrance into the Pandamaze (above).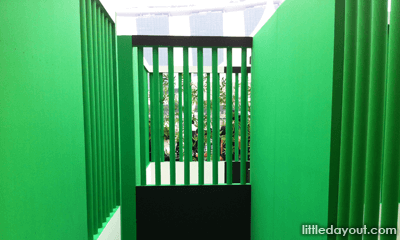 Bamboo-green corridors fitted with "bamboo bars" (above).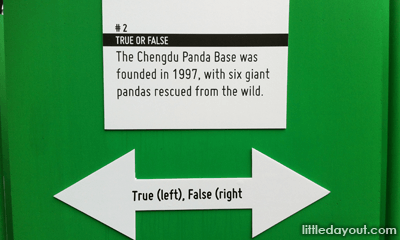 Decisions, decisions, decisions (above)
Learn as you go (above)
Where are the Pandas?
Of course, you would not expect to see real pandas there. Instead, two panda mascots are on hand to represent this endangered species. Unlike real pandas, they are available for free hugs and up-close photo opportunities if you'd like.
Pair of friendly panda mascots.
How Long Will It Take? 
The maze itself is pretty short but serves its purpose to raise awareness about panda conservation. To give you a sense of the length of the maze, the official Chengdu Pambassadors can race through the maze in about a minute and half. However, rather than rushing through, you can take your time to go through the maze but it shouldn't take very much longer either.
Other Suggestions
If you do plan to visit the Pandamaze, you may also wish to visit the nearby Merlion Park on the same trip, or time it in such a way that you can pop by The Esplanade for one of their free performances, or even catch the Marina Bay Sands Lightshow from the far side as well. This may help to maximise your time spent on your Little Day Out!
Pandamaze Event Details
Dates: 12 Oct to 19 Oct 2012
Time:  11 am to 9 pm
Venue: Clifford Pier
Admission: Free