One of the most popular Chinese New Year goodies on the table, pineapple tarts are a Chinese New Year staple. Be it in the shape of rolls, spheres, or open-faced, there are many things to love about this buttery sweet snack! As with many treats, these are also best enjoyed when handmade and baked with love!
If you're looking for some pineapple tarts to get for this festive period, consider supporting some local home bakers pineapple tarts!
---
Home Bakers Pineapple Tarts
Whiskdom
What started as a home baking business is now a popular brand with a whole following of people who call themselves the "whiskies". This Chinese New Year, Whiskdom is releasing a series of pineapple balls in classic pineapple and earl grey lemon flavours. Each container contains 22-23 pieces. Get Free delivery with min. $100 spend. Other products you can get along with these pineapple tarts include their crunchy chocolate chip cookies and the Whiskdom bake box.
---
Under One Floof
 Offering bakes and treats for all occasions, Under One Floof has a series of pineapple tarts sure to appeal to many. Our favourite one is their adorable Moo Moo Pineapple Tarts filled with pineapple jam made from scratch and a buttery tart made from premium butter that melts in your mouth. For the more traditional choose from the pineapple rolls or open-faced pineapple tarts.
Mama Mahs
Offering gluten-free pineapple tarts and nut cookies, Mama Mah's pineapple tarts come in Cashew and Natural Almond nut varieties and are made using a special blend of gluten-free flours, including corn, buckwheat and brown rice. Stocks are extremely limited and should be ordered while they last! They also have Aussie butter and Hokkaido butter options which are assured to delight all who taste it!
---
Blackie Baking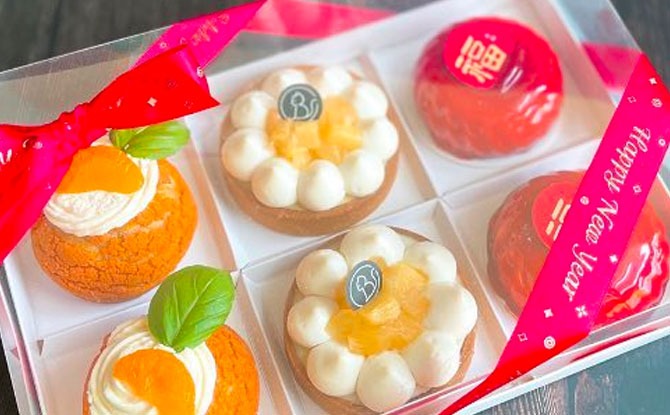 Not the usually pineapple tart, Blackie Baking's Pineapple tart is filled with a creamy mix of sweet pineapple, passionfruit and smooth coconut cream! Other Chinese new year themed goodies that come along with this tart include a mandarin craquelin choux puff filled with a light mandarin crème patissiere, and lastly, the tangy berries compote are mellowed in a light mascarpone vanilla mousse.
---
A Fresh Tart
Made from their original recipe, these melt-in-your-mouth pineapple tarts from home baker A Fresh Start are promised to win the hearts of pineapple tart lovers and pineapple tart lovers-to-be. Each tin of freshly baked homemade and handmade pineapple tarts contain 25 to 28 pieces.
---
Darasserie
Offering eggless buttery pineapple puff tarts, Darasserie's pastries are a great variation for anyone who isn't able to eat eggs due to dietary restrictions or preferences. Each order is freshly baked upon order and shelf life of 5-7 days. There are also pineapple tartlets. All bakes are homemade. Order before January 24 to receive a 10% discount with the code 10OFF. Orders of $60 and above after discount will be applicable for free delivery.