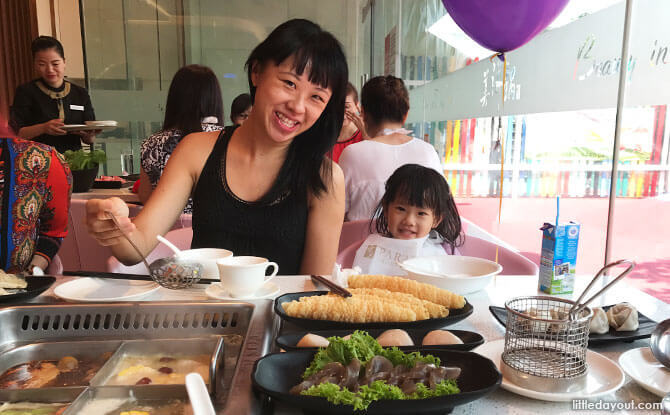 Move over, mainstream hotpot restaurants! Here comes Beauty in The Pot – an absolutely family-friendly dining experience at OneKM!
A Healthy Hotpot Experience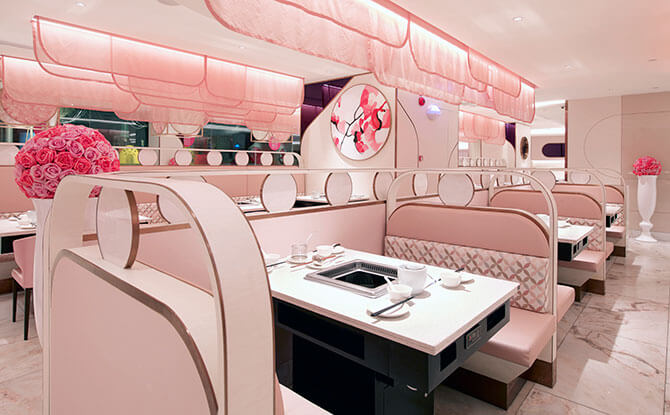 Rolling out the red carpet (pink, in this case) with a gorgeous cherry blossom pink princess theme, the 288-seat Beauty in The Pot is sure to impress both young and old. Kids will especially want to check out their spacious and super awesome outdoor children's playground!
Inspired by the culture of food for health, Beauty in The Pot offers nourishing soup bases that promises rich flavours coupled with benefits. The Paradise Group restaurant serves an extensive menu of fresh ingredients and homemade specialties that will tantalise your taste buds, leaving a yearning for more.
Broth Your Way to Beauty
Start off by personalising your hotpot experience with Beauty in The Pot's soup bases. There are six choices of broth available at Beauty in The Pot's outlet at OneKM.
These are Signature Beauty Collagen Broth (Shark's Cartilage Soup), Signature Spicy Nourishing Soup (Pork Bone Soup), Herbal Drunken Chicken Broth, Cooling Coconut Broth, Longevity Wild Pine Mushroom Broth (Vegetarian) and Vitamin C Tomato Sweet Corn Broth.
Personally, our children absolutely loved the Signature Beauty Collagen and Cooling Coconut Broth.
The former is a collagen-rich, dense soup that was a crowd pleaser at the table. The Cooling Coconut Broth contained fresh young coconuts and had a light sweet-refreshing aftertaste.
Fresh ingredients range from meat and seafood to vegetables and noodles. Handmade pastes, balls and handmade dumplings.
Hot picks which the children enjoyed included fried-crisp-to-perfection beancurd and fish skins. For the slightly more mature palate, in addition to fried items, must-try items include their signature homemade fish tofu, ebiko prawn paste and soft bone pork meatballs.
Beauty in The Pot, OneKM's Children's Playground
Needless to say, the highlight for children is the absolutely amazing outdoor playground at Beauty in The Pot OneKM Mall.
The children's playground has a toddler area and another much larger playground structure for older children.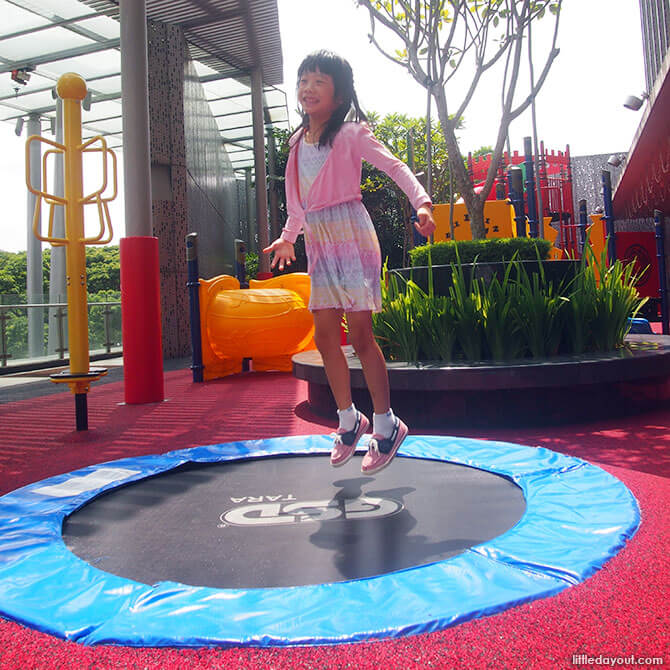 And beckoning every child's heart (adult's too maybe?) is a bouncy trampoline!
There are safety features such as having a soft fall ground and cushioned pillars to quell any parent's fears.
Dear parents, you've been warned. Expect to have a relax dining experience while looking on at happy little faces running amok at the other side of the glass panel.
Family-friendly Dining Amenities
Aside from possessing one of the greatest playgrounds we've come across in a Singapore restaurant, small child-friendly touches make a big difference to traditional hotpot experience.
Children utensils, baby high chairs, helium balloons and apron covers (actually meant for adults, but doubles perfectly as a child's bib) are some of the little gestures that certainly goes a long way.
Beauty in The Pot, OneKM
Where: #03-38, OneKM, 11 Tanjong Katong Road, Singapore 437157
Opening Hours: 11.30 am to 3 am, daily
Website