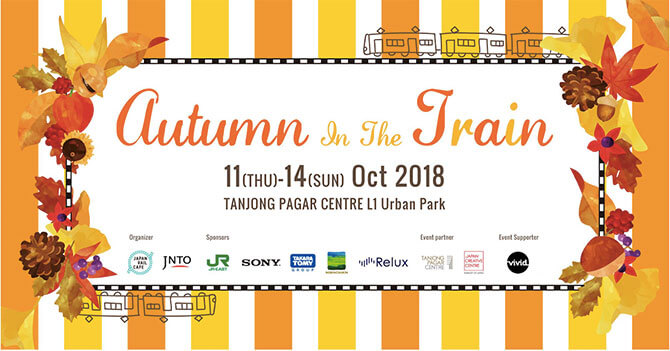 Railway Day (Tetsudou-no-hi) on 14 October is an extremely special day for Japanese train enthusiasts as it marks the opening of Japan's first railway back in 1872. For this special day, Japan Rail Café at Tanjong Pagar Centre will be organising Autumn in the Train, a train-themed event, from 11 to 14 October 2018.
Autumn in the Train by Japan Rail Cafe at Tanjong Pagar Centre
The week-long event will see the Tanjong Pagar Centre Urban Park transformed into a festival ground with a train-like concept in which young and old can enjoy a line-up of exciting rail-themed food and activities.
Look out for food items such as autumn-themed cakes by Chef Yamashita, marron cream buns from Hattendo Singapore, roasted sweet potatoes and melon cream buns from Japan Point and much more.
Beside the yummy food, here are other highlights at Japan Rail Café's Autumn in the Train event that you can look forward to!
---
Free Screening of Jimami Tofu by BananaMana Films
Following the exclusive release of Jimami Tofu earlier this year, this popular film will be screened for free at Autumn in the Train! The winner of the Audience Choice Award for Best Narrative Feature Film at the 37th Hawaii International Film Festival in 2017, Jimami Tofu tells the romantic story of two star-crossed lovers: a Chinese-Singaporean chef who embarks on a journey to discover the art of traditional Okinawan cuisine and a famous Japanese food critic uncovering the wonders of Southeast Asian flavours in Singapore.
Having enjoyed sold-out screenings in Los Angeles, Okinawa, and San Francisco, local audiences will now get the chance to watch it for free at Autumn in the Train on 11 October! Meet with directors Jason Chan and Christian Lee after the movie screening and get answers to any burning questions you might have of the film.
Date: Thursday, 11 October 2018
Time: 7.45 pm to 9.45 pm
---
Weekend Cinema by the Japan Creative Center
Fans of Japanese anime and movies are in for a real treat as Japan Rail Café and the Japan Creative Center by the Embassy of Japan in Singapore come together to present a marathon of anime and movies at Autumn in the Train!
First up, the Makoto Shinkai Animé Marathon on 13 October, 5 pm to 7 pm, featuring some of the famous Japanese animator's works, including "5 Centimeters per Second", "Voices of a Distant Star", and "The Garden of Words".
On 14 October, catch special back-to-back screenings of Chibi Maruko-chan, one of Japan's longest running manga and animé series, and Robo Ji (Robo-G), a Japanese comedy about a 73-year-old Ojisan and a college student obsessed with robots, from 6 pm onwards, only at Autumn in the Train at Tanjong Pagar Centre.
Back in the 90s, Chibi Maruko-chan was a TV staple for Japanese children, who would catch the cartoon every Sunday at 6pm! Get a glimpse into the everyday life of Momoko Sakura and her family in 1974 suburban Japan.
Robo Ji (Robo-G) is a 2012 Japanese comedy film directed by Shinobu Yaguchi and tells a story of a cranky old widower who is hired by three members of a robot research team to squeeze into a battered robot shell and take part in a robot show.
---
Pikachu "Meet & Greet" Session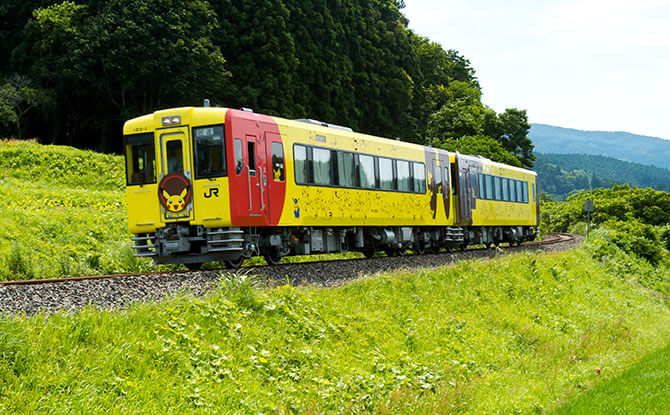 Pikachu fans, unite! To commemorate the makeover of the "POKÉMON with YOU"  train in Japan, JR East will be bringing Pikachu to Singapore for special "Meet & Greet" sessions at Autumn in the Train. Come along for the ride and jump on this rare opportunity to snap photos with Pikachu at the train photo panel!
Pikachu "Meet & Greet" Dates and Times:
11 & 12 Oct, 1 pm to 1.30 pm
13 & 14 Oct, 2 pm to 2.30 pm
---
Family Yoga at Autumn in the Train
Love yoga and have always wanted to get your children in on the action? Take part in Q Yoga's family yoga event at Autumn in the Train on 13 or 14 October from 12pm to 1pm, and namaste along with other mummies, daddies, and kiddies at Tanjong Pagar Centre's Urban Park!
To register, please visit the links below:
Saturday, 13 Oct: https://qyogaevent2.peatix.com/
Sunday, 14 Oct: https://qyogaevent.peatix.com/
---
Large Screen Train Video Game "DENSHA DE GO"
Those who have always harboured dreams of driving a train can also do so at Tanjong Pagar's Autumn in the Train – on the big screen. There will be different timings every day – check the event page for details.
For more information about Autumn in the Train, visit the event's Facebook page.