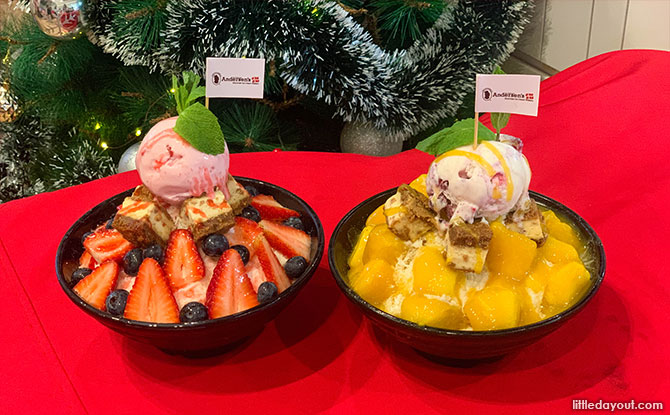 In celebration of Andersen's of Denmark's 30th Anniversary in Singapore, they have come up with various new items on their menu, as well as initiatives to celebrate happiness with the community.
---
Andersen's of Denmark: Gourmet Ice Cream
Andersen's of Denmark is a gourmet ice cream maker that designs, produces and sells quality ice cream together with other quality confections including their bestselling Danish waffles and ice cream cakes. Their ice cream uses ingredients such as milk from Australia, premium chocolate from Belgium and signature flavours from Denmark.
The new release items include a new serving size for their ice cream – The Dandy Cup. Created for convenience, customers can continue to enjoy delicious ice cream on the go in single person 100ml servings.
Another new item on the menu features Danish inspired Bingsu, that introduces premium Danish ice cream flavours to the traditional Korean dessert that is made up of fine ice shavings and various toppings. There are 4 flavours to choose from, namely Mango Blondie, Creamy Cookies, Strawberry Tickles and Triple Chocolate Fantasy.
Andersen's is also introducing an all-new and improved Belgian waffle to the menu. Using authentic Belgian ingredients, the waffles can be customised with toppings such as fruits, confectioneries and sauces. To top it off, a scoop of premium Andersen's ice cream of choice will be added to the waffle.
---
Review of the Belgium Waffles and Bingsu
I was first served with the new Belgium waffles in 2 flavours, Black Forest and Mixed Fruits.
The Black Forest has blueberries, whipped cream and strawberry syrup drizzled over the Mocha Almond Fudge and Macadamia Nut ice cream as well as the chocolate waffle. The waffle was crispy and chewy, and both ice creams had nuts mixed into the ice cream which provided a crunchy mouthfeel and tasted sweet.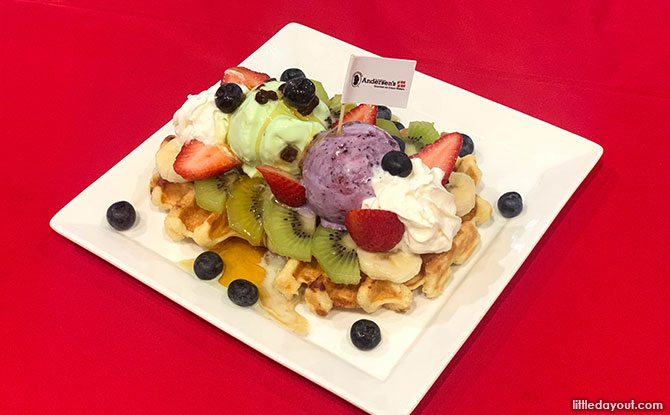 The Mixed Fruits has banana, kiwi, strawberry and blueberry toppings on the Danish waffle, with honey on the side to drizzle over the dessert. With Blueberry and Mint Chocolate Chip ice cream flavours paired with the waffle, it tasted delightfully sweet and refreshing.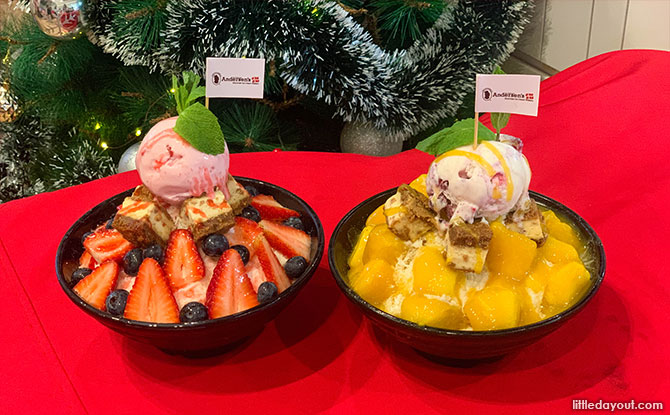 Next up, the Danish-inspired Bingsu. I tried Strawberry Tickles, which has strawberries, blue berries, cheesecake pieces and strawberry ice cream topped on milk shaved ice. It was overall quite sweet and provided a melt-in-your-mouth experience which was rather satisfying. The other flavour I tried was the Mango Blondie, which has fresh mangoes, cheesecake pieces and Fruit of Forest ice cream topped on milk shaved ice. The mangoes were not particularly sweet or sour, and it tasted very refreshing, making it my favourite dessert so far.
---
Monthly Children Workshops at Andersen's Jewel
Andersen's also hosts monthly workshops for children that aims to cultivate good reading habits, on the third Sunday of each month. Workshops will be based on Danish author Hans Christian Andersen's fairy tales, run by volunteer teachers. Participants will attend a storytelling session and a craft workshop, and receive a free scoop of ice cream and bookstore vouchers. This is held at Andersen's flagship branch at Jewel.
---
Enjoy ice cream cakes while giving back to the environment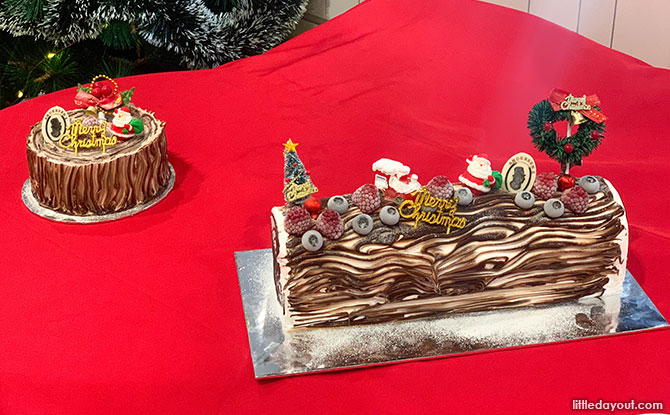 As part of Andersen's efforts to give back to the environment, in conjunction with the Plant a Tree Programme with National Parks Board, they pledge to plant a tree for every 100 Christmas log cakes sold this year. You may order their signature ice cream cakes that are available in thirteen flavours and three sizes, 500g, 1kg & 2 kg depending on the design.
To stay updated on Andersen's Ice Cream events, you may check out their website.