Planning to pay a visit to Hong Kong? Whether it is your first time or your fifteenth, the bustling city always has something to offer and places to explore. Wondering about things to do in Hong Kong? We've put together this list of places and experiences that you can try out the next time you are in the Fragrant Harbour.
20+ Things to Do in Hong Kong
Ride the Cable Car at Lantau Island
The Ngong Ping 360 Skyrail is a cable car system at Lantau Island. Ride the cable car to reach the Tian Tan Buddha. For those who don't have a fear of heights, there is an option to take a cable car with a glass bottom for unforgettable ride.
Dine at Jumbo Floating Restaurant
Designed to look like an ancient palace, Jumbo Floating Restaurant is an icon of Hong Kong. If you are looking for things to do in Hong Kong during the evening, make a meal at this floating restaurant part of your plans.
Learn the Hong Kong Story at the Hong Kong Museum of History
With more than 4,000 exhibits on display, discover the Hong Kong stories through eight different galleries at the Hong Kong Museum of History. Keep a look out for special exhibitions or traveling exhibitions held at the Museum too.
---
-- Story continues below --
Enjoy Life By the Beach at Repulse Bay
Head over to Repulse Bay on the southern part of Hong Kong Island, an upmarket area with a relaxed vibe. Unwind by the water or let the kids play on the sand. There are also plenty of dining eateries at Repulse Bay too.
Enjoy High Tea at The Peninsula
The Peninsula Hotel is an iconic landmark of Hong Kong. To experience the high life, make a reservation for afternoon tea and savour the elegant surrounds of this grand hotel.
Spend Some Time at Stanley Village
Located on the southern end of Hong Kong Island is the village of Stanley. At Stanley Market, you will find little shops with knickknacks, silk garments and jewellery to browse through and be tempted to buy and take home. Beside the Market, there is also a beach and historic buildings to visit.
Get Old-School on the Hong Kong Tramway
Hong Kong's electric-powered, double-deck trams run up and down Hong Kong Island. It is more than 100 years old and one of only three tram systems still in use around the world. Hop on board to experience a slice of Hong Kong.
Go Eco at Hong Kong Wetland Park
If you are looking for things to do in Hong Kong that takes you away from the city, Hong Kong Wetland Park is an ecotourism park where you can enjoy nature around its various boardwalks and trails.
Have Breakfast at a Cha Chan Teng
Have a traditional Hong Kong-style breakfast of a luncheon meat and egg sandwich or instant noodles at a hole-in-the-wall Cha Chan Teng. Wash it down with a cup of milk tea for good measure.
Visit Hong Kong Disneyland
Experience the magic of Disney at Hong Kong Disneyland. With thrilling rides such as Hyperspace Mount and classics such as It's a Small, Small World, Hong Kong Disneyland is a must-visit with kids and for kids-at-heart.
Temple Street Night Market
Hong Kong is famous for its shopping and when the sun goes down, the shopping carries on into the night at the night market. The lively Temple Street Night Market in Kowloon is where you can browse through various stalls selling everything from snacks to knickknacks.
Peak Circle Walk
Want to get in some exercise while soaking in stunning vistas of Hong Kong? The Peak Circle Walk is a 3.5 km route that snakes round the Peak. It is an easy hike with panoramic views of the harbour and even includes a waterfall along the way.
Sail the Star Ferry
The Star Ferry has been sailing the waters between Kowloon and Hong Kong Island since the late 1880s. It is one of the cheapest iconic rides that you can experience in Hong Kong. Board the green ferry from either Tsim Sha Tsui or Central and enjoy the view of one of the world's most famous harbours.
Hike the Dragon's Back
Take a hike along the Dragon's Back trail and you will forget that you are in one of the most densely populated cities in the world. This hiking trail can be found on the southeastern end of Hong Kong Island and will take you up and down rolling hills. It was named Asia's best hike in 2004 by Time Magazine.
Take a Culture Trip at the Flagstaff House Museum of Tea Ware
Learn about the importance of tea drinking to the Chinese at the Flagstaff House Museum of Tea Ware. This museum specialises in the collection and display of tea ware. The building it is housed is over 170 years old and was once the office of the Commander of the British Forces in Hong Kong.
Monkey Around Kam Shan Country Park
Located to the north of Kowloon, Kam Shan Country Park was once the location of military installations including trenches and bunkers. Nowadays, it is the where you can find reservoirs and nature walks. Golden Hill at Kam Shan Country Park is also known as Monkey Hill and famous for its macaques.
Hop By Rabbitland
Fancy meet some cute bunnies? Pay a visit to Rabbitland, Hong Kong's first rabbit café. Rabbitland is located at Causeway Bay and visitors need to be at least four years old to be admitted.
Victoria Peak and the Peak Tram
Victoria Peak is one of the things to do in Hong Kong that everyone makes a point to do. From its high vantage point, you can survey the view of the city beneath. The best way to get up to Victoria Peak? The Peak Tram, of course. However, try to go early or on a weekday to avoid the long tram queues.
Tuck Into Dim Sum
Dining on dim sum is an essential part of any Hong Kong experience. Choose from a traditional restaurant or one of those that offer a contemporary take on this Hong Kong staple.
Day Trip to Lamma Island
With a laid-back island atmosphere, Lamma Island is just a ferry ride away from the city. This former traditional fishing village is where you can explore trials, pay a visit to a fisherfolk's village and have some seafood. Lamma Island offers a respite for those who need a break from the bustle of the city.
Spend a Day of Fun at Ocean Park
Ocean Park Hong Kong has it all. View animals like giant pandas, fishes and seals, go on exciting thrill rides and even experience an old Hong Kong street. For those looking for fun things to do in Hong Kong, Ocean Park should definitely be one of the stops.
Geek Out at the Hong Kong Science Museum
If you are looking for things to do in Hong Kong that are both educational and entertaining, pay a visit to Hong Kong Science Museum. Many of its exhibits are hands-on in nature and it often plays host to visiting interesting exhibitions too.
Ascend the Mid Levels Escalators
The longest outdoor covered escalator system in the world can be found on Hong Kong Island. The escalator system makes its way up 135 metres from Central to the Mid Levels and a ride on it is an experience in itself.
Visit Tai O Fishing Village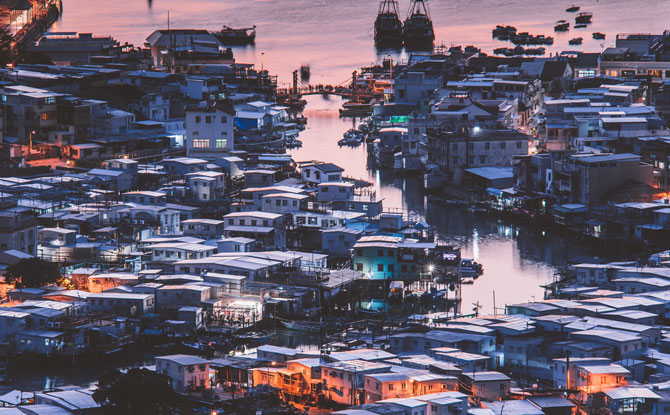 Step back in time at Tai O Fishing Village. Sometimes referred to as the Venice of Hong Kong, this traditional village with stilt houses can be found off the coast of Lantau Island.
Enjoy a Stroll Along Tsim Sha Tsui Promenade
Front Victoria Harbour is the Tsim Sha Tsui Promenade. Take a stroll along the waterfront for views of the Hong Kong Island skyline and pay a visit to attractions found along Promenade such as the Hong Kong Space Museum and Hong Kong Museum of Art.
Hunt for Antiques at Cat Street
Upper Lascar Row, also known as Cat Street, is a narrow alley where you can find many antique shops. Go on the hunt for a bargain or just browse through the various antiques on sale along this street on Hong Kong Island.
Go Shopping at Ladies Market in Mongkok
Even if you don't intend to buy any knock-offs, you can still soak in the atmosphere at the Ladies Market in Mongkok. There are vendors selling fashion, watches and leather goods. It is also a good place to pick up your "I HEART HK" t-shirt.
This feature includes Klook affiliate links.