The Central Fire Station and Civil Defence Heritage Gallery, the Singapore Philatelic Museum, the National Museum of Singapore and the Peranakan Museum. Places that parents with young kids would be familiar with. However, what may be less familiar is the historic Fort Canning Park on whose slopes these places reside.
With a history stretching as far back as 14th Century Temasek, there are few places in Singapore where the layers of history go down as deep as at Fort Canning Park.
One of the few remaining high points left in the city area (the others being Pearl's Hill in Chinatown, Mount Emily and Mount Sophia), it has been called by many names in its long history.
Previously known as Bukit Larangan or Forbidden Hill, tradition held it to be the site of the ancient Majapahit kings' palaces and their burial grounds. Few locals then would dare to ascend the hill for fear of disturbing ancient spirits.
However, after Raffles built a bungalow on the hill in 1822, it became known as Government Hill and became the residence of Singapore's colonial governors. The house was eventually demolished in 1859 to make way for a fort.
Along with the new fort came a new name, Fort Canning Hill, in honour of the last Governor-General of India under the East India Company and first Viceroy of India, Lord Canning. The fort was eventually demolished between 1923 and 1927 to make way for the service reservoir that still stands at the top of the hill today.
---
Story continues below
Parenting is a 24/7 job. You can't apply for leave. But for your sanity's sake, you're allowed to sneak out for a little break...
Go ice skating. Complete an inflatable obstacle course. Become a human claw and grab attractive prizes! Fun times await at Aperia Mall's Christmas Village,...
---
Even with the fort was gone, the hill's association with the military continued. The British Far East Command Headquarters occupied the building that is currently the Fort Canning Hotel.
Tunnels were built into the hill in the 1930s by the British. These were used in February 1942 and the fateful decision to surrender Singapore was made inside these bunkers.
Today, Fort Canning Park is more likely to be known as the location for the Registry of Marriages, and as a site for weddings, concerts and performances. It is a beautiful park that offers lush green spaces and a unique way to connect with Singapore's past.
For those willing to venture up the hill and explore this park, here are some spots to look out for.
Raffles Terrace, Fort Canning Park
Just behind the Central Fire Station, opposite Funan Centre, is Raffles Terrace. It is named after Sir Stamford Raffles who built a house nearby in 1822 on his last visit to Singapore. (Note: The current 'Raffles House' building is new.)
In fact, Raffles liked the spot so much that he wrote to his friend saying, "We have lately built a small bungalow on Singapore Hill where, though the height is inconsiderable, we find a great difference in climate. Nothing can be more interesting and beautiful than the view from this spot. The tombs of the Malay Kings are close at hand, and I have settled that if it is my fate to die here, I shall take my place amongst them".
Just in case you were wondering, Raffles' fate was not to die in Southeast Asia. Instead, he died in 1826 and is buried in Hendon, Greater London.
The current Raffles Terrace was unveiled in October 2003. It features replicas of three important communication devices from the past.
The Flagstaff was used to signal to the town that a ship had arrived in the harbour. Once a day, the Time Ball would be dropped at 1 pm to allow people in the town below to set their clocks accurately (imagine the scene of New York Time Square ball dropping on New Year's Eve).
The Fort Canning Lighthouse stood on the hill from 1902 to 1958 and was used as a navigational beacon to ships. This was from a time when Singapore's shoreline was a lot closer to the hill.
Archeological Dig Exhibition
The first modern archaeological dig on Fort Canning Hill took place in 1984. This focused on the area near the Keramat Iskandar Shah, believed to be the grave of the last king of ancient Singapore.
Based on this and subsequent digs, new evidence was unearthed on Singapore's pre-1819 history. Artefacts recovered include Chinese and Malay-style pottery, coins, glass and metal. These objects date as far back as the 1300s, pointing to Singapore's place in ancient trade routes. These can be viewed at the Archeological Dig site at Fort Canning Park.
Fort Gate at the Fort Canning Hill
After the fort was demolished in the 1920s, its gatehouse and its impressive doors were left standing. They are a reminder of the colonial fort that once stood at the top of the hill. The fort included barracks, a hospital and gunpowder magazines.
For a little adventure, look behind one of the massive gates and you will find a doorway with stairs leading up to the roof of the Fort Gate.
Nearby is a Sally Port, an escape hatch for soldiers to secretly exit the fort. There used to be three sally ports leading out of the fort but now only one remains.
The Battlebox
Tunnels were secretly built under Fort Canning between 1936 to 1938 by the British. With 30 rooms designed to house the nerve centre of military planning operations, it was used by Lieutenant General A. E. Percival from 11 February to 15 February 1942 during the closing days of the Battle of Singapore.
The decision to surrender Singapore was taken inside the Fort Canning Bunker. It was also from here that Percival set off to the Ford Motor Factory at Bukit Timah to surrender on 15 February 1942.
The Battle Box was sealed off in the 1960s and rediscovered by a journalist in 1988. It reopened to the Public as a fascinating museum in 1997 but closed in 2013 for "maintenance". Before it closed, it provided a captivating look at wartime operations and the decision to surrender Singapore, described by Churchill as "the worst disaster and largest capitulation in British history."
Hopefully, the "maintenance" period will be over soon. The NParks website states that the Battle Box will reopen in September 2015 and a sign at an office in the park said that it would reopen in June 2015.
Note: The Battlebox has reopened. Read more about The Battlebox here.
Singapore Pinacothèque de Paris (Closed)
Pinacothèque de Paris, the largest private art museum in Paris, will be opening its first venue outside of Paris at Fort Canning Centre on 30 May 2015. The Singapore Pinacothèque de Paris is a fine art museum, similar to the one in France. Its permanent gallery will include pieces by artists such as Rembrandt van Rijn, Jackson Pollock and Claude Monet.
Its first exhibition is Myth Of Cleopatra. The exhibition will explore the myths and mysteries surrounding of the Egyptian queen Cleopatra. The exhibition will be held from 30 May to 11 October 2015.
Opening hours for the museum are 10 am to 7.30 pm, Sunday to Thursday, and 10 am to 8.30 pm on Friday and Saturday.
There will also be a Fort Canning heritage gallery dedicated to the history of Fort Canning. Admission to the heritage gallery will be free.
Noted: Singapore Pinacothèque de Paris closed in April 2016.
9-Pound Cannons
Previously, as a military garrison, the Fort was armed with seven 68-pound guns, eight 8-inch guns and two 13-inch mortars. A 68-pounder was fired at 5 am each morning to mark the start of the day.
Today, there are two 9-pound cannons at Fort Canning Park. Not originally from Fort Canning, they nonetheless make a wonderful photo-taking spot.
Click here to download NPark's printable worksheet for Fort Canning Park.
Arts in Your Neighbourhood returns from 7 to 24 November 2019, bringing exciting performances and memorable arts experiences to your doorstep. Get ready for...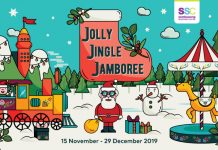 This yuletide season, Sembawang Shopping Centre is celebrating the festive spirit with a Jolly Jingle Jamboree from 15 November till 29 December 2019. Families...
FEATURED LISTINGS