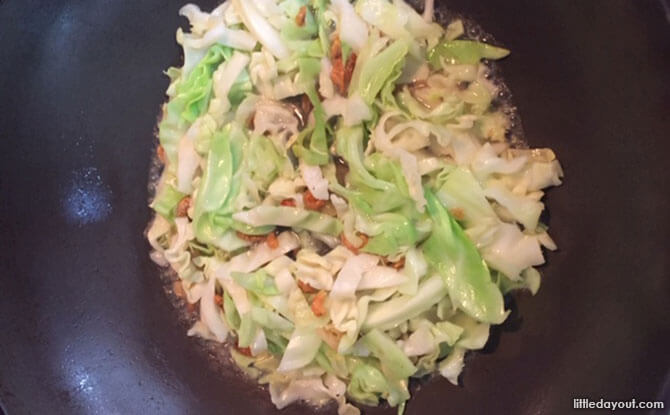 With the Circuit Breaker period now in place, you could have minimised your trips to the supermarket or wet market.
The next time you head there, you might want to grab a round cabbage. It lasts longer in the fridge compared to green leafy vegetables and tastes just as great.
Cabbage on its own is sweet and all you need to do is to throw in some prawns to give this dish an edge.
I normally cook this with dried prawns as it pairs well with cabbage and adds flavour to the stock.
---
-- Story continues below --
However, for an even healthier version, you can cook this easily with fresh prawns. With this version, your child can help with de-shelling the prawns.
The older kids would also enjoy dicing up the round cabbage.
Have fun together with this simple to cook dish!
Recipe for Stir-fried Cabbage with Prawns
Ingredients
1 small round cabbage
1 slice of ginger
1 tablespoon of dried prawns
A few fresh prawns (as an alternative to dried prawns)
Oil
Salt
Method
Slice thinly into strips a small portion of the round cabbage
Wash and dry the dried prawns.
Smash a slice of ginger.
Heat oil in pan.
Place in the ginger and a little salt.
Stir fry the dried prawns. (If using fresh prawns, go to the next step.)
Add cabbage, stir-fry it then add a little water for it to get cooked. (Don't overcook the cabbage as it will turn out soft).
Add the fresh prawns.
Good for a family of three to four.
Simple #homecooked-recipes is a new daily series specially developed to inspire beginner cooks with work and kids to handle, and not much time to spare in the kitchen. The recipes are deliberately simple enough even for kids to help you with them. Click here for more simple home-cooked recipes.