If you think kids are the only ones who can be glued to an iPad, you will be tickled that find out that penguins can be too. At the Perth Zoo, 'Pierre', a rare Northern Rockhopper Penguin who is rehabilitating at the zoo's wildlife hospital has become iPad savvy.
---
Rescued
Pierre is the only Northern Rockhopper Penguin being cared for at a Zoo in Australasia. He is thought to be less than one year old and currently not waterproof so he can't be released back into the wild.
He braved a record-breaking swim from islands in the Indian or South Atlantic Ocean before washing ashore on a beach in the South-west region of Western Australia.
---
Enrichments (including Watching Pingu)
The keepers at Perth Zoo have been providing him enrichment to ensure his days are fulfilled.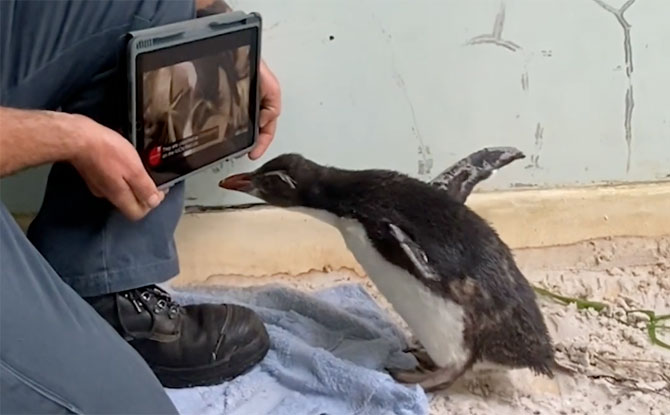 In order to ensure he is able to still see and hear penguins of his type, the zoo started playing him rockhopper penguin documentaries on the iPad.
He has also been shown live streams of rockhopper penguins in other international zoos suc as the Kansas City Zoo in the United States and the Edinburgh Zoo in the United kingdom.
It turns out that he is also a fan of the children's claymation series Pingu.
Pierre is currently experiencing feather moulting problems. As such, his feathers are not waterproof enough for him to be released to the wild. In the meanwhile, the Perth Zoo veterinary team is taking care of him as he recovers.
---
Rockhopper Penguins
Rockhopper Penguins are among the rarest penguins in the world. The global population is thought to be less than 240,300 breeding pairs.
The species are known for their distinctive eyebrows. Unlike other penguins which slide around on their bellies, Rockhoppers prefer to hop about the rocky shores of their colony's grounds.
Perth Zoo is working with international Zoo colleagues to find a suitable home to ensure he has company as he continues his rehabilitation.