If you are looking for an interesting park in Pasir Ris to explore, Pasir Ris Sea Shell Park is a space that is worth checking out! Located on top of a hill, there are many things to explore in the park including unique water features, a playground, exercise stations and the overall theme of seashells.
---
Pasir Ris Sea Shell Park Fish Head Fountains
For those entering from the entrance near Block 445 of Pasir Ris Street 4, you will be greeted with a unique water feature of fish heads. These fishhead water features are seen at each level of the park and look like they are designed so that when it rains, the water will be directed from a pipe to pour out of the fish's mouth.
Pasir Ris Sea Shell Park Exercise Stations
As you reach the top of Sea Shell Park, visitors will be able to see the different exercise stations that are uniquely placed in the middle of short domes that are textured to look like the outside of a white seashell. There are various exercise structures such as leg presses, bars and more.
There is also an open area with a concrete floor and fish motifs. This section of the park is filled with lots of plants and there is also another smaller exercise corner.
---
Pasir Ris Sea Shell Park Playground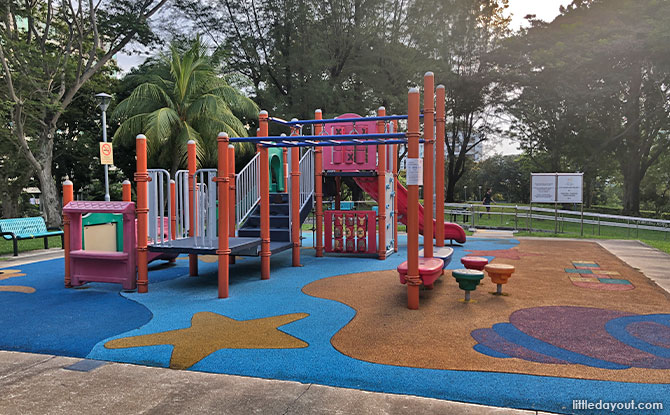 Like many parks, Sea Shell Park has a playground right at the top of the hill. This playground has padded flooring covered in more sea-themed motifs such as sea stars, seashells and seahorses. There is also a hop-scotch outline on the floor that can be used during play.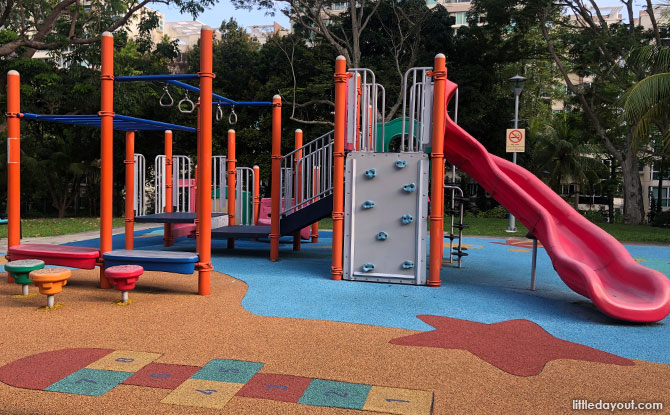 The playground is relatively large and has a section of the play area that is great for climbing. There are two monkey bars, each with a different grip as well as a mini rock-climbing wall. There are two long slides as well as two movable interactive boards, which make it great for multiple kids to play on it at a time.
---
Pasir Ris Sea Shell Park
The Sea Shell Park has a shelter that is shaped closely to a seashell from the side and the two stone benches can be sat on. From this seashell shelter, one will be able to get a good view of the playground as well as the sky from the top of the hill. There is also a concrete path around the circumference of the park for running or jogging
Sea Shell Park is located at Blk 445, Pasir Ris Street 4