Located at the University Cultural Centre of the campus, the NUS Museum comprises of nine galleries and additional ancillary spaces which host a range of exhibitions, module collaborations and supporting programmes that contribute to the cultural and interdisciplinary conversation within NUS and beyond. Here are the permanent exhibits that you can expect to see at the NUS Museum.
---
Permanent Exhibitions at NUS Museum
Fistful of Colours: Moments of Chinese Cosmopolitanism
This exhibition brings together artworks from the late Qing Dynasty to the present moment to explore the social history of art. Many of the artefacts have an emphasis on the situatedness of Chinese ink works amidst its political milieus.
The concept of the exhibition makes reference to Chinese cosmopolitanism as proposed by scholar Pheng Cheah, thus, telling a story of the social life between artists and society through both modern and contemporary experiences of the overseas Chinese intellectual and mercantile communities along with their pursuits of Chinese modernity, and their collective cultural commitments in the early days of globalisation.
---
-- Story continues below --
Fistful of Colours also pays tribute to its beginnings in the Lee Kong Chian Art Museum established at Nanyang University in 1970 and explores the genealogy of art collecting practices in a modern Chinese context. Visitors can see selected artworks and their journey to the Lee Kong Chian Collection at the NUS Museum.
---
Wishful Images: When Microhistories Take Form
This exhibition explores the impact of contemporary geopolitical realities recounted under the Asian Cold War through a re-historicisation of the past into the present. Wishful Images resembles a collective attempt to relate lesser-known historical events through the persistent efforts of five artists— Lucy Davis, Kao Chung-Li, Kuniyoshi Kazuo, Nguyễn Trinh Thi, and Aya Rodriguez-Izumi — whose artistic practices question the governmentality between the lived and the non-living.
The Wishful Images exhibition features artist films, experimental animations, photographs, prints, audio, and archival documents.
---
Wartime Artists of Vietnam: Drawings and Posters from Ambassador Dato' N. Parameswaran Collection
The exhibition takes as its preamble a line from the poem A Soldier Speaks of His Generation (1973): "…our generation has never slept". With focus placed on the works of eight key artists who were assigned to the front as war artists by the government in Hanoi, the exhibition prompts questions into the agency of the artworks and narratives associated to them as opposed to viewing them as 'wartime art' which may elicit perspectives into specific experiences of conflict.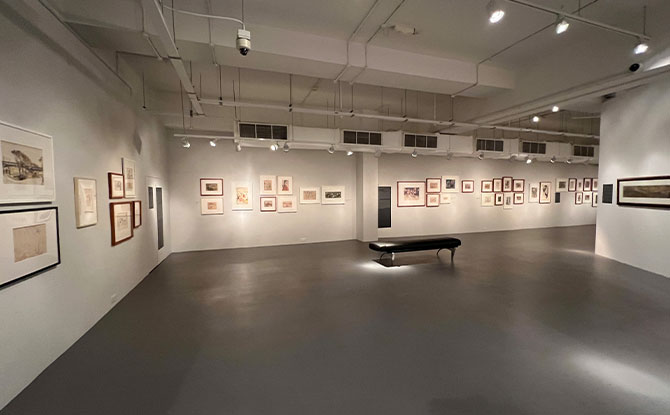 Wartime Artists of Vietnam will be the fourth in a series of shows drawing from this collection, which has been on long-term loan to the NUS Museum since 2015 to exhibit, research and facilitate teaching. This collection consists of 1,208 wartime artworks and is one of the largest known private collections of its kind outside of Vietnam. It comprises 858 drawings in various media, 143 hand-painted posters, 74 printed posters, 74 woodcuts, 46 photographs and 13 paintings.
---
Ng Eng Teng: 1+1=1
Ng Eng Teng (born in 1934) was an artist who worked across the various disciplines of painting, drawing, sculpture and ceramics. He was first trained at the Nanyang Academy of Fine Arts (NAFA), and he went on to further his art education in the United Kingdom. His last work before his passing in 2001, The Last Masterpiece, is completed posthumously and is presented in this exhibition.
1+1=1 is a "geometric" series produced by Ng Eng Teng as a means to re-read the artist's practice. Presented with excerpts from a conversation between the artist Ng Eng Teng and art historian Constance Sheares, this exhibition is an attempt to prompt a reading of Ng Eng Teng through the motifs of spacing, difference and one-ness.
The Ng Eng Teng Collection at the NUS Museum consists of over 1,100 objects donated by the artist to the university, between 1997 and 2001. It remains, at present, the most comprehensive collection devoted to a single artist in Singapore.
---
Radio Malaya: Abridged Conversations About Art
This exhibition follows an earlier project Between Here and Nanyang: Marco Hsu's Brief History of Malayan Art (2013 – 2016). It continues to see how the collection may be read in relation to writings on art and cultural history.
As a backdrop to the evolving discussion on Malayan culture which Hsu was part of, the exhibition introduces selected writings by T.K. Sabapathy and S. Rajaratnam, the former pertains to Southeast Asian art historiography and the latter as a call for a cultural history that forms part of shaping of community and nation.
These frames provide ways to consider the Museum's collection whose collecting histories may be associated with Malaya's period of formation and the evolving project of art history.
---
Prep Rooms
Yang tidak lupa ("The one who did not forget")
Exploring the multiple ways of tracing feminine identities in Malaya and Singapore's art world, from the 1960s to the 1990s, this exhibition is a prep-room project initiated by Nurul Kaiyisah, the NUS Museum's inaugural Young Museum Professional Trainee.
Kaiyisah's interests lie in examining possible interventions in canonical histories, within the intersectional, contemporary lens of gender and museology and the displays also reflect these themes.
---
Intimate Landscapes
Intimate Landscapes is a curated discussion on methods: how does one survey, document, map, draw, represent, write, collect, picture, archive, or narrate a landscape? Taking the format of the prep-room, the exhibition is a studio-in-process that will develop and evolve over the span of a year, where three M.Arch graduates from NUS' Department of Architecture (Lin, 2018; Mun, 2020; Goi, 2021) revisit their thesis archives, while a fourth who is presently undertaking a doctoral study at the Department (Wong, PhD candidate 2019—2023) assembles a new drawing archive.
Across different types of sites — coastlines, intertidal beaches, highway infrastructures, sandhills, salt mines — the works step away from traditional modes of reading and represent the vastness of landscapes with maps and masterplans and present it as an 'intimate view of details' and is concerned with "materialising and making visual what is intangible, out-of-bounds, fleeting, or unquantifiable".
---
How to visit the NUS Museum
The museum is open to members of the public from Tuesday to Saturday, from 10 am to 6 pm. The museum is open on Monday to School & faculty visits by appointment only and closed on Sunday and Public Holidays. Admission to the museum is free.