From Friday 4 September to Sunday 6 September, between 8 pm to 9.30 pm, Families for Life will go live on Facebook to host Family Fun and Laughter Nights.
With different themes such as food, movies and music, families can come together for three evenings of trivia fun as they try to solve various quizzes such as the "Emoji Quiz", "Who Said That?" and "Fill in the Lyrics" and win limited edition FFL NETSFlashPay card sets.
Performances by local bands like 53A, Jack & Rai and ShiLi & Adi will also keep families entertained each night.
Each night, one lucky family will also get to win the grand prize of a staycation at Marina Bay Sands by looking out for secret codewords that will be revealed during each session.
---
My Family Weekend Themes
Here are the themes for the various nights of My Family Weekend 2020.
4 Sep 2020 – #FFLNights: Foodie Night. It's all about food as families work together to guess the name of the dish and other food-related items. Fastest finger to type in the correct answer during the FB Live sessions wins! Families can also enjoy performances by local band, 53A.
5 Sep 2020 – #FFLNights: Movie Night. We are going to the movies! How well do you know your blockbuster movies? Join in the trivia quizzes with your family to test your movie knowledge and have a fun and relaxing evening with music by dynamic duo, Jack & Rai.
6 Sep 2020 – #FFLNights: Music Night. Complete the lyrics, guess the song title and win prizes on Music night! Groove along as a family with ShiLi & Adi as they belt out the tunes.
---
My Family Weekend by Families for Life (4 to 6 September 2020)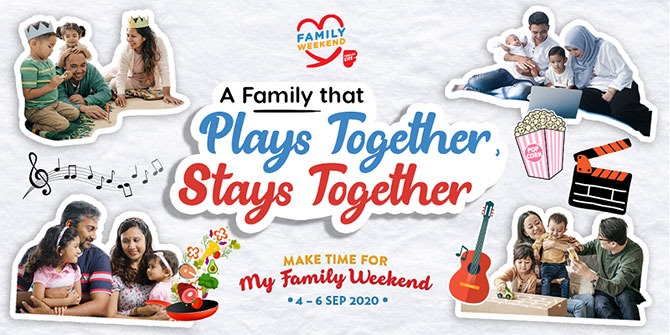 View it on the Families for Life Facebook page here.
Get awesome ideas for the September school holidays here.