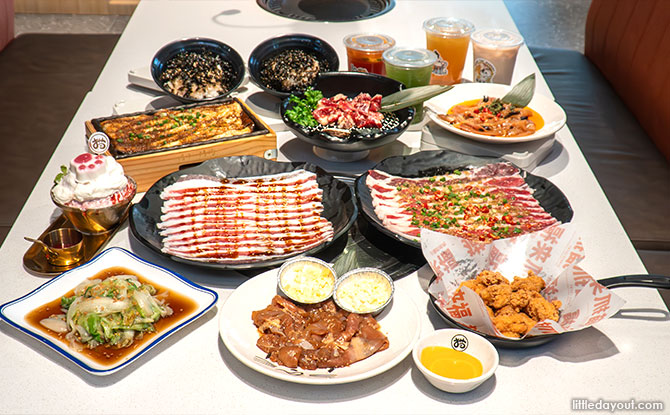 Meow Barbecue, a Chinese barbecue restaurant that made headlines due to its unique height difference promotion for diners back in February, is celebrating their one year anniversary since hitting the shores of Singapore.
To show appreciation to patrons for their support, Meow Barbecue is launching an anniversary special that includes two-to-four person set menu promotions for a limited time.
---
Meow Barbecue: Enjoy Set Meals Including Mains, Desserts And Drinks At Affordable Prices
From now till 31 July 2023, enjoy the Meow Star menu for two to four persons at a whopping 50% off.
---
-- Story continues below --
The set menu includes mains, sides, drinks and even desserts, ensuring a meal experience complete from start to finish. With a variety of dishes including most of their signature items, the set menu is one that you do not want to miss.
The Meow Star 2 Pax menu ($47, UP $94) includes three barbecue mains including pork and chicken, two cooked vegetable dishes and rice, rounding off with a brown sugar soy pudding with boba dessert, and drinks.
The Meow Star 4 Pax menu ($89, UP $178) includes five barbecue mains including beef, chicken and pork, a side of popcorn chicken, two cooked vegetable dishes and rice, rounding off with a choice of snow ice dessert and drinks.
We had the opportunity to try the Star Meow 4 Pax menu, and here are some of our favourite items from the menu
---
Meow Signature Spicy Beef
The Meow Signature Spicy Beef looks like a vibrant dish at first glance, with a variety of colours from the chilli and pickled vegetables, to the marbled beef.
The well-marinated beef has a unique smell to it, and has a balanced spicy, salty and sour flavour.
---
Meow Diamond Cut Marinated Beef Ribs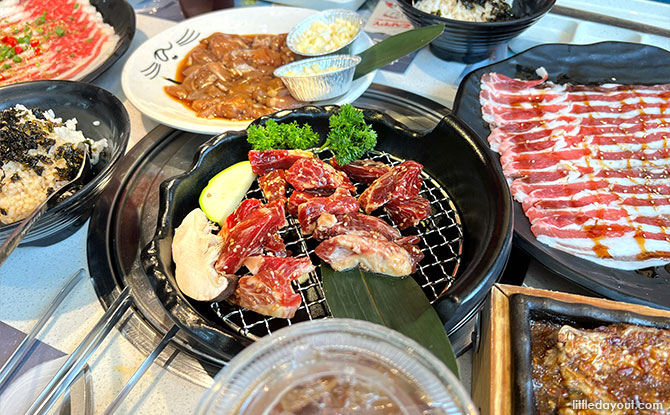 The Meow Diamond Cut Marinated Beef Ribs takes a unique approach to beef ribs. The beef ribs are cut up in irregular diamond shapes for extra surface to meat ratio and marinated with an in-house secret sauce. This makes for tender and rich flavours with every bite.
---
Meow Signature Chicken with Szechuan Peppers
The Meow Signature Chicken with Szechuan Peppers took us by surprise, and we thoroughly enjoyed every bite.
Knowing that chicken meat can turn out to be tough especially when grilled, we were delighted by how tender the chicken was. The chicken was very well marinated in the sauce with Szechuan Peppers, so it definitely gave the dish a huge kick.
---
White Cat Snow Ice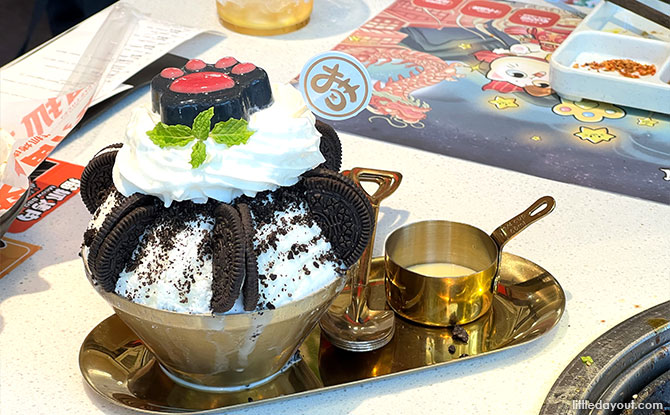 As part of the Star Meow 4 Pax set menu, we were given the choice to choose from two snow ice flavours for dessert.
We had the Black Cat Snow Ice (Oreo), which arrived as a bingsu type dessert with a cute jelly shaped into a cat's paw, placed atop a mountain of sweet shaved ice, Oreo biscuits and whipped cream.
The presentation was very cute, and as we worked into the dessert with our shovel looking spoons, we uncovered Nata De Coco and Grass Jelly bits stacked under layers of snow ice.
We were able to adjust the sweetness of the dessert with condensed milk on the side, making it a pleasantly delightful dessert.
---
Enjoy Scrumptious Deals In The Month Of July At Meow Barbecue
The Star Meow Set Menus promises a worthy ensemble of mouth-watering dishes that is not only delicious, but affordable.
At under $25 per person, it is certainly a deal worth going for. Meow Barbecue strives to use prime cuts and quality marinades, assuring quality meals for all patrons. Even for pesky and picky eaters, they have a wide variety of side dishes and mains that would cater to their appetite. The anniversary special can be enjoyed all day until the end of July.
---
Meow Barbecue
Where: Bugis +, #01-17, 201 Victoria Street, Singapore 188067
Operating Hours:
Sun to Thu: 11.30 am to 10 pm
Fri & Sat: 11.30 am to midnight
Website
Enjoyed reading this story? How about another one about a KBBQ spot?