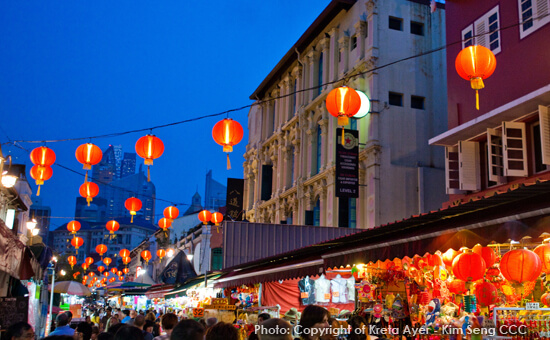 With the theme, "Kaleidoscope of Lanterns", the Chinatown Mid-Autumn Festival 2013 is set to light up the streets of Chinatown with the colour and vibrancy of 20,000 lanterns of varying shapes and sizes.
This year's Official Light-up and Opening Ceremony will take place on 7 September and the festivities go on till 4 October.
During the month-long celebration, visitors to Chinatown can expect a Festive Street Bazaar and Carnival with over 300 festive stalls offering everything from mooncakes to handicrafts, and nightly shows staged at Kreta Ayer Square with troupes from China and other cultural performances.
Any celebration of the Mid-Autumn Festival would not be complete without lanterns. The Mass Lantern Walk will be held on 15 September with the parade of lanterns starting from Banda Street and ending at New Bridge Road. All are welcome to bring along their own lanterns and join in the fun.
Chinatown Point will also be the site for Lantern Making and Lantern Painting Competitions on 31 August and 1 September respectively.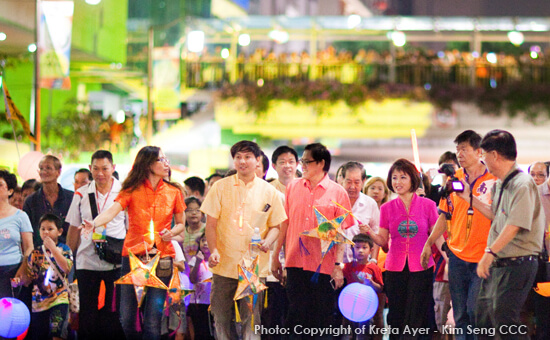 This year's Chinatown Mid-Autumn Festival will also feature a Mid-Autumn Walking Trail for the first time. On two separate dates, 8 and 14 September, participants can join a walking trail that will bring them on a journey of discovery around the streets of Chinatown, including Kreta Ayer Road, Sago Street, New Bridge Road and Pagoda Street, while soaking up the kaleidoscope of colour at the same time. Registration is required for this free walking trail.
The public can also expect road closures on 7 September between 2.00 pm to 11.00 pm along New Bridge Road and Eu Tong Sen Street, with additional closures scheduled for 15 September.