Elle, Little Day Out's little girl, crisscrossed Singapore on a weekly adventure from February to September 2015. Her outings have been faithfully chronicled in Little Day Out's contest,Where's Elle.
In Where's Elle, Little Day Out's eNewsletter subscribers got a chance to win prizes by answering a question based on the place Elle visited during the week. Prizes have included tickets to Singapore Zoo, River Safari, Jurong Bird Park, LilliPutt Indoor Mini Golf, KidsSTOP and Bubble Bump Singapore.
With the conclusion of the Where's Elle contest in September 2015, and we thought it would be timely to interview Elle and hear her thoughts about her adventures around Singapore.
Little Day Out: Hi Elle, how does it feel to have visited so many places over the last few months? 
Elle: I love exploring different parts of Singapore. I visited places I had never been to before and got a chance to try doing different things each week.
LDO: Which were some of your favourite places to visit?
Elle: I love animals so I really enjoyed visiting Singapore Zoo, Jurong Bird Park and Night Safari. Did you see my photo with the rhinos at the Zoo?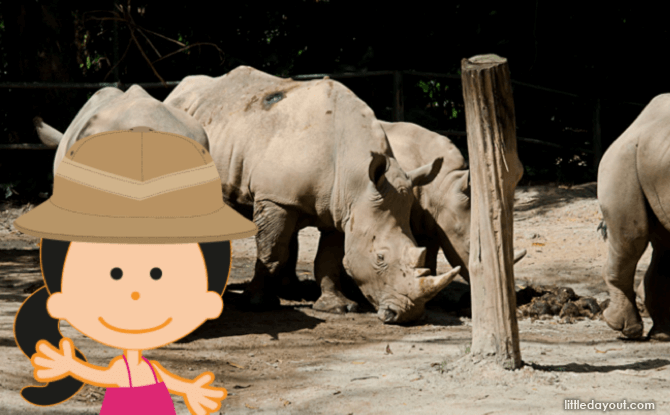 LDO: Yes, we did. We noticed your safari hat too. Where did you get it from?
Elle: It was a gift. I was visiting the Zoo in June when the weather was super hot, so I decided to wear the hat. (Excitedly) Did you also notice the blue hat I wore to the Bird Park?
LDO: Yes. We thought it was very fashionable. Now, let's move away from the subject of hats. Did any place you visited surprise you?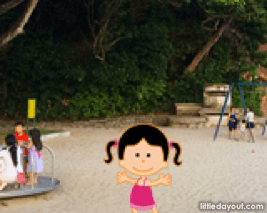 Elle: On one visit to Labrador Park, I came across a playground next to an old army bunker. My brother, Jay, said it was left behind by the British after World War Two. The bunker, not the playground (giggles). I was quite surprised to find a children's playground beside a gun post from World War Two!
LDO: Yes, I can imagine so. Speaking of playgrounds, do you have any favourites?
Elle: I like the Dragon Playground at Toa Payoh. My daddy says it reminds him of his childhood days but he is probably just reminiscing. I find it fun to climb up the dragon's back. And, the dragon is an animal too right? I love animals.
LDO: Err… I guess you could consider the dragon an animal, a mythical one at least…
Elle: I also enjoyed the playground at Pasir Ris Park. It is so big and so much fun. There was once that I was there with my friends and we spent the whole afternoon playing on the nets and riding the swings and never got bored.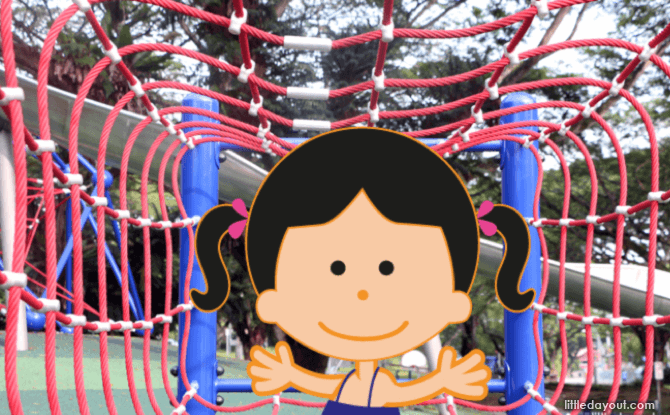 LDO: You seem to like the outdoors a lot. Are there any indoor places you like around Singapore?
Elle: Have you tried playing mini-golf at LilliPutt before? It is really fun and I get to pretend I'm on a real golf course when I'm there. They used to have a ball washy-thingy but it was gone the last time I visited. I still had fun though, plus, they have pink-coloured golf balls too!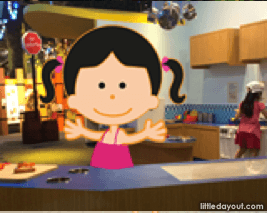 LDO: Are there any other indoor spots you like to visit?
Elle: I want to go back to KidsSTOP again. When I was there, I pretended I was a chef, a doctor and even a paleontologist digging for dinosaur bones. My feet got sandy in the dino pit but I didn't mind. I even tried the J-slide – but I didn't dare go all the way to the top.
LDO: That's still pretty brave of you…
Elle: (Beaming) Thank you! I made some nice friends at KidsSTOP too.
LDO: Do you ever have people come up to you and ask you, "Where's Elle"? 
Elle: Not yet! But if they do, my answer will be "I am here!"
LDO: Now that we will no longer be following your adventures in Little Day Out's weekly eNewsletters, does that mean that you will no longer be heading out? 
Elle: Of course not. I enjoy going out as it there is so much to see and discover around Singapore. I also like playing with Jay (Elle's older brother) and spending time with Mommy and Daddy. It is fun and I always look forward to our Little Days Out as a family!