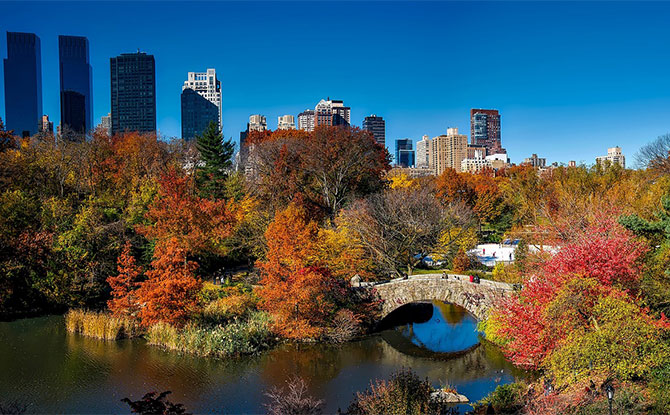 Located in the heart of Manhattan in New York City, Central Park is one of the most visited parks in the world. There are plenty of interesting Central Park facts for kids that may not be entirely obvious but are still simply fascinating.
From its history to its sights and attractions, here are some interesting New York City Central Park facts for kids.
---
Fascinating NYC Central Park Facts for Kids
1. Central Park first opened to the public in 1858. It was finally completely in 1876.
---
-- Story continues below --
2. The public park covers an area of around 843 acres or 341 hectare.
3. Central Park runs from 59th Street to 110th Street.
4. There are 9,000 benches in Central Park. Yet, plenty of people often choose to sit on the ground, especially when picnicking.
5. Another interesting fact about Central Park is that if you wanted to walk along the paths in the park, you will cover 58 miles.
6. Each year, Central Park receives 42 million visitors. It is estimated that 70 per cent of the visitors to Central Park are local New Yorkers.
7. The Blockhouse at the northern end of Central Park was built to defend New York during the War of 1812. It is the only remaining fortification from that war.
8. You can go fishing within Central Park at Harlem Meer. However, any fish that has been caught will need to be released.
9. Another interesting fact about Central Park is that it has a connection with Bryant Park in Midtown Manhattan. Bryant Park is named after William Cullen Bryant (1794 to 1878) who was an editor and poet. He was a leading advocate of the creation of Central Park in New York.
10. Central Park sites on the site of a former village known as Seneca Village. Those living in Seneca Village were evicted to create Central Park.
---
More Fun Facts about Central Park
With its gardens, woodlands and water bodies, it is not wonder that many people pay a visit to Central Park, NYC each year to escape from the hustle and bustle of the Big Apple. There are so many famous sights and landmarks within Central Park.
11. You can see a visible portion of the bedrock of Manhattan within Central Park.
12. Central Park is run by the Central Park Conservancy, which was created in 1980.
13. The design for Central Park was chosen after a competition was held. The design chosen was by Fredrick Law Olmsted and Calvert Vaux. Construction.
14. Central Park has been more movies than any other place on earth. It has been credited in more than 500 movies.
15. You know that Central Park is large, right? But did you know that it is larger than an entire county? At 843 acres, Central Park is larger than the country of Monaco, which is 500 acres.
16. Central Park was modelled to look like a painting by a European master. It was was the first landscaped park in the United States of America.
17. Central Park was originally designed to be a mini version of New York state.
18. You can find the largest plantation of American Elms within Central Park.
19. An interesting fact about Central Park is that it isn't the largest park in New York City. While Central Park is massive, Pelham Bay Park is in fact bigger. In fact, Central Park is not even the second or third largest park in New York City. The second largest park is the Staten Island Greenbelt, folllowed by Van Cortlandt Park and Flushing Meadows-Corona Park. Central Park is only the fifth largest park in New York City.
20. Central Park, as natural as it looks, is completely man-made.
You enjoyed reading about Central Park, you may also enjoy these interesting facts about Canada or the Hollywood Sign.