Mac & Cheese brings on the smiles! Who can resist this silky smooth, creamy, cheesy mouth-watering macaroni with a crunchy parmesan topping? Plus, it's a convenient meal all made in one pot!
If you don't like prawns, don't worry. Just swop out the protein according to your preferences. Make it a chicken, salmon or even a good ole plain Mac & Cheese. 
Recipe for Garlic Shrimp Mac & Cheese

 
Good for a family of five to six.
Ingredients

 
Shrimp (about 20 small or medium-sized pieces, halve them lengthwise to yield more shrimps and to spread more of them throughout the dish)
3 garlic cloves, finely minced
3-1/2 tablespoons of butter (divided)
3 tablespoons of All Purpose Flour
2 cups of milk (room temperature/warmed)
2-1/2 cups of hot water
8 oz elbow macaroni (uncooked)
1-1/2 cups Cheddar cheese
3/4 cup of Mozzarella cheese
Dried parsley (optional)
Dashes of paprika (optional)
Seasoning:
1 teaspoon of salt
1/2 teaspoon white or black pepper
1 teaspoon of garlic powder
1/2 teaspoon of mustard powder
Parmesan Breadcrumb Topping (mixed together and set aside):
1/3 cup Panko breadcrumbs
1/4 cup grated Parmesan
1 tablespoon olive oil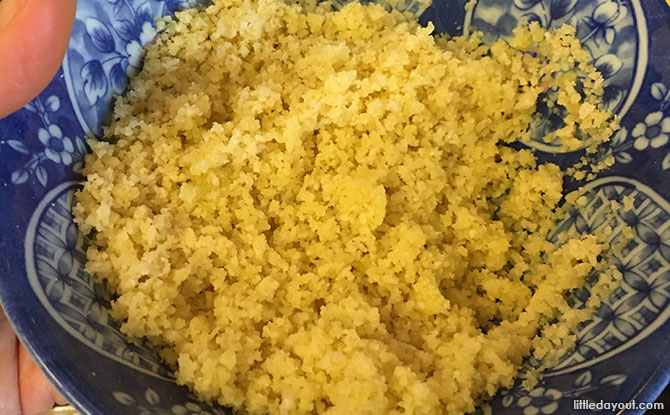 Method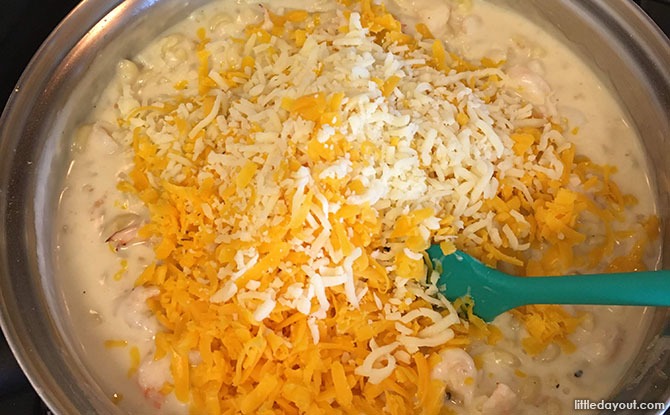 Preheat the oven to 190 degrees Celcius.
Melt 1 tablespoon of butter in a large, deep skillet over high heat.
Add the shrimps, sprinkle with pepper, then cook for 1 minute. Add garlic and cook for another minute until the shrimps change colour but are not fully cooked.
Transfer the shrimps to a bowl. Turn heat down to medium.
Melt the remaining 2-1/2 tablespoons of butter in the same skillet. Add flour, mix well and cook for 1 minute. You are making roux that will help thicken the sauce later.
Pour milk in slowly and keep stirring as you pour. Once incorporated and lump free (use a whisk to thoroughly mix), stir in the seasoning then the water.
Once the liquid is hot, add the macaroni. Cook for 8 to 9 minutes, stirring regularly, until macaroni is almost cooked through. Take it off the stove.
Add the shrimps and cheese, then stir through until all the cheeses are melted.
Now is the time to adjust the taste if needed. Don't worry if the macaroni looks too diluted as the sauce will get absorbed and thicken further in the oven.
If your skillet is not oven safe, transfer the macaroni and shrimp to an oven-safe dish. Here's where you can get an oven-safe skillet.
Sprinkle the breadcrumbs over the macaroni. Then place the dish in the preheated oven for 5 to 7 minutes or until the top turns golden brown.
Sprinkle with parsley (dried/fresh) and dashes of paprika for nice touch of color. Serve and enjoy!
Notes:
Skip steps 2 to 4 if you just want plain Mac & Cheese without any shrimp or chicken.
Low fat, 2% milk works fine with this recipe. However, the higher the fat content in the milk, the creamier the mac and cheese you will get.
Simple #homecooked-recipes is a daily series specially developed to inspire beginner cooks with work and kids to handle, and not much time to spare in the kitchen. The recipes are deliberately simple enough even for kids to help you with them. Click here for more simple home-cooked recipes.
This story contains affiliate links. This means we earn a small fee if you purchase something through a link from our website. There is no additional cost to you. This helps to support Little Day Out and keeps us going.