A roughly-folded paper boat set adrift in a roadside drain. A lazy afternoon on a pedalo drifting in tranquil waters. Activities reminiscent of a time where pleasures were far simpler.
Hankering to relive those days? Here are some cool spots that you can cast off from. Whether it's sailing a boat, or sailing in one – you pick. Whatever floats your boat!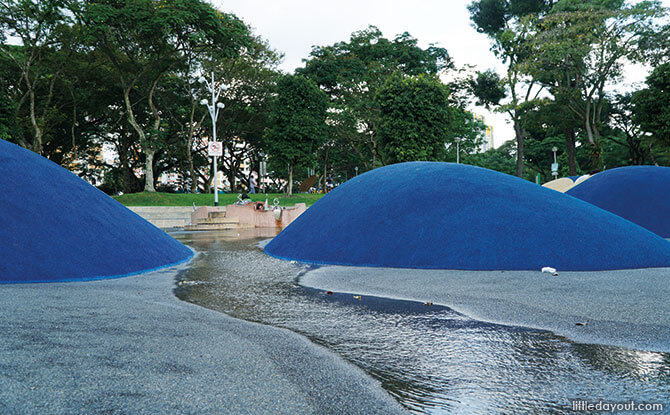 Opposite Block 223, Ang Mo Kio Street 22 
Springing from a source atop the gently sloping terrain and meandering through a series of varied channels, the never-ending flow of water makes this playground an ideal place to set your boat afloat. It's an interesting one too – metal sluice gates and movable barriers allow kids to direct the water flow and experiment with the effect of obstacles on it.
Bounded by Yishun Avenue 1 and Lentor Avenue, Singapore 769139 
A simple playscape that leaves plenty of room for imagination. A shallow wading stream courses through undulating slopes, feeding, on one end, into a wading small pond and water jets in the ground. On the other end, two cheerful giant poppy showerheads provide relief on a hot day. This playground has both calm and slightly more tumultuous conditions for little boats. 
8 Stadium Walk, Singapore 397699 
A quiet lake it may not be, but the Kallang River provides a scenic backdrop for a spot of relaxing pedal-boating or pedal-biking. Rentals to the public are available from the Water Sports Centre. And if you happen to feel like something a little more vigorous, canoes, kayaks and dragon boats are also available.
Marina Barrage Water Playground
8 Marina Gardens Drive, Singapore 018951 
Venture into the shallow wading pool at Marina Barrage's Water Playground. Dash through a tunnel created by sprinkling jets of water or step into a cluster of water fountains that playfully rise up and down. It is a simple and enjoyable water play spot with the city skyline in the background.