Dahlia Dreams 2023, Gardens by the Bay's first floral display of the year, features close to 40 dahlia varieties from Europe, and "100 bunnies", a play on the word for "white rabbit" in Chinese, to welcome in the Chinese New Year from now till 26 February 2023.
---
Three Bunny Meadows at Dahlia Dreams 2023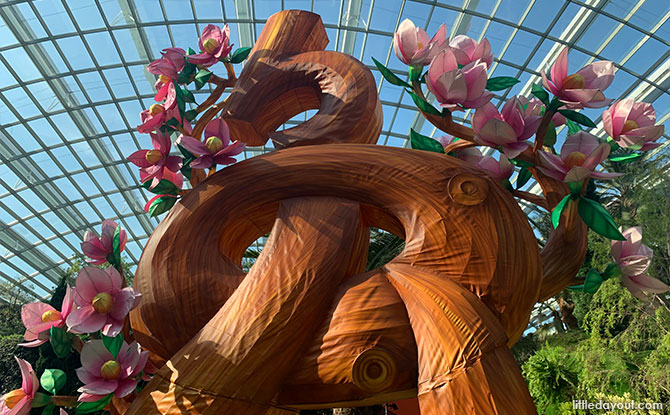 Occupying the centre of the Flower Field is the six metre tall River Hongbao lantern of a magnolia tree. Look closer and you will realise it is in the shape of the word 兔, or rabbit in Chinese.
The scene is based on the Chinese idiom 狡兔三窟, which translates to the wily rabbit has three burrows. The floral display does an alternative take on this idiom to convey how it takes creativity and innovation to overcome challenges and create a better tomorrow. 
---
-- Story continues below --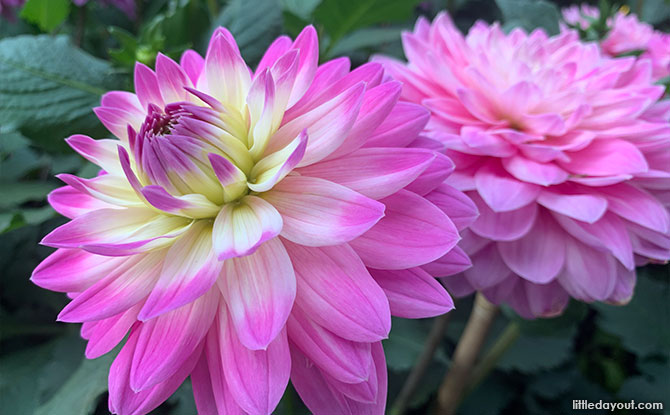 The display includes brightly coloured dahlias and a Chinese pavilion where visitors can sit or pose for a picture.
Rather disturbingly, at least to us, was what awaited us at the burrow around the back.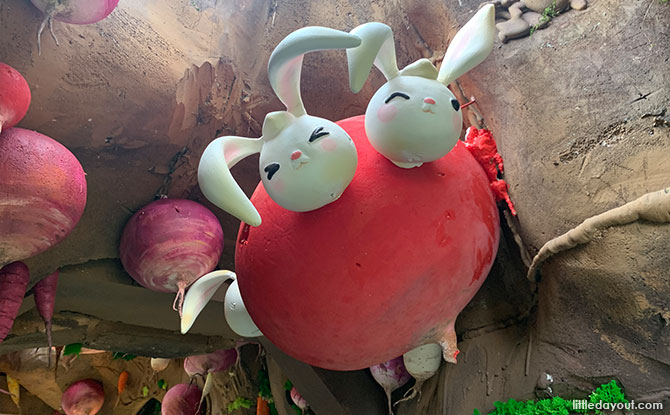 It appears as if bunnies had been fused into the turnips and carrots growing through the ceiling. We're not quite sure what kind of dream we had wandered into, or whether it was the bunny version of Haw Par Villa's infamous tunnel.
We think that the "burrows" here are a bit more attractive.
---
The Hare and the Tortoise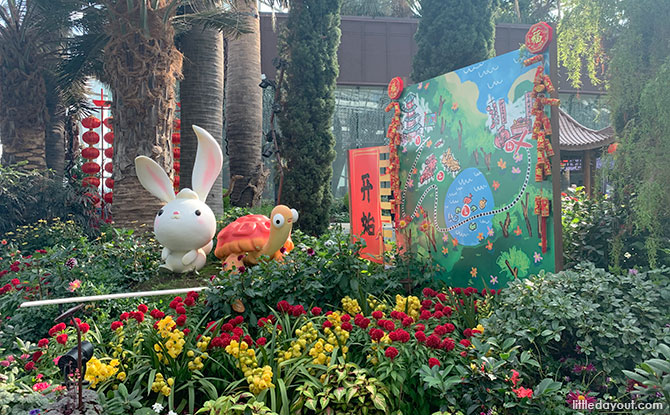 This message is reinforced by a re-interpretation of Aesop's tale of the The Hare and the Tortoise. The two animals are in a race but instead of the over-confident hare being left behind, the animals work together to finish the race.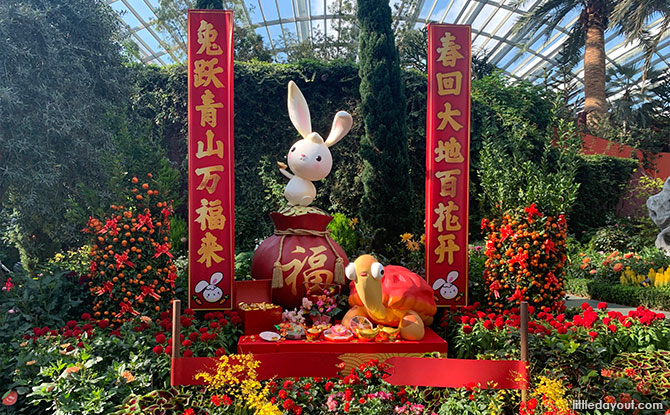 Aspects of Chinese culture, including paper-cutting, lion dance, Chinese New Year goodies and spring couplets, are also featured in the floral display.
---
Chinese New Year 2023 at Gardens by the Bay
Visitors to Dahlia Dreams 2023 look forward to a series of Chinese New Year-themed Get Crafty! workshops in Flower Dome, featuring card painting and keychain making.
Another activities taking place around Gardens by the Bay for the Year of the Rabbit include River Hongbao 2023 and a special CNY edition of Garden Rhapsody.
The usual admission charges to the Flower Dome apply.