Would you like to expose your child to the wonders of nature and also help them build resilience and develop a sense of risk-taking?
Curious Adventurers™ Holiday Camp (1 Day) by Outdoor School Singapore is the perfect introductory camp for first-time nature hikers.
---
Outdoor School Singapore's Curious Adventurers™ Holiday Camp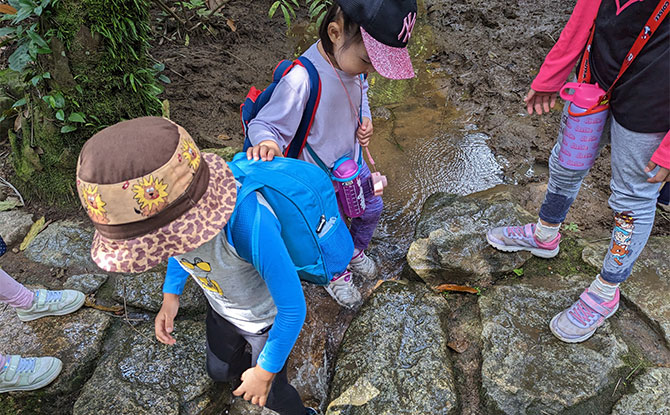 The Curious Adventurers™ Holiday Camp 1-day programme is carefully designed to be at the optimal pace and terrain to help young children overcome their inhibitions to the wilderness.
With nurturing instructors on hand to ensure our young hikers' safety, this nature appreciation trail will develop the child's confidence and independence while pushing their limits through the wilderness.
Children will hone life-skills like resilience, communication and problem-solving through age-appropriate activities throughout the programme.
Besides fun and games, this adventure will definitely develop their empathy towards nature and help them discover new things about themselves and the world around them.
Child-led programme
Children will take the lead when outdoors – from navigating around the park and organising friends to solve missions, to taking care of their own meals and wellbeing.
Trained & experienced instructors
Instructors practice nature pedagogy in their teaching and are equipped with ecological awareness to guide children's learning.
---
Curious Adventurers™ Holiday Camp Details
When: 4 September, 6 September or 8 September 2023
Duration: 1-day camp – 9.30 am to 12.30 pm
Fees: $60 before GST
Website
---
Young Leaders Holiday Camp – The only OBS experience for Primary School Presale
Outdoor School Singapore is also having a presale of its Young Leaders camp happening at the end of the year.
This camp is currently the only Outward Bound Singapore experience for primary school children.
This action-packed programme is designed to challenge children's limits, expand their imagination and cultivate the essential skills of tenacity and team and personal leadership.
Through effective communication and empathy, children develop exceptional character and social sensitivity as they embark on a forest expedition and guide their peers through an outdoor Escape Room to collect clues and break codes to solve the ultimate mystery.
Their self-confidence and creative problem-solving abilities will be put to the test as the team learns about fire-safety and how to start a fire outdoors using only natural resources available from our team of professional instructors.
Last but not least, the young leaders will learn to cope with stress and manage diverse possibilities when they complete their cook-off with limited resources and prepare an elevator pitch for their winning dish.
The presale is currently on-going till till 31 September 2023. Get more information about the Young Leaders Camp.