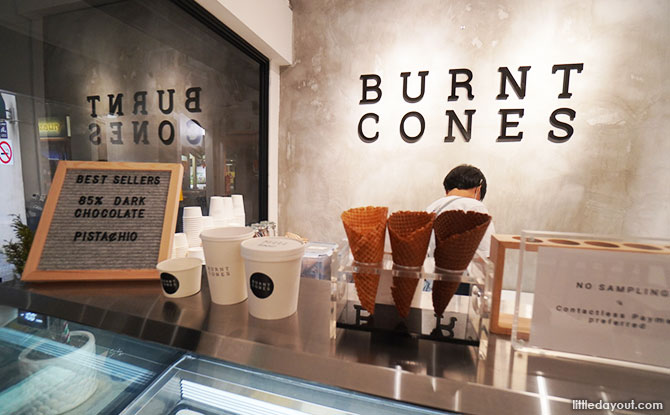 If you're looking for a spot to hang out for some chill vibes and chill food throughout the day, Burnt Cones at Sunset Way might be a place you would want to check out! Serving food, coffee and delicious gelato in their signature burnt cones, Burnt Cones is also a great place to head to if you're looking to take some food shots #forthegram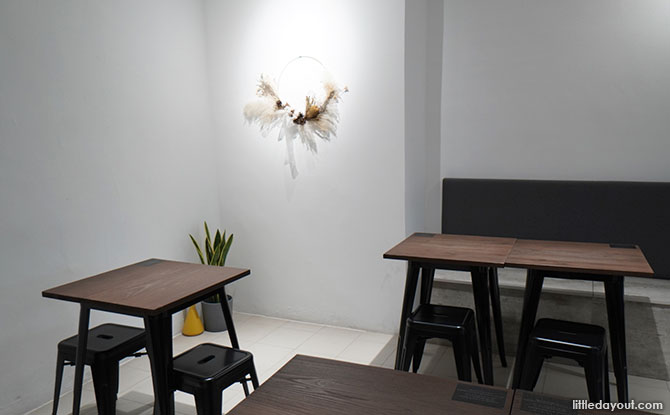 With its industrial-chic interior design, this minimalist space can seat slightly over 20 people. It also has outdoor seating.
---
Premium Gelato at Burnt Cones
As the name suggests, Burnt Cones offers various gelatos as well as three levels of "burnt cones": regular, slightly burnt and burnt.
Customers can choose from 12 gelato flavours including artisanal flavours such as Black Sesame, Mango Passionfruit and Madagascar vanilla. Interesting flavours that stood out to us included Kaya Chendol, Ube, and Strawberry Basil. The best-sellers are Pistachio and the 85% Dark Chocolate.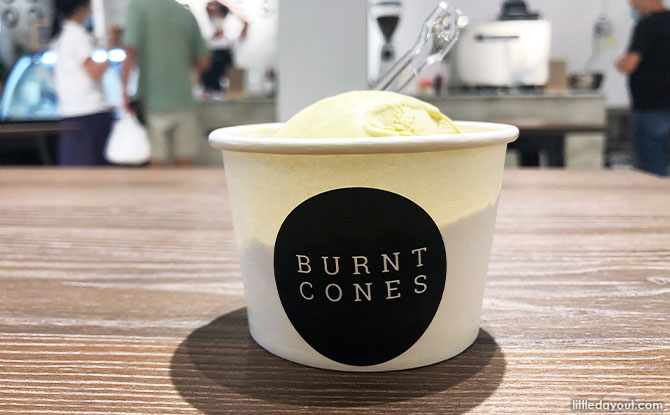 We ordered a single scoop of their Pistachio ice cream as well as a Burnt Cone with Ube (purple Sweet potato) ice cream. The pistachio ice cream had a smooth texture and nutty taste without it being too sweet. We really enjoyed the sweet and creamy Ube ice cream that went well with the crispy and slightly bitter burnt waffle cone.

---
Single-origin coffee at Burnt Cones
Another menu item we ordered was a Flat White with Oat Milk. Burnt Cones offers freshly roasted coffee made from single-origin coffee beans and roasted locally by a micro-roastery. Food items on the menu consist of sweet options such as buttermilk waffles and savoury bites such as sourdough bread sandwiches and breakfast burgers.

---
Where to visit Burnt Cones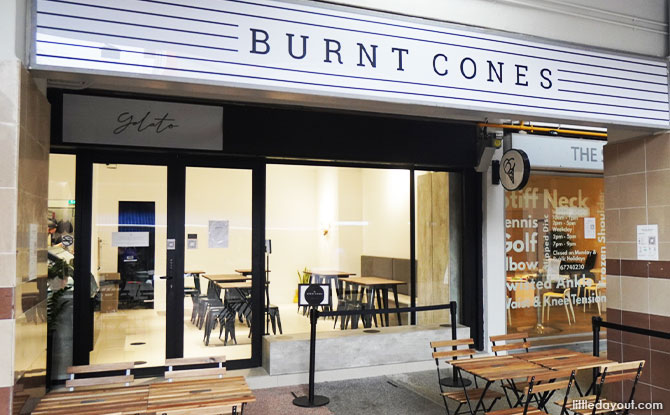 One of the great things about Burnt Cones is that they are open Monday to Sunday from 7 am to 12 Midnight! This means that you can visit them for early morning breakfasts, late-night suppers and any time in between! We know we'll be back to try some of their foods on our next visit.
---
Burnt Cones
105 Clementi Street 12, #01-02
Singapore 120105
Opening Hours: Monday to Sunday 7 am to 12midnight