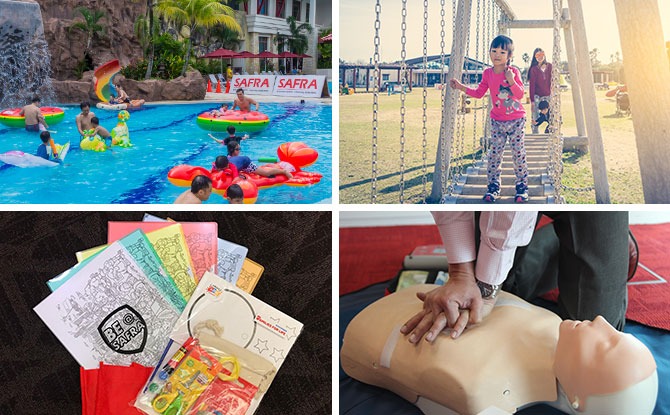 School is out and the fun is in with BE@SAFRA! Over three weekends, from 5 to 20 December, all six SAFRA clubs will be bringing you Total Defence-themed activities and free activity try-outs. SAFRA members can register to redeem a goodie bag and a $10 mSAFRA club voucher, or earn double SAFRAPOINTS when they spend at selected merchants at the clubs!
---
Experience 6 Pillars of Total Defence at 6 SAFRA Clubs
If 2020 has taught us anything, it is the importance of staying strong together. This is the essence of Total Defence and in December, you and your family can learn more about Total Defence through fun themed activities with SAFRA.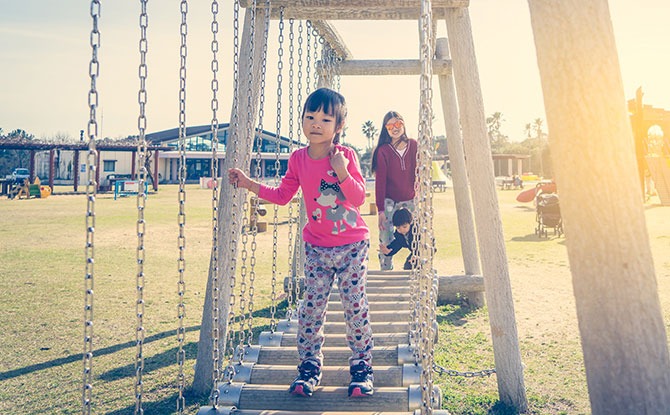 SAFRA's six clubs are taking turns to highlight each of the six pillars of Total Defence. This will be done through a combination of family-friendly onsite and online activities between 5 to 20 December 2020.
---
-- Story continues below --
Tackle a battleground obstacle course, pick up lifesaving skills and play a cybersecurity virtual reality game, all while learning what it takes to build a more resilient Singapore.
---
Unwind with Learn & Play Activities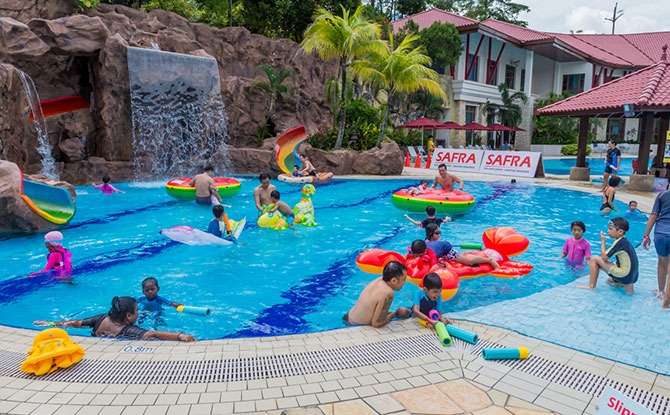 Families can look forward to free try-outs from Akido, ZFencing, Taekwondonomics to music workshops, or keep healthy with a series of fitness workouts and workshops by the Health Promotion Board.
Here's an overview of the Total Defence and Learn & Play activities at SAFRA Clubs in December.
Date
Club
Theme
Highlights
Sat, 5 Dec
SAFRA Mount Faber
Economic Defence
Talks by entrepreneurs on adapting to the new normal

Yoga, KpopX Fitness & Cardio Dance

Online concert

Console games & snacks

Nutrition Workshop by Health Promotion Board

Get more details here.
Sun, 6 Dec
SAFRA Jurong
Military Defence
Battle Obstacle Course

Virtual Reality: Combat Mode On!

Make your own Camou Mask

KpopX Fitness by Health Promotion Board

Contests: Challenge Accepted, Guess the Doodle and Spot the Army Helmet

Free gym, dance and taekwondo trial classes throughout Nov & Dec

Nutrition Workshop by Health Promotion Board

Get more details here.
Sat, 12 Dec
SAFRA Punggol
Digital Defence
Digital Defence exhibition

SAFRA Digital Media Club: The Digital Edge

Digital Defence-themed introduction to coding

Arts@SAFRA Augmented Reality Art workshop and Virtual Reality Art painting showcase

KpopX Family Fitness by Health Promotion Board

Nutrition Workshop by Health Promotin Board

Get more details here.
Sun, 13 Dec
SAFRA Tampines
Civil Defence
CPR & AED Workshops

First Aid in Action

Children's craft: Firemen & Ladders, Paramedics & Ambulance Board Game

Self-defence demonstrations and trials

Nutrition Workshop by Health Promotion Board

Yoga Class by Health Promotion Board

Get more details here.
Sat, 19 Dec
SAFRA Toa Payoh
Psychological Defence
Mask Keep Singapore Safe Wall Mural Installation

Design Your Own Mask Holder Art Workshop

My Little Red Dot Storytelling & Terrarium Workshop

Sports (including Akido, ZFencing, Taekwondonomics, Salsa), baking and music tryouts, and hourly live shows online

Nutrition Workshop by Health Promotion Board

Get more details here.
Sun, 20 Dec
SAFRA Yishun
Social Defence
Free fun shot at Indoor Air Weapons Range

Family fun bowling

Parent-child tryouts and crafts

Pool activities

Nutrition Workshop by Health Promotion Board

STRONG Nation™ by Health Promotion Board

Get more details here.
[Update: The 'Battle Obstacle Course' and 'Virtual Reality: Combat Mode On' at SAFRA Jurong; 'CPR & AED Workshop' at SAFRA Tampines are now fully registered]
---
Families for Life Art Activities – Art Kit from just $5
SAFRA has also teamed up with Families for Life to put together a series of family bonding art & craft activities with Total Defence theme to occupy your little ones during the December school holidays.
These online art workshops will be shown on the respective SAFRA clubs' Facebook pages during the BE@SAFRA weekends from 5 to 20 December.
Parents can purchase a Families for Life Art Kit which contains six sets of art materials including colouring templates, paper crafts, colour pencils, pastel paint and more. Kids can use this to follow along with the online art workshops.
Purchase the kit from SAFRA clubs' Customer Service Counter at just $5 for SAFRA members and $10 for guests.
SAFRA members will receive a $10 voucher for participating vendors if they submit three completed artworks between 21 to 31 December 2020. Terms and conditions apply.
---
Giveaways and Special Deals
SAFRA will also giving out goodie bags and $10 mSAFRA club vouchers to members as part of BE@SAFRA.
The $10 mSAFRA club vouchers can be used at participating merchants at the six SAFRA clubs with no minimum spend required. These merchants include Heavenly Wang, Orchid Bowl, Ya Kun Kaya Toast, Subway and more.
A total of 3,000 goodie bags and $10 mSAFRA club vouchers will be given away, 500 at each club. To register for these goodies, SAFRA members can login to their accounts at the mySAFRA portal or mSAFRA app. Fastest fingers first!
That's not all. Earn double SAFRAPOINTS when you spend at an F&B or recreation merchant outlet at all SAFRA clubs from now till 31 Dec. Earn points to redeem attractive gifts such as SAFRA Rewards Vouchers or an Ogawa massager for the family! The points can also be used to offset your payment for SAFRA facilities, events, and purchases at participating club merchants and partners.
---
Gift for a Reason 2020: Make Wishes Come True
Help spread the joy of the holidays to the less fortunate with Adopt a Wish – which is part of the 5th edition of SAFRA's Gift for a Reason 2020 jointly organised by SAFRA, SAFRA Community Service Club and SGCares.
We were all once a child with our own festive wish list and we know what a great feeling it was to have it fulfilled. But not every child is as fortunate. Through this initiative, it is now your chance to give back to the community this SGCares Giving Week till 7 Dec.
Head down to your nearest SAFRA club and put a smile on the face of a child by fulfilling a wish worth up to $30 in 4 simple steps:
Step 1: Pick a wish from the wish board at any SAFRA club from 18 Nov 2020 onwards.
Step 2: Register your selected wish at our Customer Service Counter (Opening hours: 9 am to 9 pm).
Step 3: Purchase the item(s) on the wish card and deposit the gift at the Customer Service Counter by Mon, 7 Dec 2020, 9 pm. Feel free to leave a note of encouragement to the child!
Step 4: The children will receive the gift on 12 or 19 Dec 2020.
---
BE@SAFRA: Have a Meaningful December with SAFRA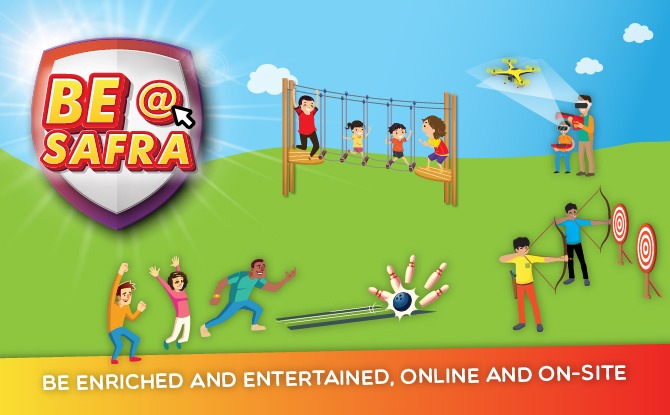 This December, discover lessons of resiliency and strength with SAFRA. Join in the many Total Defence-themed activities each weekend and have fun with Families for Life art activities. Register for awesome rewards and give back in practical ways to the community.
Find out more about BE@SAFRA, taking place from 5 to 20 December 2020, here.
This feature is brought to you by SAFRA.