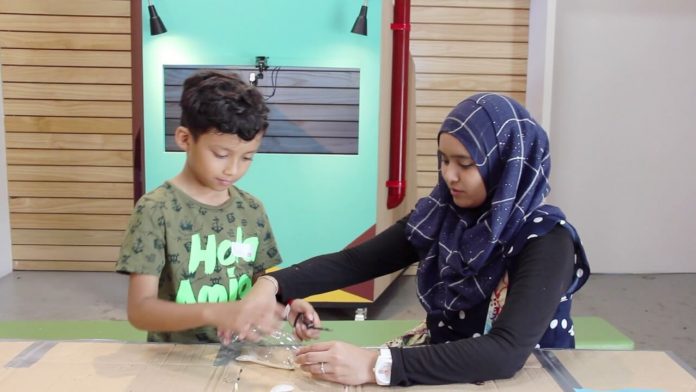 A bright, airy space, full of possibilities. A large ship awaits adventures in the middle of the room; while colourful igloo-caves quietly beckon; and at the side, a shore of sand warmly welcomes you. We are ready for A World Full of Stories by Playeum.
This weekend of 12 and 13 November 2016 is special, as Playeum opened exclusively for Little Day Out readers for a preview of their third – and latest – exhibition which combines stories with play.
Designed for children aged one to 12, A World Full of Stories by Asia's first dedicated creative space for children offers open-ended, interactive spaces which encourage creative imagination through role play, story-making, writing, drama and puppetry. The exhibition runs until 30 April 2017.
Join us in weaving your own fabulous story!
---
-- Story continues below --
Story Caves
by Bartholomew Ting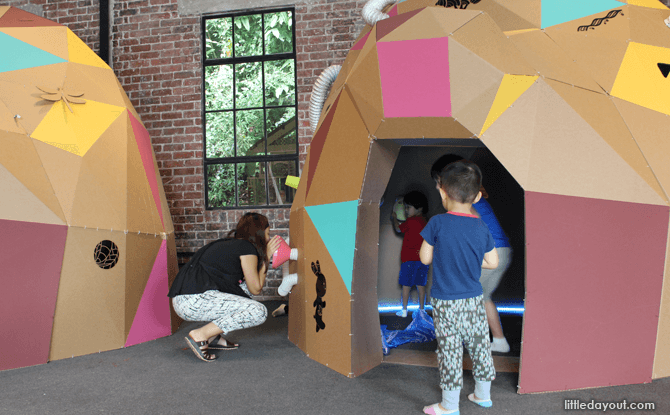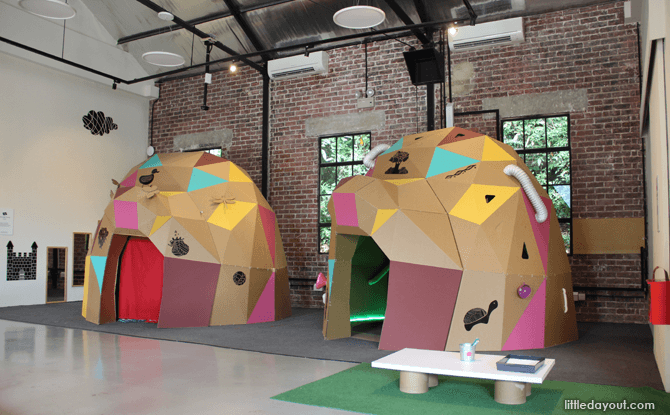 Two cardboard igloo-looking caves offer two multi-sensory worlds of possibilities.
The Listen and Speak cave allows kids to experiment with sound tubes, speaking cups and voice distortion mechanisms, while the Look and Touch cave is a magical, glow-in-the-dark secret space with props and story-telling toys.
Story Raft
by Dennis Tan
This surely is the feature piece in the play space. Children can play-act at being at sea (Pirate? Castaway? Luxury cruise?) on this large bamboo and rope raft.
Tug at the flag-flying mast, steer the wheel, or row with oars.
More nautical-themed play corners surround the raft: A trough of kinetic sand gives up treasures of seashells and hidden gems, while ropes and wares in another corner lets you craft marine-themed items.
Story Cubes
by Playeum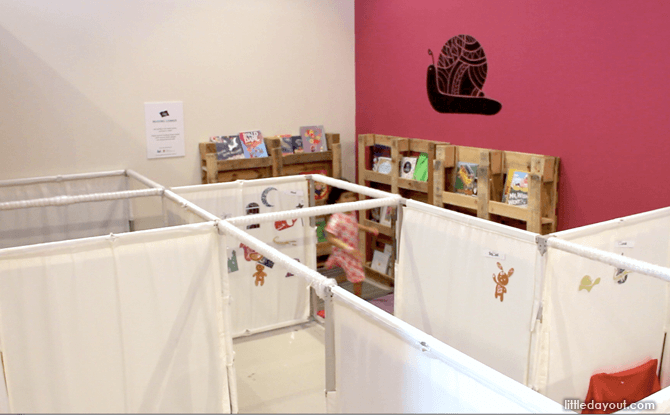 Travel through this fun maze, and it takes you to the end, where quiet nook of shelves of books and toys await.
These cube-shaped structures allows open-ended play for story-making, creating fantasy characters, and of course, breathless catch-me-if-you-can fun.
Play Making Space
by Playeum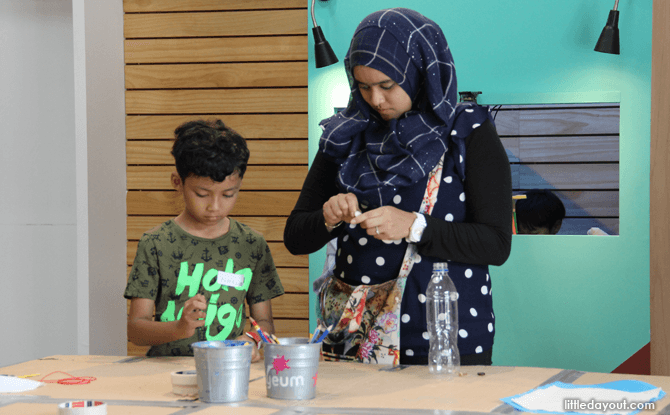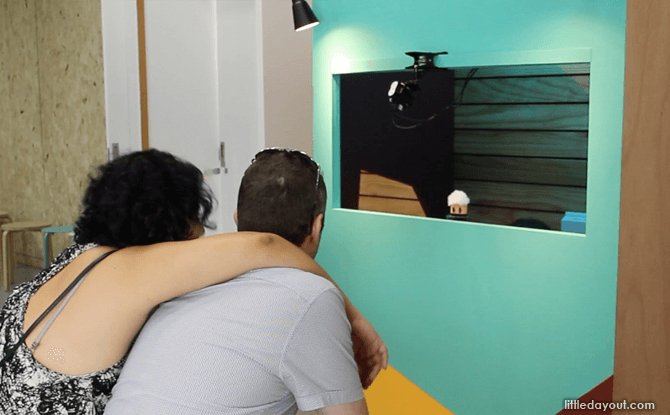 Large, open shelves of upcycled materials offer opportunities for kids to craft unique puppets and creatures for their own puppet show.
With spotlights and a stage, those little ones who love performing and storytelling will have a blast, especially if they can work with other children to create an ensemble cast.
The Story Booth
by Playeum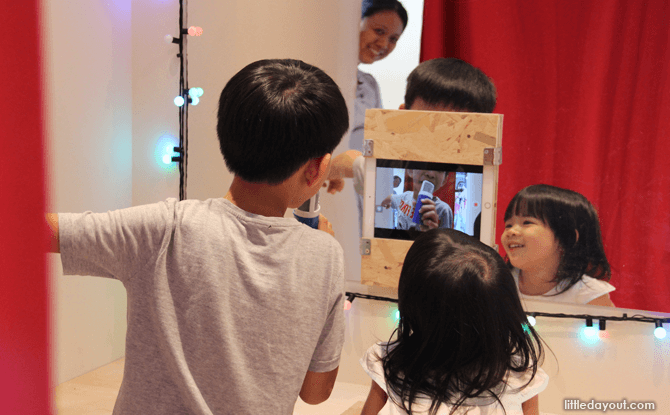 The interactive booth lets children share their stories through photography and video recording. Hide behind the curtain and experience the thrill of being your own presenter!
A Film Full of Stories
featuring Sheila Wee, Nancy Leopard, Kamini Ramachandra, Karen Lee, Rosemarie Somaiah; directed by Roger Jenkins
In this really cool, dark room, storytelling is upscaled into a cinematic experience. Children can listen and watch some of Singapore's best storytellers through a specially commissioned film.
Five storytellers regale the audience with tales from various cultures in this magical space, lit up with glowing motifs on the walls.
The Chalk Wall
artwork by Clio Ding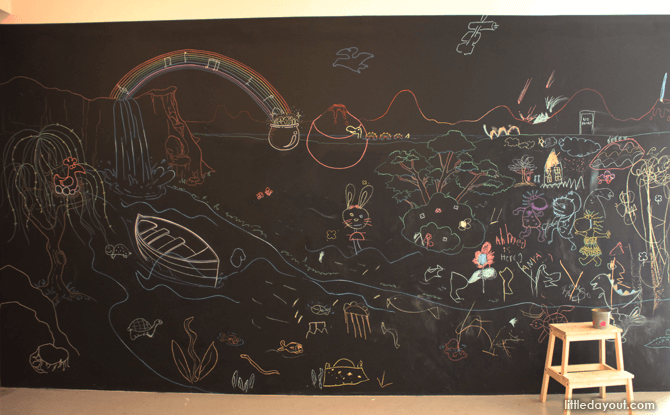 It's a wall! Draw! Some children will love this opportunity to finally be able to freely draw on a wall. This huge chalk wall allows you to add on your own narrative.
Fantasy Dress Up
Silks, scarves and costumes in the corner invite children to be the stars in their own story creations. Mirror, mirror on the wall; who is the fairest of them all?
Story Mailbox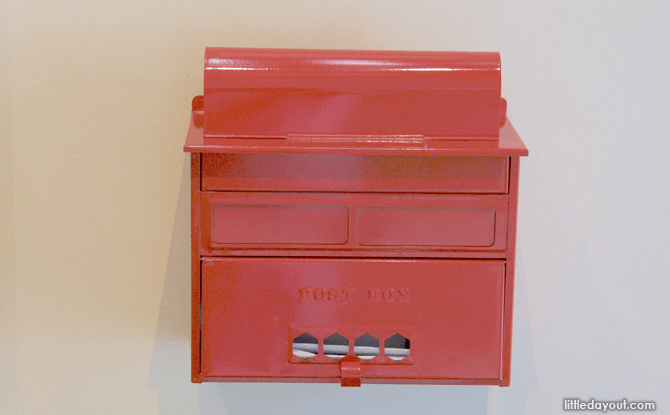 Don't forget to drop a story or poem into the Story Mailbox before you go. Suitable for older children, this activity will present selected stories to be featured on Playeum's website!
Catch a sneak peek of Playeum's third exhibition 'A World Full of Stories' here:

A World Full of Stories by Playeum
Dates: 15 November 2016 to 30 April 2017
Venue: Children's Centre for Creativity, Blk 47 Malan Road, Gillman Barracks, Singapore 109444
Admission prices: $22 per child/parent pair, additional adults $10
Opening Times : Tuesday to Sunday, 10 am to 6 pm
Visit Playeum's website for more information or click here.