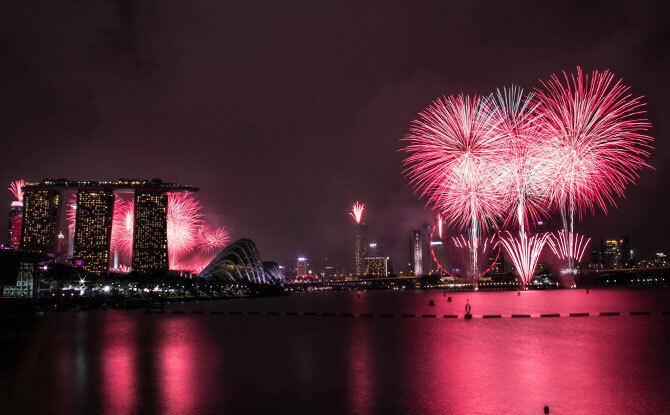 Have you got your New Year's Eve and New Year's Day 2020 plans all sorted? Another year (and decade) is soon gone, and we have plenty of ideas on how to spend New Year's Eve on Tuesday, 31 December 2019 out. Apart from the usual revelry like feasting, parties and fireworks, there are also a few options to spend the last day of 2019 in Singapore and to get the year off to a fresh start on New Year's Day 2020.
---
New Year's Eve For Party-goers In Singapore to Usher in New Year's Day 2020
Marina Bay Countdown 2020
Marina Bay and the civic district will be transformed into a mega countdown celebratory paradise on 31 December 2019. There are plenty of New Year's Eve 2019 activities for everyone to check out. For the full list of celebrations, click here.
A highlight for families would be the SAFRA Family Day Out @ Marina Bay Singapore Countdown 2020. Taking place at The Lawn @ Marina Bay from 5 pm to midnight, there will be carnival games and giveaways at the SAFRA Family Day Out with goodie bags for those who sign-up and the a exclusive free picnic mat for the first 1,000 families. More details are available here.
Mediacorp Let's Celebrate 2020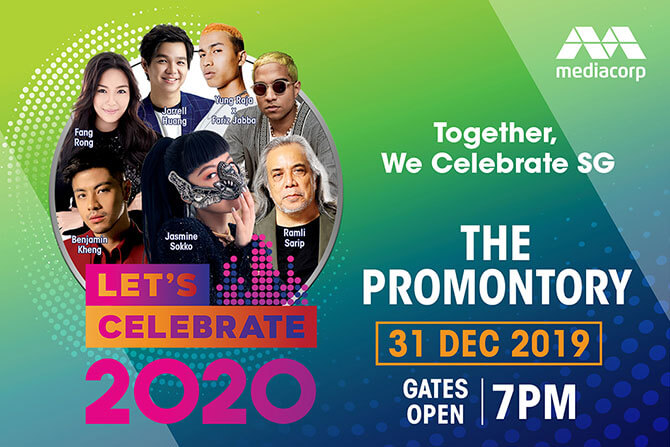 For the classic party-goes, Mediacorp's annual celebration "Let's Celebrate 2020" will be THE party in town on New Year's Eve 2019 in Singapore. Featuring local talents and artistes, it will be a celebration of music, dance and fashion.
When: 7.30 pm to 12.30 am, doors open at 7pm
Where: The Promontory @ Marina Bay
Silent Disco @ Marina Bay Countdown 2020
For a less deafening experience, try the Silent Disco at Empress Lawn. You will have your personal set of LED-equipped headphones with 3 DJs playing simultaneously across 3 channels. There is a maximum capacity of 800, so be sure to sign up soon to dance the night away. The Empress Lawn will also be a good vantage point to the fireworks display, and also comprise food vendors and a bar. Tickets start from $28.
Our Tampines Hub Countdown to 2020
Easties, you might want to gather at Our Tampines Hub for a countdown experience closer to home. Expect performances, fireworks displays and plenty of activities for everyone. More details will be furnished closer to the date.
LuLu's New Year's Eve: 100 Years Late!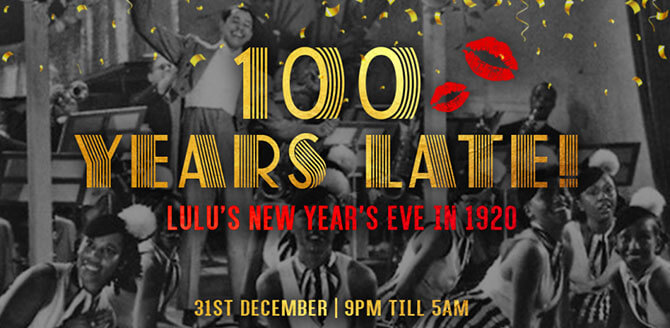 Love to dress up? LuLu & family will welcome 2020 in the roaring 1920s' style. Revellers will be dressed in the most glamorous and chic 1920s outfits, accompanied by signature cocktails for this memorable countdown experience. Pre-sale tickets start from $30.
---
For the Foodies to Celebrate New Year's Eve and Herald in New Year's Day 2020
There are plenty of feasting options for New Year's Eve, some with a grand view of the fireworks while others are child-friendly party affairs.
Fullerton Hotel's New Year's Eve Countdown and Welcome 2020
Families will love Fullerton's options of Cantonese fare at Jade Restaurant, a buffet feast at Town Restaurant or Lighthouse Restaurant & Rooftop Bar's Italian specials. Fill your tummies then enjoy the laser lights, confetti at the countdown party to New Year's Day 2020 in Singapore. Get the details here.
Marriott Tang Plaza Hotel Countdown Party
Singapore Marriott Tang Plaza Hotel will be hosting a countdown party on New Year's Eve with a balloon drop. Diners will get to enjoy an international buffet, while champagnes and wine will accompany the revellers. Top 80s' and 90s' hits will be played by a live rock band to get audiences jiving. Tickets start from $88++. Make your reservations here.
Coastes Singapore's Beach BBQ Countdown Party
Prefer something casual and fun? Indulge in a buffet spread of freshly-grilled seafood, hearty mains at Coastes where everything is a lot more "chill" with live music by the beach. Prices are are $75 for adults and $35 for children. Get your tickets here.
Super Loco Robertson Quay's Locoland 2020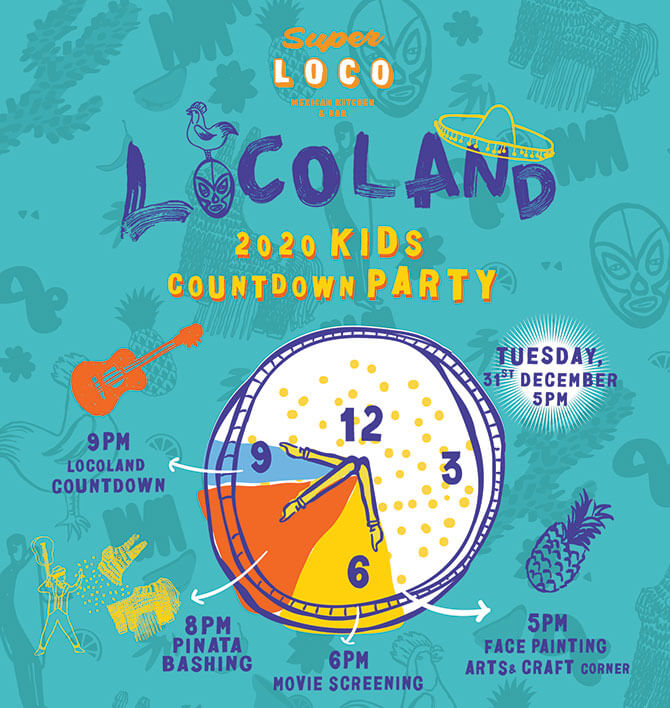 Go tropical at Super Loco's countdown party on 31 December. It will be a very family-friendly affair with face-painting, arts and craft, movie screening, pinata bashing and a live dessert station.
When: 5 pm to 10 pm
---
For the Pets and their owners
Unwind @ Civic District: Pets Pawty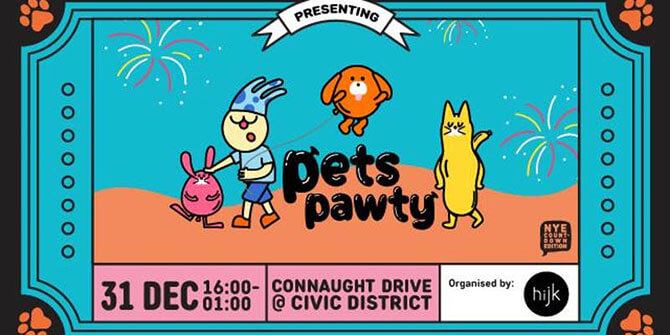 This highly inclusive pawty is for all pets – whether they be furry, feathery, scaly or slimy! Have a stroll, picnic or participate in programmes like the agility trial, obstacle race, obedience challenge, temptation trial, doggy beer drinking contest (!!!) while furkids and their owners await the fireworks and laser light show. Find out more here.
When: 4pm to 1am, Connaught Drive
---
For the Parents whose kids hate sleep
New Year's Eve @ Asian Civilisations Museum
Fancy a night at the museum? Asian Civilisations Museum will be opening its doors till 10 pm on New Year's Eve 2019 in Singapore! Explore ACM's galleries, craft with your children followed by catching the New Year's Eve fireworks from the ACM Green.
When: 10 am to 10 pm
Starlight @ The Lawn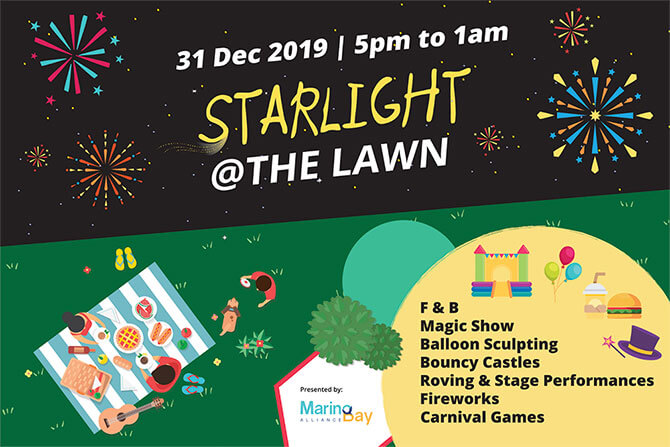 Another kid-and-kin-friendly event is right at the lawn in Marine Bay. Bounce at the bouncy castles, enjoy live performances and other fringe activities while welcoming 2020
When: 5 pm to 1 am
Where: The Lawn @ Marina Bay
Uncle Ringo Presents The Great Circus of Europe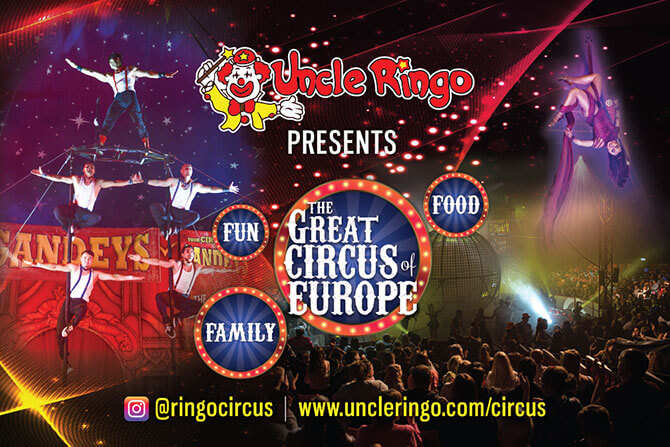 Be entertained with sensational shows, never-seen acts from the UK. There will be a spectacular array of international circus superstars with their jaw-dropping performances. Children, big or little, will be wow-ed. Check this website for more details.
When: Till 1 January 2020
Where: Bayfront Event Space
---
For the Performance-goers to Spend New Year's Eve 2019 in Singapore
The Philharmonic Orchestra's New Year's Eve Countdown Concert 2020
If you'd prefer soothing music to usher in the New Year 2020, enjoy this concert by the The Philharmonic Orchestra followed by champagne, and fireworks over Empress Lawn.
When: 10 pm to midnight
Where: Victoria Theatre and Concert Hall
Build a Dream Light Projection Show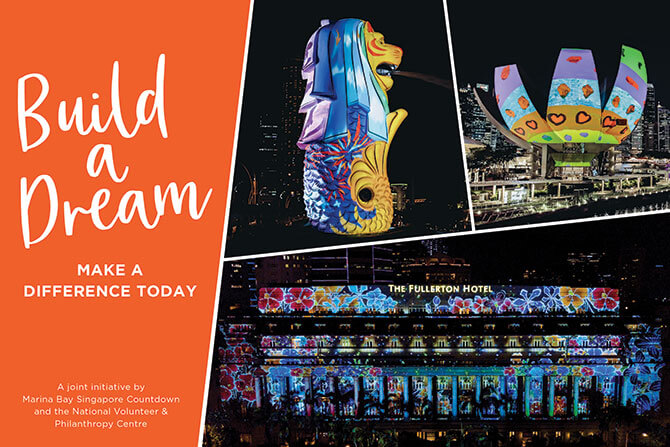 Iconic buildings such as The Fullerton Hotel Singapore, ArtScience Museum and The Merlion statue will all be lit to bring cheers to four social service organisations this festive season. Beautiful artwork from the non-profit organisations will be projected onto the iconic buildings, lighting up the city skyline.
Various timings on 31 December
The Fullerton Hotel Singapore, ArtScience Museum and The Merlion
Star Island Singapore Countdown 2019 – 2020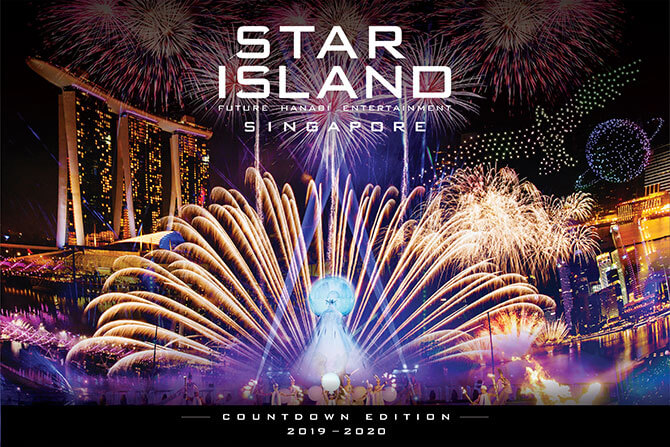 Star Island Singapore will return this New Year's eve 2019 with a fireworks musical extravaganza. Expect Japanese-designed fireworks, pyrotechnics, 3D surround sound and artists in a seamless performance. There will be pre-show F&B and other activities as well when doors open at 5pm.
When: 10.40 pm to 12.30 am
The Float @ Marina Bay
New Year's Eve Countdown at the Esplanade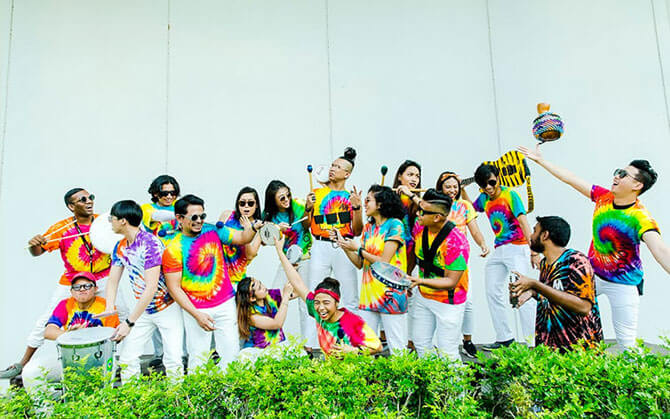 You can also choose to welcome the New Year 2020 with lots of R&B, soul, samba, various music genres and loud beats with Hillary Francis, Joe & The Soul Express and MOTUS. You will be able to see some fireworks as well, just a distance away.
Where & When: Esplanade Outdoor Theatre, 7 pm
---
For the Artsy Folks
Red Dot Design Museum
Check out this boutique museum along the waterfront promenade which will open its doors till 12 midnight. Besides one of the best design shops with a big collection of design products sourced internationally, you can visit an exhibition "Human-Nature" that explores the co-existence of humans and robots, big data and machine learning. This will also be a great view of the waterfront and fireworks show.
When: 10 am to midnight
The Arts House
Experience Singapore through the lens of pioneer photographer Marjorie Doggett at The Arts House. Like Asian Civilisations Museum and Red Dot Design Museum, The Arts House will also extend its hours on New Year's Eve 2019.
When: 10 am to midnight
---
For the fans of Japanese Culture
Great World City
Experience the Japan New Year celebration on 1 January 2020 at Great World City. From a sake breaking ceremony, mochi-pounding, Taiko Drum performance, you can get your chance to try cups of sake for the New Year. Kids will also get a chance to pound some mochi
---
For the Ones seeking some Tranquillity
For the introverts and non-partying folks, you can still celebrate away from the crowds. Have a picnic at Labrador Park, West Coast Park and East Coast Park and see the ships firing celebratory flares at 12 midnight. These ships are actually getting rid of their expiring emergency flares – at the stroke of midnight.
---
For Fans of Fireworks
For great vantage points for fireworks viewing without spending a cent, try Queen Elizabeth Walk, Esplanade Waterfront, Marina Barrage, The Helix Bridge, Stadium Riverside Walk, Gardens by the Bay East. Photographers will be hounding these spots as well, so look out for the best spots where cameras are usually positioned.