It's beginning to look a lot like Christmas! Toys in every store and maybe the sight of Santa Claus? Have your little ones been naughty or nice this year? It's time to let Santa decide! Here is a list of places where to find Santa in Singapore 2018 for this Christmas season. Remind them to come up with their Christmas list for Santa before going!
Santa In Singapore 2018
---
Universal Studios Singapore
Have the little Ones been especially nice this year? Spend a full day at Universal Studios Singapore and embark on a Christmas adventure as a family! Santa will be riding around in his sleigh during the parades and he will have 2 meet and greet sessions along with his reindeers, elves and his toy soldiers. The kids will be in for a treat as USS features an Elf Town where the kids can explore and be a part of the interactive experience led by the elves. Keep a lookout for their favourite characters dressed in their Christmas best around Elf Town!
When: 1 December 2018 to 1 Jan 2019
---
Christmas Wonderland at Gardens By The Bay
Let the little Ones be enchanted by the magical display of lights at Christmas Wonderland held in Gardens By The Bay. Visit Santa in his Alpine House within Santa's Grotto, largest of its kind around Asia. It features many festive installations and a mesmerizing kinetic light installation hailed all the way from Germany.
---
-- Story continues below --
When: 30 November 2018 till 26 December 2018
---
Snow City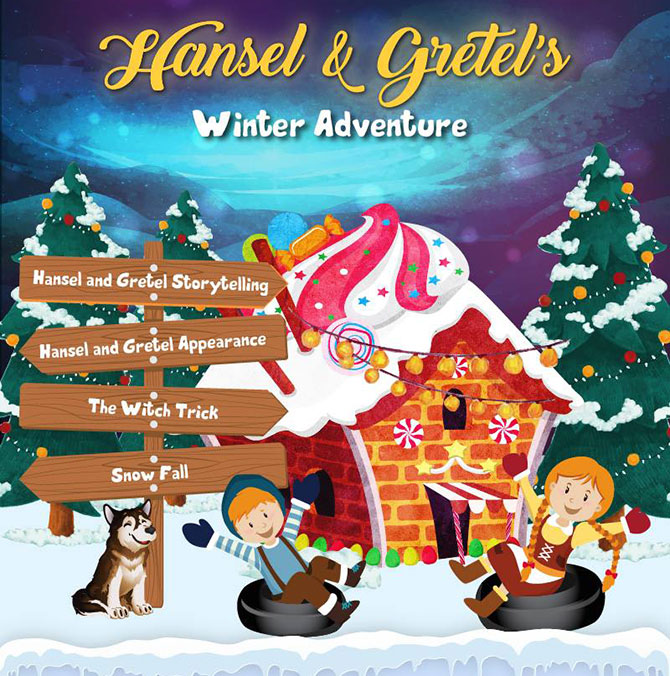 Experience a true white Christmas at Snow City, where the family can build snowmen, have snowball fights and make snow angels! Complete with snowfall and Christmas Carols, Santa will also be visiting on weekends, Christmas and Christmas Eve. There will be an interactive storytelling session as well as a magical experience in the theme of Hansel and Gretel. If you aren't in the Christmas mood yet, this trip to Snow City is bound to bring the joy of Christmas and you will feel it in the chilly air. Also, it is a good break from all the sun and humidity in this little red dot.
When: 17 November 2018 to 1 January 2019, do note that all Christmas activities will only run during the weekends and 24 & 25 December. Christmas Caroling will only run on 24 & 25 December 2018.
Pressed for time? Do your Christmas shopping at these malls and bring the kids along to meet Santa!
---
Changi City Point
Try to spot Santa Claus roaming around the Changi City Point at scheduled hours and receive some candy! Tired of shopping? Take a break and let the kids have fun at Changi City Point's Christmas Carnival where there are exciting carnival rides! Have a go at the carnival games and maybe take home a prize or two just in time for Christmas. Let the kids expend their energy at the bouncy Santa's house, hopefully making it easier to tuck them in that night.
When:
Roaming Santa 22 & 23 December from 12 pm to 2 pm, 24 & 25 December from 3 pm to 5 pm.
Christmas Carnival 30 November to 16 December 2018 Weekdays – 4 pm to 9 pm Weekends – 12 pm to 9 pm
---
Nordic Asia Christmas Festival
What's special about this festival is that Finnair will be flying Father Christmas all the way from Rovaniemi's Santa Claus Village to visit the little children in Singapore. Coupled with vendors selling artisanal and bespoke products flown in exclusively from Finland, Norway, Denmark, Sweden, Iceland and Estonia, it is a guarantee that you will find a little something for your loved ones while the little Ones meet with Santa Claus.
When: 1pm to 9pm hourly on 7 December 2018 and 3pm to 7pm hourly on 8 December 2018
---
Cluny Court
Dress yourself and the little Ones in your festive best to meet Santa Claus at his Grotto in Cluny Court. Capture the moment as a family or with the kids in Santa's lap and usher in the festivities this season! Keep them busy at the Happiest Children's Christmas Workshop with meaningful and fun crafting activities or join in the caroling performed by Vox Camerata. Nothing says Christmas more than the sound of carols filling the air!
When: 23 November 2018 to 16 December 2018 Weekends only. Check out clunycourt.com for Santa's schedules.
---
The Great Christmas Village
Along with the dazzling display of Christmas lights along Orchard Road, The Great Christmas Village is located at Ngee Ann City, Civic Plaza. There will be carnival rides and complimentary craft activities for the kids while the adults can fill their tummies with tons of good food. Father Christmas will be in his house right next to the London Train ride, awaiting the children and their Christmas lists!
When: 15 November to 6 December 2018. Santa Claus will appear on Fridays and Saturdays only from 7 pm to 9 pm.
---
ION Orchard
ION Orchard promises that it is a place where Christmas Sparkles this year. Get into the Christmas mood, at the Christmas Park where the largest Cartier Ferris wheel awaits, a roving brass band playing Christmas classics, ION sparklers and of course Santa Claus! Meet Santa at level 1 next to Concierge and maybe the kids could snag a candy cane or 2 from him. With the wide range of shops in ION, you are guaranteed a fruitful day out with the kids, checking Christmas shopping and Santa Claus' meet and greet off your list!
When: 9 November 2018 to 1 January 2019. Santa Claus meet and greet 14 December to 16 December, 21 December to 25 December, 1 pm to 2pm, 6 pm to 7 pm.
---
Bonus Idea: The Night Before Christmas
The Night Before Christmas brings to the stage the story of a mouse who goes in search of Father Christmas. The heartwarming tale tells of the real spirit of Christmas. It will be at the SOTA Drama Theatre from 7 to 9 December 2018.
Little Day Out readers get to enjoy a 10% discount for The Night Before Christmas tickets with special code LDONBC2018 when booking through SISTIC.
More Stories on Christmas: