With Mid-Autumn Festival just around the corner, what better way to celebrate than to indulge in some delicious mooncakes? We've compiled a list of some places where you can get your hands on mooncakes in Singapore for 2019 and enjoy these delectable delights while celebrating the festivities.
Mooncakes in Singapore 2019
1. Old Seng Choon
Still craving bak kwa from Chinese New Year? Look no further than Old Seng Choon's new mooncake – Red Lotus Paste with Bakwa. A traditional mooncake with a contemporary twist, the Red Lotus Paste with Bakwa is filled with a delicious red lotus paste and hand-chopped bak kwa bits, making it a savoury and scrumptious treat. Some of these mooncakes in Singapore 2019 that you can enjoy include classic flavours like White Lotus Paste with Pumpkin Seeds, White Lotus Paste Yolk Blend and Black Sesame with Yolk Blend & Melon Seeds (prices start at $60.80 per box of four mooncakes).
If you're more of a snowskin mooncake lover, you'll be delighted to know that Old Seng Choon has not one but two new snowskin mooncake flavours – Pandan with Gula Melaka Snowskin and Yam with Pumpkin Snowskin ($68.80 for a box of eight mini mooncakes).
Old Seng Choon's mooncakes are available online, in their flagship store as well as their booth at B2, Takashimaya Square. Early bird discounts are also available and DBS/POSB members can also enjoy an additional 5% off their purchases. Get more information here.
2. PUTIEN's Madam Leng Handmade Mooncakes
Tired of all the typical mooncakes you have at every Mid-Autumn Festival? Why not try PUTIEN's Madam Leng Handmade Mooncakes? PUTIEN's Madam Leng Handmade Mooncakes are traditional Teochew style mooncakes, with a flakey golden exterior stuffed with Thailand Premium Taro or Japan's First Grade Sweet Potato. PUTIEN'S Madam Leng Handmade Mooncakes are also low in sugar and has no preservatives or additives. To pre-order your mooncakes, call or visit any of PUTIEN's 13 restaurants from 5 August, and there is also a dine-in discount of 10% from 5 August to 13 September 2019. Get more information here.
3. Paradise Group
Gift your loved ones this Mid-Autumn Festival with Paradise Group's Exquisite Mini Snow Skin Collection ($58.00 per box of eight mooncakes). Featuring unique and delectable flavours including Orange Citrus with Lychee Martini Truffle, Coffee Macchiato with Black Sesame Truffle, Jasmine with Hazelnut Crunch Truffle and Japanese Chestnut with Osmanthus Truffle, there is definitely something for everyone in this set. Paradise Group's popular Mini Baked Custard with Molten Salted Egg Yolk mooncakes ($56 per box of eight mooncakes) are also back and bound to delight with its moreish savoury and sweet melody of flavours. Get more information here.
4. Xin Cuisine Chinese Restaurant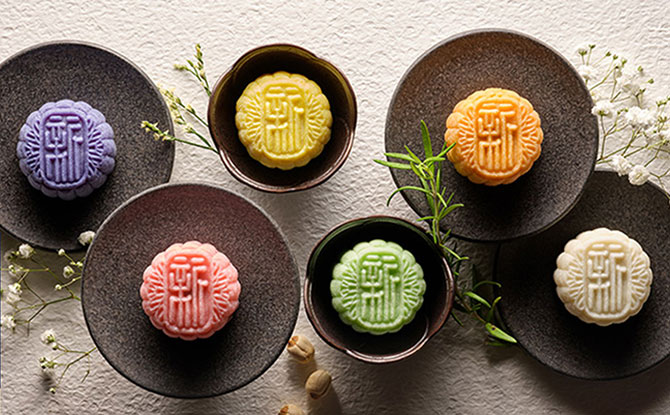 Holiday Inn Singapore Atrium's award-winning Chinese restaurant has concocted two new Snowskin Mooncakes for Mid-Autumn Festival 2019. The White Lotus Seed Paste with Singapore Sling Praline Snowskin Mooncake offers a refreshing burst of sweet and fruity flavour while the White Lotus Seed Paste with Rosemary Honey Praline Snowskin Mooncake peddles health benefits like improved concentration, digestion, alleviation of muscle pain and prevents brain aging. For the traditionalist, there is the Low Sugar White Lotus Seed Paste (Single Yolk / Double Yolk) and Xin's Signature Mini Egg Custard with Yolk and Assorted Nuts Mooncake. Xin's regular snowskin favourites – Peranakan Durian, Green Tea Paste with Baileys Irish Cream Praline, Passion Fruit Paste with Plum and Pandan Paste with Champagne Praline – are available too!
5. Yan Ting, The St. Regis Singapore
All my bubble tea fans put your hands up! Yan Ting at The St Regis Singapore is unveiling three new snowskin mooncake flavours including Royal Milk Tea Paste with Oolong Tea Truffle Snow Skin Mooncake ($78.00+ per box of eight mooncakes). Sink your teeth into the milk-tea infused lotus paste that is balanced with a bitter Oolong tea truffle core, making this a deliciously creamy treat.
If bubble tea isn't really your thing (gasps!) give the Chendol Paste with Melon Seeds Snow Skin Mooncake ($76.00+ per box of eight mooncakes) and Taro Paste with Salted Egg Yolk Truffle and Almond Flakes Snow Skin Mooncake ($78.00+ per box of eight mooncakes) a go.
You can opt to pre-order your mooncakes or purchase them on-site from 23 July to 13 September 2019 (subject to availability). American Express, Citibank and Maybank credit card holders can also enjoy a 15% discount for purchases made between 24 August and 13 September 2019.  Get more information here.
5. BreadTalk
BreadTalk will be bringing in the famed classic White Lotus Paste with Double Yolk Mooncake and other popular flavours such as the Red Bean Paste Mooncake and Mixed Nuts Mooncake from Hang Heung Cake Shop. A famous Hong Kong bakery serving traditional Chinese pastries since the 1920s, Hang Heung Cake Shop is a household name in Hong Kong and has even been featured in Hong Kong's TVB dramas. The bakery was also awarded the title of a Centurion brand by the Hong Kong Food Council for its preservation of the heritage and craft of traditional Chinese baked goods. Old is certainly gold so be sure to get your hands on these mooncakes in Singapore 2019! Get more information here.
6. Hua Ting Restaurant, Orchard Hotel Singapore
Orchard Hotel Singapore's award-winning Hua Ting Restaurant celebrates Mid-Autumn Festival 2019 with a mouthwatering array of snowskin mooncakes. With unique flavours ranging from Hawthorn with Melon Seeds, Mini Salted Egg Yolk Custard, Blueberry with Vintage Hua Diao Wine and White Lotus Paste with Champagne Ganache ($70 per box of eight mooncakes for each mooncake flavour), these mooncakes will definitely be a delightful treat. Spoilt for choice? You can get the Hua Ting Mini Snowskin Treasures ($70 per box of eight mooncakes) which features two of each snowskin specialty flavours because variety is indeed the spice of life. Get more information here.