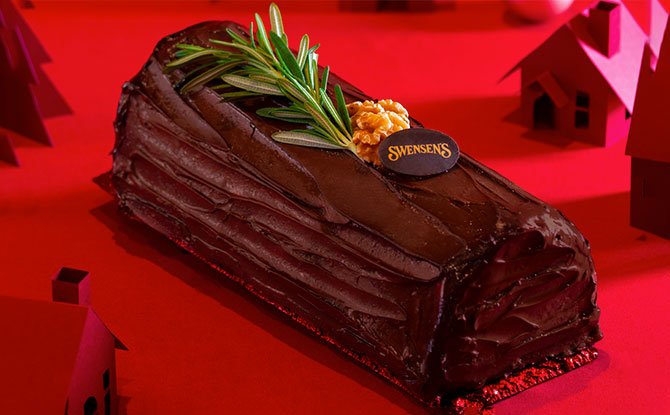 An iconic centrepiece of a Christmas dessert table is a log cake. For those looking on where you can get this festive treat, there are many different choices available. Here are some yule log cakes 2022 in Singapore.
---
Where To Buy Christmas Log Cakes In Singapore 2022
ONE°15 Marina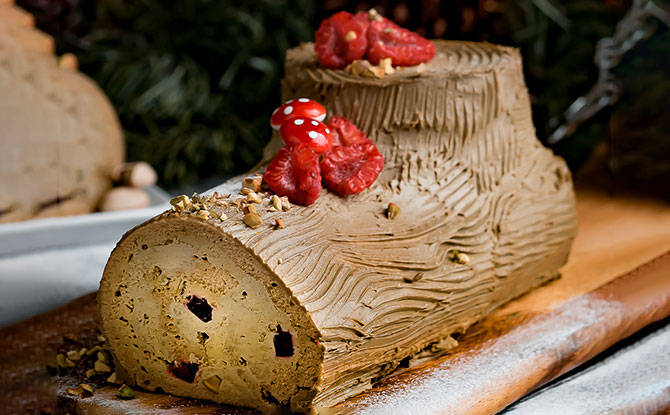 ONE°15 Marina has three popular log cake flavours to end the Christmas dinner on a sweet note. The Classic Dark Chocolate Log Cake ($78+) makes use of 78% Cocoa Belgium dark chocolate complemented by light French Chantilly cream. There is the pink-hued Lychee & Rose Log Cake ($88+) for a burst of fresh lychees flavour and a Premium Bronte Pistachio Log Cake ($88+) for those seeking a milder dessert with the extra texture of pistachio nibs. Get more details here.
---
Lady M
For Christmas, Lady M has an online exclusive Black Forest Log Cake ($110 whole) with airy chocolate sponge swirled with delicate whipped cream and wild morello cherries soaked in exquisite French brandy for a richer alternative chocolate lovers will love. Get more details here.
---
-- Story continues below --
Ah Mah Homemade Cake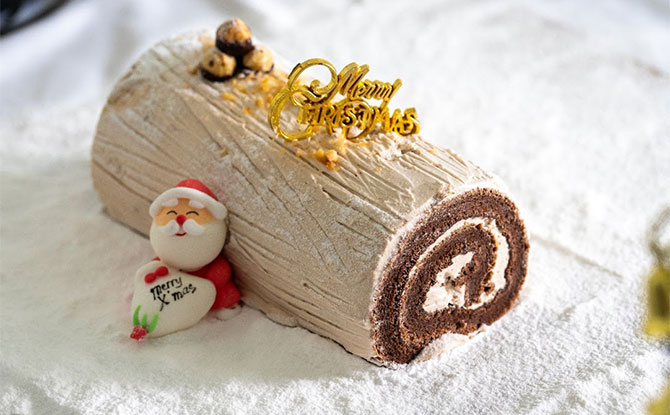 Ah Mah Homemade Cake's has a new Hazelnut Log Cake that showcases a light and fluffy chocolate sponge rolled with a rich and nutty hazelnut cream. It is priced at $19.90 for 450g. It can be ordered online here.
---
Swensen's
What's better than a log cake to kids? An ice cream log cake, of course! This year, Swensen's has a Winter Sonata log cake made with an all-new Hokkaido Snow with Honeycomb Bits Ice Cream. The all-time favourite, Sticky Chewy Chocolate ice cream, is also back in the Merry Giftmas log cake. Website
---
BreadTalk
Do logs that have been converted into cabins count as log cakes? Whatever your opinion, you can check out the Choco Hazelnut Hut as an alternative to the usual log cakes in Singapore 2022. This features a classic chocolate chiffon cake layered with velvety chocolate hazelnut cream, vanilla white chocolate cream and an intense 70% dark chocolate mousse with chocolate shavings. Or if you still prefer a traditional log cake for 2022, check out the Cookies & Cream Log which has whole Oreo cookies enveloped in white vanilla chocolate cream sandwiched between fluffy and moist chocolate chiffon cake and topped with Oreo vanilla white chocolate cream. Find out more about these log cakes 2022 that you can get in Singapore
---
TCC
The Connoisseur Concerto or TCC is offering a number of log cakes 2022 for the Christmas festive season. There is the Chocolate Mousse Log Cake with  dark chocolate mousse cake apparelled with chocolate glaze and sparkles of edible gold dust ($68.80+) or the Red Velvet Walnut Log Cake made from a creamy cheese sponge cake rolled with raspberry puree and crunchy walnuts ($58.80+). Get more details here.
---
InterContinental Singapore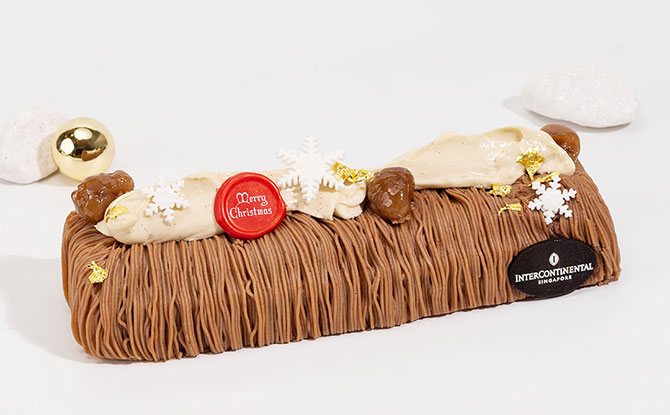 For 2022, InterContinental Singapore has a Heritage Chestnut Christmas Yule Log (1kg, $98) made with Tahitian chestnut cream with berries compote and heritage tea bavarious and chestnut sponge. Other log cake options include a Bûche de Noël chocolate yule log and Signature Forest Cherries Yule Log. If you are looking for something different, there is a Christmas Nut Tree available too. Website
---
Awfully Chocolate
The Dark Cherry Meringue Log Cake (560 g, $88) from Awfully Chocolate has a burnt meringue exterior. It is dressed over dark chocolate diplomat, soft chocolate cake and sour cherries. Another log cake option is the All Chocolate Log Cake. Website
---
Sinpopo
For a local twist on the yule log, check out Sinpopo's Gula Melaka Log Cake ($72), Pink Coconut Log Cake ($72) or Pandan Kaya Log Cake ($72). Website
---
Emicakes
Feel like having a durian log cake for your 2022 party? Or how about a Peach Mango Log Cake? Check out the log cakes that Emicakes has on offer for 2022, with prices starting from $43.10. Website
---
JW Marriott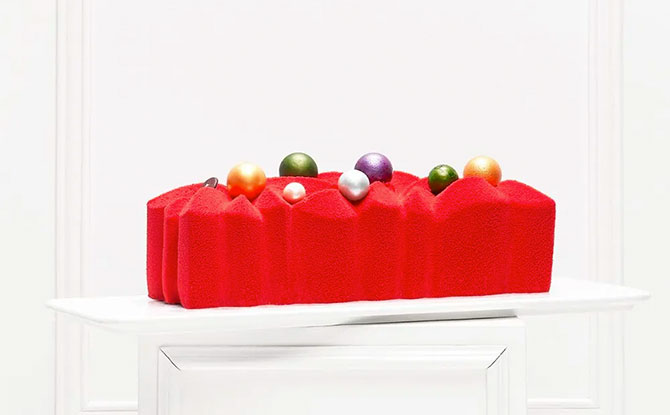 Delight in festive sweet treats this holiday season with a Forest Berry Yoghurt Logcake (1 kg, $78) made with Purple Berry Sponge, Red Fruit Crunchy Base, Fruit of the Forest Compote and Light Red Fruit Yoghurt Mousse. Or opt for a 64% Manjari Rum Rasin Logcake (1 kg, $78) with flourless chocolate sponge and Myers rum.  Website