Are you in the holiday mood yet? Get into the holiday spirit with things to do this weekend in Singapore, 10 and 11 December 2022. There are plenty of activities and events that you can choose from. We've put together a list of suggestions for you below.
---
What to Do This Weekend in Singapore: 10 & 11 December 2022
Space Fest @ EXPO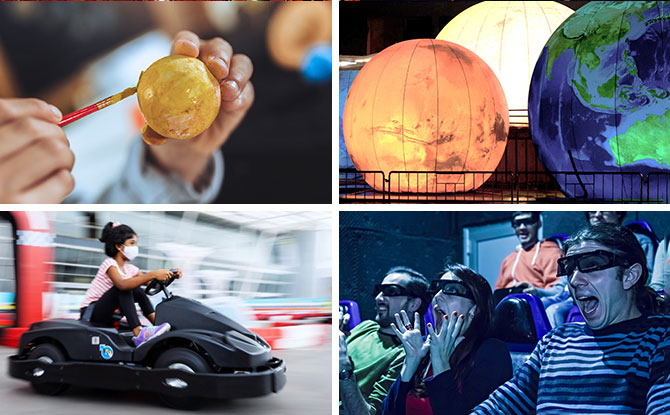 Head down to Space Fest at Singapore EXPO for space-themed activities for all ages. Enjoy two activity zones, as well as thematic retail and food pop-ups. There is also an inflatable park, kiddy space karts and a "Pedal to the Stars" game. Football fans can gather to watch Mediacorp's 'live' screenings of the FIFA World Cup Qatar 2022™ matches. Find out more about what's on at Space Fest @ EXPO.
---
Children's Museum Singapore Opening Weekend
---
-- Story continues below --
Pay a visit to the new Children's Museum Singapore. Explore the galleries at the dedicated children's space. There will also be game booths and prizes to be won, as well as performances and goodie bags. Find out how to book your tickets for the Children's Museum Singapore Birthday Bash.
---
Christmas Karting at UE Square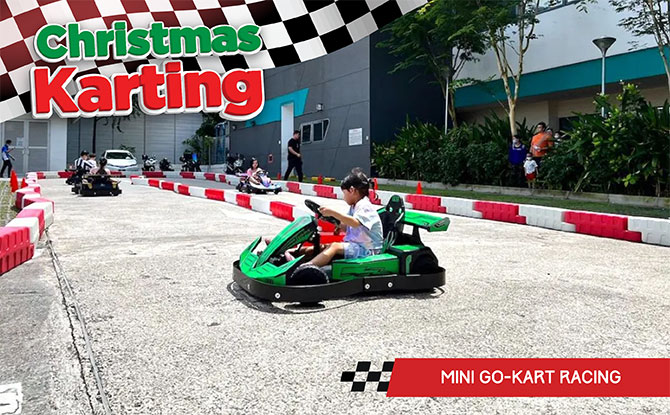 Get off to the races at Christmas Karting at UE Square on 10 December 2022, 12 pm to 5 pm. There will be mini go-kart racing and inflatable obstacle course and more. Admission is free but limited to the first 500 participants only, on a first-come-first-served basis. Get more details about Christmas Karting at UE Square.
---
Little Day Out x FairPrice Xtra: Family Christmas Food Crafting Virtual Class 2022 Edition
Stand not one, but three chances to win $100 FairPrice eVouchers by joining us at our Family Christmas Food Crafting virtual class on 10 December 2022, 10.30 am to 12.30 pm! Learn how to craft a showstopper together with us and make an edible Christmas Train and Christmas trees. Do it from the comforts of your home and stun everyone with your creation, make memories too and get the family together! Be creative and use ingredients that might be already in your home! Or get to FairPrice Xtra and purchase what you need. Click here to find out more and sign up now!
---
Singapore Comic Con 2022
Singapore Comic Con takes place on 10 and 11 December and brings together toys, comic and gaming content as well as fan based zones, cosplay competitions and an esports arena featuring local and regional leagues. Kids below 12 years old enter for free when accompanied by a ticket holding adult. Find out more about Singapore Comic Con 2022.
---
Everyday Creativity Festival
Playeum's Everyday Creativity Festival 2022 on 9 & 10 December explores what it means to play with the theme #ThePowerofPlay. Experiencing all the ways play can traverse boundaries, reshape narratives and affect how we respond to the complex world we live in. The festival will feature artful play experiences, creative workshops, intercultural conversations, play installations, showcases directed by children and more. Get more details here.
---
BookFest @ Singapore 2022
Popular's BookFest @ Singapore 2022 returns to the Suntec Convention Halls from 9 to 18 December. In addition to shopping, you can also take part in games and activities. When you're done at BookFest, you can also pay a visit to Suntec City's Christmas Carnival Cheer where there are activities include live performances over the weekend.
---
Christmas Storytime with Uncle Mike
Join in a special Christmas StoryTime with Woods in the Books' Uncle Mike on 11 December 2022 who will be reading Santa Post by Emma Yarlett. In this interactive session, little ones will be enlisted to help figure out what gift a girl had asked for as her letter to Santa was accidentally damaged! There will also be an art activity to celebrate this festive season. Get more details and tickets here.
Find even more activities taking place during the year-end school holidays 2022.
This story contains affiliate links. This means we earn a small fee if you purchase something through a link from our website. There is no additional cost to you and goes towards supporting Little Day Out's efforts to deliver the best news and reporting for families.