This year, Hari Raya Puasa falls on June 5, right in the middle of the week. While some of us may choose to take this public holiday as a timely pit stop to rest and recuperate, others may be scratching their heads on what to do on Hari Raya 2019 in Singapore. Here are some suggestions of things to do.
What to do on Hari Raya Puasa 2019 in Singapore
---
Visit the Istana Hari Raya Open House
In celebration of Hari Raya Puasa 2019 in Singapore, the Istana and the Istana grounds will be open to the public this upcoming Wednesday, from 8.30 am to 6 pm. In conjunction with the Singapore Bicentennial, President Halimah Yacob will be launching the Singapore Bicentennial commemorative note on this special day. In addition, visitors can look forward to a special interactive exhibition on our nation's 700-year history and growth story to where she is today. The Hari Raya Istana Open House 2019 also features an exciting line-up of cultural performances and programmes including dance performances as well as showcases by key communities that contributed to Singapore's nation-building story. Visitors can also go for the Nature Guided Walk to learn about the diversity of wildlife in this historical estate.
---
Stroll through Gardens by the Bay's Rose Romance and Scentsational Exhibitions
Spend your day at Gardens by the Bay on Hari Raya Puasa 2019 in Singapore. There are two new ongoing exhibitions- Scentsational Orchids in the Cloud Forest and Rose Romance. Escape from the urban jungle that is Singapore and step into this kingdom of plants. Check out the colourful, fragrant orchids and slow down to smell the roses (literally!) while enjoying the over 40 varieties of roses in a plethora of colours. The Rose Romance exhibit also boasts a spectacular medley of rose hybrids such as Princess Anne, Lady of Shalott and Angèle Pernet.
---
Gallery Children's Biennale 2019: Embracing Wonder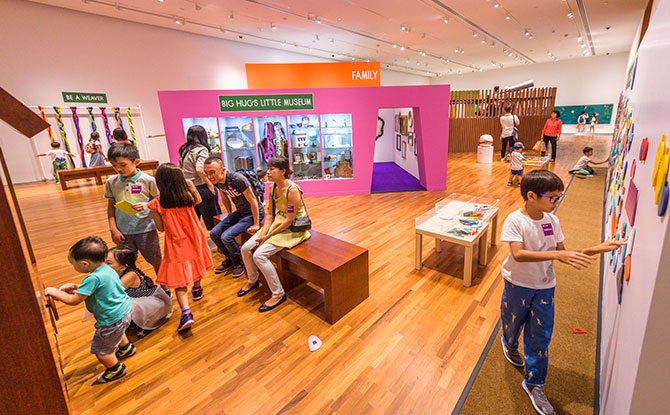 Set to the theme of embracing wonder, Gallery Children's Biennale 2019 celebrates imagination and curiosity while imparting meaningful values like openness and acceptance. With eleven interactive exhibitions by local and Southeast Asian artists, visitors can look forward to a multisensory adventure while actively engaging with the art installations. Highlights that are not to be missed include Big Hug, Memories of Fireflies and The Other Wall. Visitors both young and the young at heart will definitely enjoy this interesting and playful exhibition. Get more details here.
---
-- Story continues below --
---
Takashimaya Food Fiesta
With over 50 F&B establishments presenting foods that range from crispy cream puffs to mala skewers, the Takashimaya Food Fiesta will leave you spoilt for choice and wishing you had a second (and even third or fourth!) stomach to sample all the delicious fare. Eating is one of life's simplest yet greatest pleasures so head over to Takashimaya Square, B2 for a day of indulgence because you deserve it. More details available here.
---
Visit the New Gardens at Fort Canning Park

Now home to nine new gardens that explore the hill's historical significance and heritage, this Hari Raya Puasa 2019 is the perfect opportunity for you to swap your work shoes for hiking boots and explore Fort Canning Park. There will also be an exciting line-up of all-day programmes and activities including special guided tours, station guides at the various gardens as well as children's activities and a terrarium workshop for a fun-filled day.
---
Go on an Adventure Quest for a chance to win a Staycation
Little Day Out is giving away a hotel staycation at YOTEL Singapore as part of the June holidays' Little Day Outing Adventure Quest. Pay a visit to Admiralty Park, Lakeside Garden or Pasir Ris Park, solve some clues and you will stand to win a staycation prize. And, families can have plenty of fun out at these awesome playgrounds too. Looking for things to do on Hari Raya Puasa 2019, head out and get adventuring! Get more details on the Little Day Outings Adventure Quest here.