We went on a playground spree in the new-ish neighbourhood of Punggol and uncovered some great finds. We reviewed whopping number of 11 playgrounds of Punggol, to be exact, and more upcoming ones.
Some of these newfangled HDB playgrounds are located just next to the tranquil Punggol Waterway (yay!), because the HDB blocks themselves are built next to the water.
Here are the best of the playgrounds of Punggol: Waterside, inner-estate, and mature-estate types, all in this ultimate list.
Waterside Playgrounds of Punggol

Industrial-chic: 673B Edgefield Plains

It's right by the bubbling water, and this rather epic playground is way cool.
A webbed swing that doubles up as a hammock on a lazy afternoon is bound to thrill the young ones and even the adults.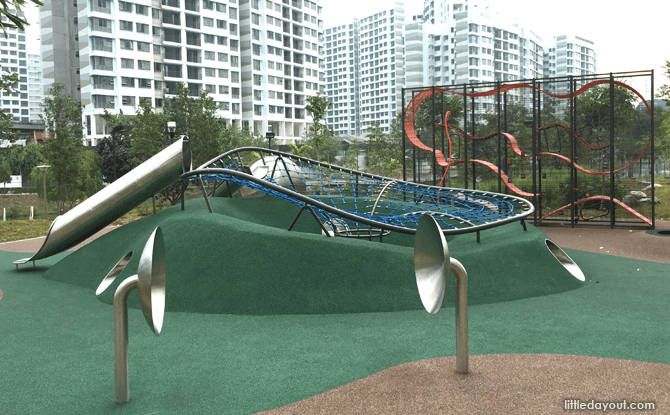 This industrial-chic slide on a mound of shock-absorbent turf also features a huge climbing web and steel tunnels. No doubt the steel is scalding hot on a scorching day, but the cool design scores points.
There are two dishes which look like cymbals. Try singing into the cymbals or rapping them with your knuckles!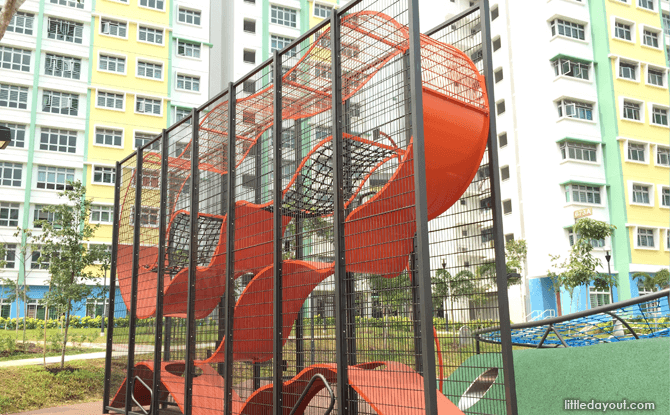 And the towering waves of the multi-level climbing structure looks like a fantastic treat for older kids who are up for a challenge. It has steel mesh all around the sides so that kids don't fall off.

For sensory play, the tykes can experiment with these sound pipes. Sing, buzz or shout into these pipe-organ-looking tubes, and hear the different sounds with the vibrations in the different pipes.
Nautical with hammock: 672D Edgefield Plains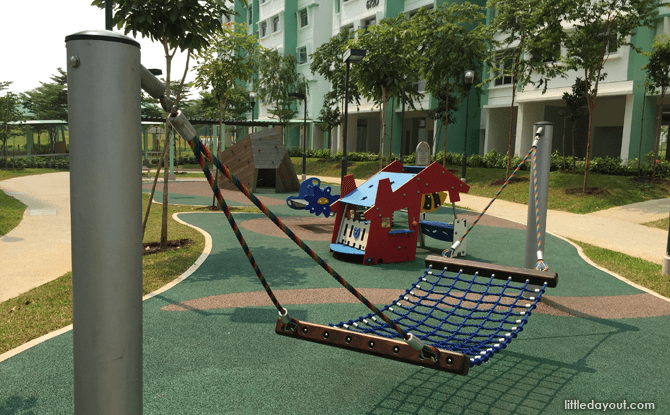 Right next to the impressive playground at Blk 673B, this smaller playground with low elements is just a stone's throw away and it's great for younger children and toddlers. The hammock is bound to be a real draw with the tots.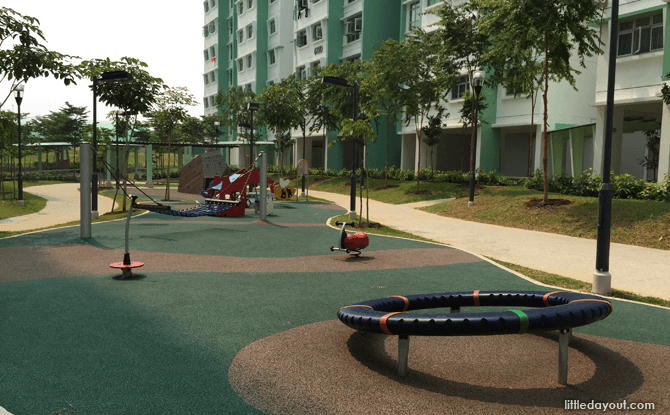 This cool donut contraption actually rotates, round and round. Harks back to the days of steel merry-go-rounds.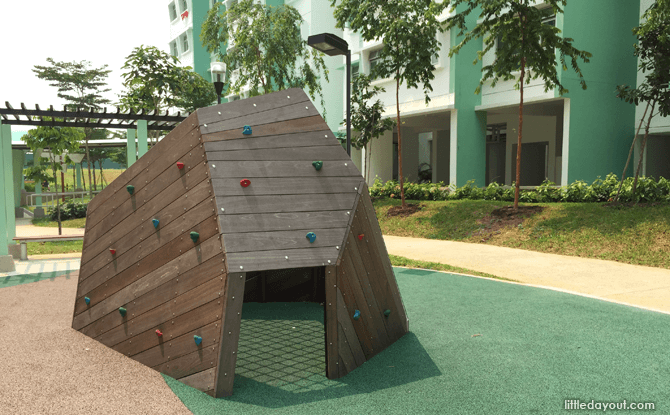 And then there's this wooden structure that looks like the hull of a ship. It doubles up as a low rock-climbing 3D wall, which is pretty neat.
Terraced beauty: 310B Punggol Waterway Terraces II

This nautical-themed playground is small and does not have many structures, but its wonderful location right along Punggol Waterway will make it a hit with the kids as well as the adults.

Hang around for a little while, and enjoy the rippling water.

This little playground is part of the fancy HDB estate that is Punggol Waterway Terraces, a series of terraced, wavy buildings edged with green.
Water play, sand pit: Waterway Park

Of course, we mustn't forget the water playground situated inside Punggol Waterway Park, as well as the huge sensory sandpit they have there.
Inner-estate Playgrounds
One thing we noticed about the new Punggol flats: There is a lot of landscaped greenery surrounding the estates, especially the newer ones. This means that the playgrounds are fringed with green, too.
Rock-climbing caterpillar: 270B Punggol Field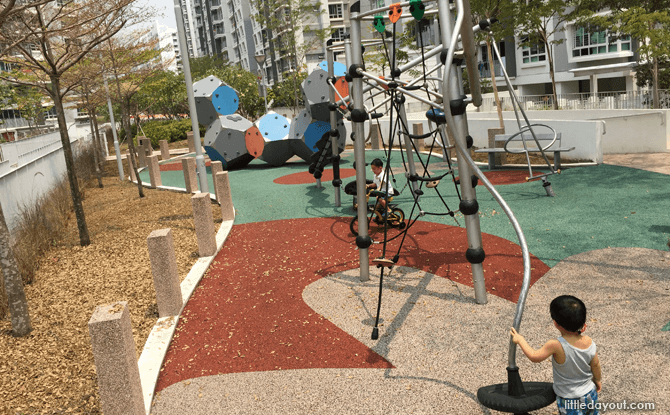 This estate shares a common rooftop garden – a mini-park of some sort – which is situated on top of their carpark. There are small paths where kids can cycle or scoot about.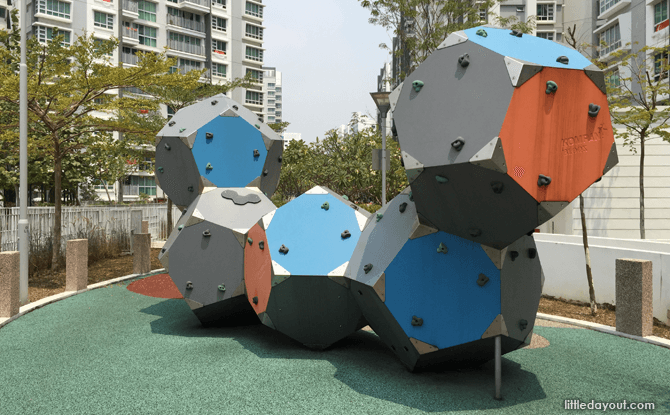 The giant caterpillar structure is made up of many polygons, with rock-climbing steps built in.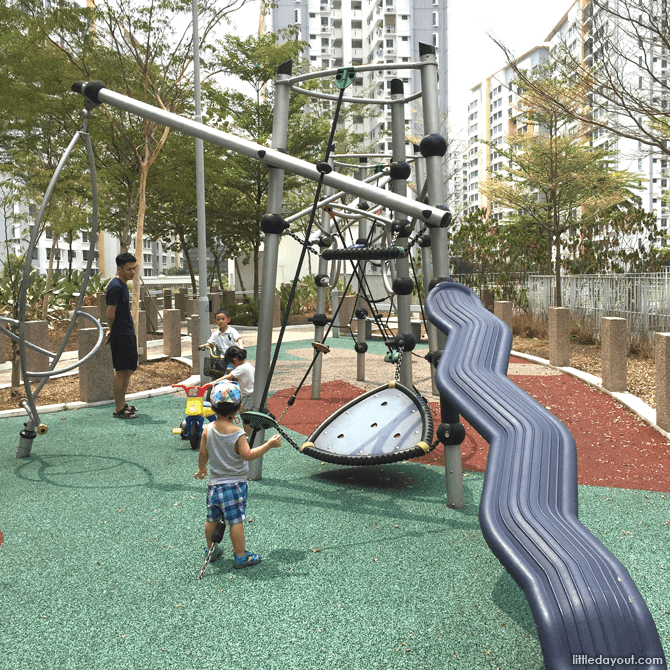 Don't be fooled by this wavy slope. It is NOT a slide, and it WOBBLES side to side. Great training for balance and core strength for an energetic climber!
Gondola ride: 305A Punggol Road

Situated at another rooftop garden is this interesting playground on Level 2 Landscape Deck. You can take a lift up from the carpark at Blk 305A.
Swathed in earthy tones, a cool feature of this playground is the nifty gondola ride. The ride slowly moves from one end to the other….

But guess who has to put in the elbow grease to crank up the gondola ride, using this bar? No one told us this is coolie work for parents, in disguise.
Rope bridge, towering slide: 671A Edgefield Plains

For younger kids, this small playground has a cool rope bridge, with shock-absorbent turf covering the tiny hills which are great for climbing up and down.

For the older kids, this towering steel structure looks like quite a challenge. With monkey bars, steel bar slides and spiral poles, this industrial-chic playground is a breath of fresh air.
The playground also sports the caterpillar-looking rock-climbing structure made up of polygons. Looks like plenty of (tiring) fun.
Polygon climbing web: 258C Punggol Field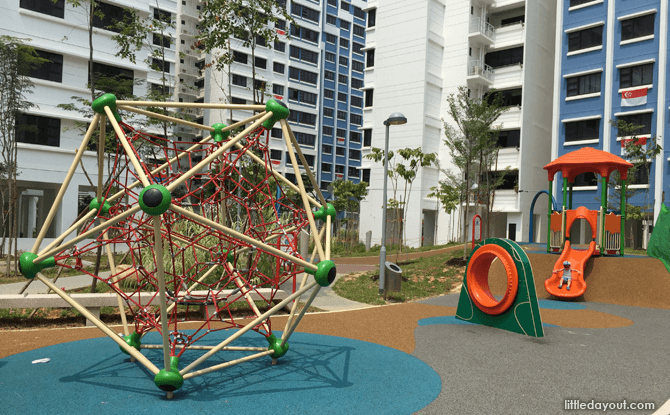 The climbing web of this playground looks like a bit of work. No matter, for kids who have energy to burn.
To get to the top of the slide, the kids have to climb up the boing-boing bouncy, soft turf, much like an artificial hill. A fun alternative to steps.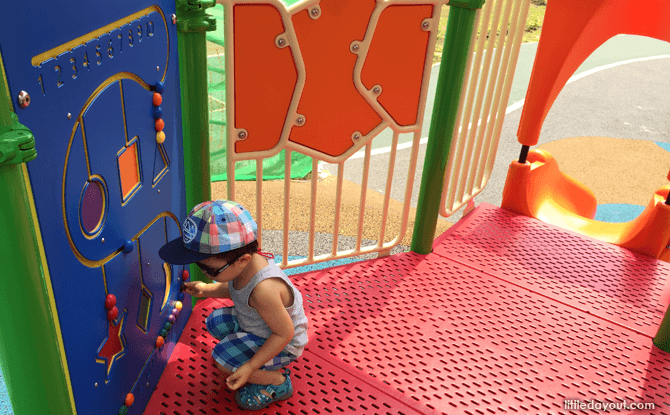 Once they are in the shade of the structure, there are some fun bead-chasers to occupy the toddlers.
Mature Estate Playgrounds
These playgrounds belong to the slightly older estates. They show some signs of wear, with the plastic structures rather sun-faded, but there is still a lot of play to be gotten out of these.
Cubed climbing web: 167 Punggol Field
There are so many ways to look at this webbed structure in the shape of a cube. A climbing wall;  a cage for animals; a high-security prison; a giant basket of giggling fruits. The possibilities are endless.
'Rock' wall: 125 Edgedale Plains
They've taken efforts to make the colour scheme and design of this rock-climbing wall look like an actual rock wall, which is rustic and fun. With the high bridge, kids could have lots of fun chasing their friends around and climbing up and about.
Triple slides: 114 Edgefield Plains
Not one, not two, but THREE slides congregate at this mega-slide playground. Sure, it's older than the latest playgrounds – but look at the size of those slides!
Upcoming Playgrounds

Watch out for these upcoming playgrounds of Punggol, slated to open along Punggol Waterway. They are under construction because the HDB estates they are part of are still being built. These waterside playgrounds are worth looking out for, judging by the existing waterway playgrounds.
Blk 322D Sumang Walk Playground (along the scenic Sunset Strip)
Blk 668B Edgefield Plains Playground