It's the most wonderful time of the year. Oh well, they'll tell you anything to make you part with your money come Christmas time.
Here are some sights and sounds – sweet light-ups and lovely carols and performances – of the festive season that don't require you to fork out any money. Go and make some memories with the family on a little day out – absolutely free!
Merry Christmas from all of us at Little Day Out!
---
-- Story continues below --
SIGHTS & LIGHTS
Orchard Road Light-Up
The annual Orchard Road light-up this Christmas boasts multi-colour mosaic Christmas trees, electric-blue snowflakes, and giant gold baubles from Tanglin Mall to Plaza Singapura until 1 January 2015.
Christmas Eve and New Year's Eve: 6.30 pm to 6.00 am
Fridays – Saturday: 6.30 pm to 2.00 am
Mondays – Thursdays & Sunday: 6.30 pm – 12 midnight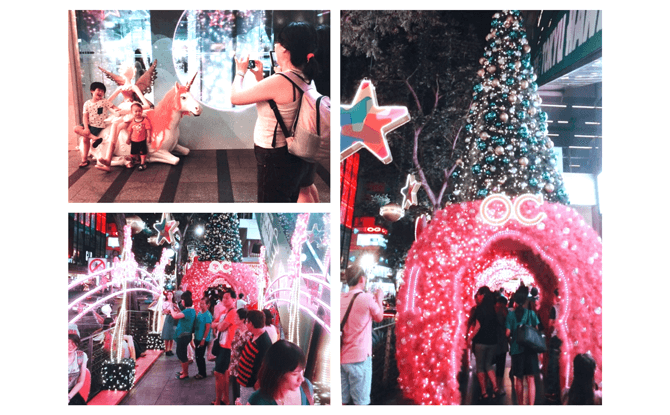 The winner of the Best Dressed Building Contest is Orchard Central mall. The sparkly, glittery pink Christmas theme will transport your family to fantasyland, replete with fairies and unicorns.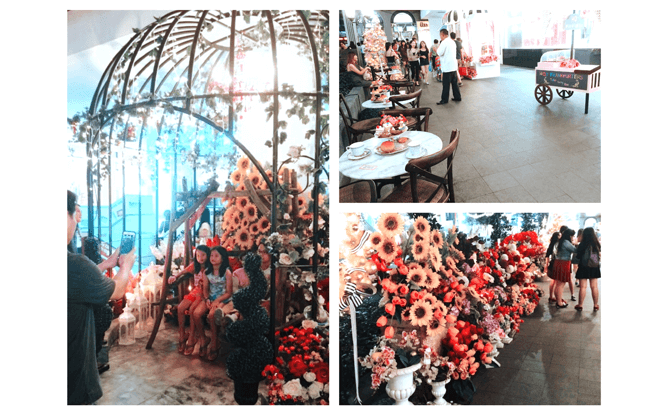 Centrepoint is another nice photo spot with an elaborate European streetscape and a giant gilded cage 'throne' that actually has people queuing up to take photos.
VivoCity
Want to visit a place that's NOT Orchard Rd? VivoCity has a sweet, sweet Christmas tree that's really tall and made up of many little lights – and other Christmassy icons like reindeer and giant snowflakes. Ho ho ho!
Gardens by the Bay
Over 30 dazzling light sculptures handmade by Italian craftsmen are set in the lush backdrop of the Gardens. The luminaries are made of white wood frames from southern Italy, and lit up in hundreds of colours.
The centrepiece has got to be the Spalliera, which is about 5 storeys high. Snow sessions at the Spalliera happens at 7.30 pm, 8.20 pm, 9.05 pm and 9.45 pm daily.
Of course, the Supertree Grove will be ablaze with the usual light shows.
There is also an adorable Christmas Train ride weaving around the Supertree Grove area, which the kids will love, at $6 a ticket per person – no age limits.
You won't just see lights here.  The Casa Armonica, an eight-metre-tall illuminated gazebo, will play host to 12 days of carolling by Singapore's acclaimed choir groups including Hwa Chong Choir, Temasek Junior College Choir and Paya Lebar Methodist Girls' School Choir, as well as the soulful vocals of singers Alemay Fernandez, Dawn Ho, Lily Anna and Michaela Therese.                   
Changi Airport
The free 8-minute light and music show at the front facade of the Neuschwanstein Castle at the Airport will keep the tykes captivated.
It culminates in snowfall, to the glee of both the adults and kids. The castle is lit up in many colours – great for photo-taking.
The three-storey castle, inspired by Disneyland's Cinderella and Sleeping Beauty castles, features a 'moving train' illusion inside, where the windows will scroll through images of the German charming countryside.
Changi Airport
Terminal 3, Departure Hall
Monday – Friday: 5 pm, 6 pm, 7 pm, 8 pm, 9 pm
Saturday – Sunday, PH & PH eves: 1 pm, 3 pm, 5 pm, 7 pm, 8 pm, 9 pm                   
SONGS & SOUNDS       
Tong Building Plaza
Carolling, Christmas shows and interactive booths will line the pedestrian walkways of Orchard Road between Scotts Road and Bideford Road (the stretch from Tangs to Paragon).
Non-profit organisation Celebrate Christmas in Singapore (CCIS) 2014 will also hold a mass carolling and sing-along session at Tong Building Plaza (right beside Paragon mall) on Christmas Eve.
On Christmas day, this stretch of Orchard Rd will be closed for a Christmas Concert, also held at Tong Building.
From Dec 18 to 25, there will be nightly performance by local and foreign performers, as well as carolling.
Go to CCIS 2014 for more programme details.
Seletar Mall
The newly-opened Seletar Mall will be offering a series of performances at its atrium in December by Ministry of Bellz, a harp trio, Abby Simone Trio, and more.
Ministry of Bellz
6, 7, 20 & 22 Dec: 2.30 pm
Abby Simone
6, 13, 20 & 22 Dec: 4.30 pm
Trio Harp Trio
21 & 23 Dec: 2.30 pm
14, 21 & 23 Dec: 4.30pm
Paragon
Crooners hit the sweet spot at Paragon, with public performances by the likes of Trisno Trio, Hazrul Nizam, Carlos Sendros and Elisa, and Carol Gomez and Nicholas Lim.
Head to Atrium 2, Level 1 to catch these gigs. More details of the performances here.
Raffles Hotel

The Victoria Junior College Choir will be performing popular Christmas carols at Raffles Hotel this year. For children staying at Raffles or having breakfast at Tiffin Room on Christmas Day, Santa Claus will be making an appearance  from 9.30 am to 10.30 am..
Dec 22 – 24
12 pm to 12.30 pm (North Bridge Road)
1 pm to 1.30 pm (Hotel Lobby) – only for Residents
2 pm to 2.30 pm (Raffles Courtyard) – open to all
Dec 25
12 pm to 12.30 pm (North Bridge Road)
1 pm to 1.30 pm (Bar & Billiard Room)
2  pm to 2.30 pm (Hotel Lobby)
3.30 pm to 4 pm (Hotel Lobby)
St Andrew's Cathedral
There are lots of Christmas activities at St Andrew's Cathedral, including evening open air performances, a food fair, a Christmas Eve service with carols, and Christmas Day services at different timings.
You can take the kids and journey through the Christmas story on the trail around the cathedral grounds which include a life-size display of Bethlehem, the birthplace of Jesus Christ, and the Nativity scene.
Open air performances
22 – 24 Dec: 6.30 pm – 9.30 pm
Food fair
24 Dec: 2 pm – 9.30 pm
See St Andrew's Cathedral programme for more details.
Merry Christmas!