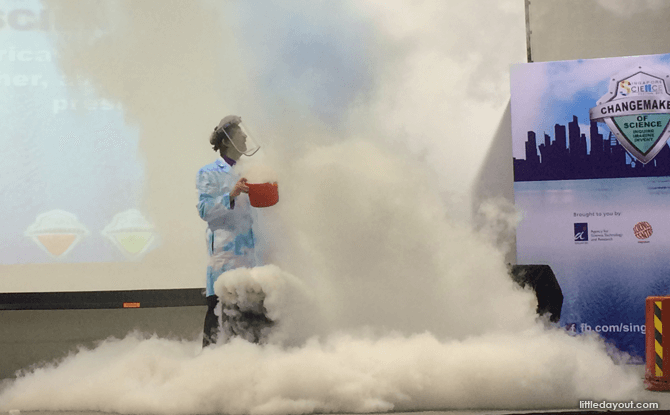 Meet the Changemakers of Science at this year's Singapore Science Festival.
The 2015 edition of this annual event is back from 10 July till 2 August with events that showcase the importance of science, technology, engineering and mathematics (STEM). It is jointly organised by the Agency for Science, Technology and Research (A*STAR) and Science Centre Singapore.
X-periment!
The Festival kicks off with X-periment!, a Science carnival taking place this weekend at VivoCity. Changemakers from the local science community will be showcasing projects that demonstrate how science and technology is shaping the future.
Also at X-periment! is science educator, Science Bob. He will present a Science show filled with experiments that demonstrate the basic principles of Science. Look out for the Film Canister Rocket, Elephant's Toothpaste and Liquid Nitrogen Cloud.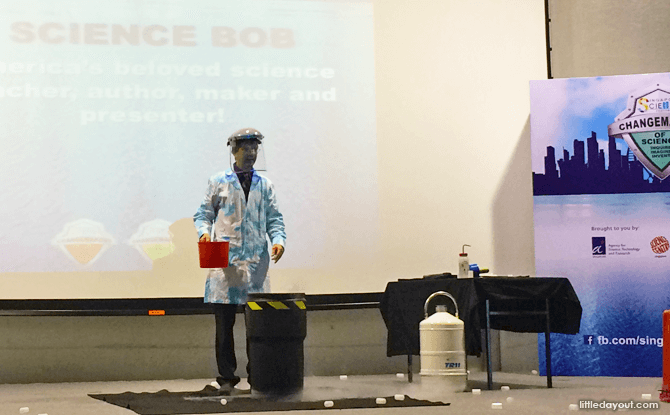 Science Bob creating a liquid nitrogen cloud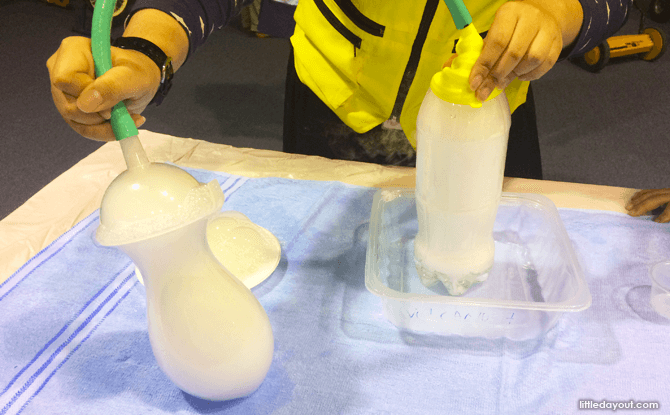 Using dry ice to make a bubble machine.
Maker Faire
A highlight of each year's Singapore Science Festival is the Maker Faire. This event brings inventors, creators and tinkers together to celebrate the hands-on spirit. This year's event has been conferred the status of a full-feature Maker Faire. The public can meet the Makers and there will be activities for them to get into the spirit of the Maker movement.
A book featuring Maker families in Singapore, Busy Hands, Happy Hearts, will also be launched at the Maker Faire.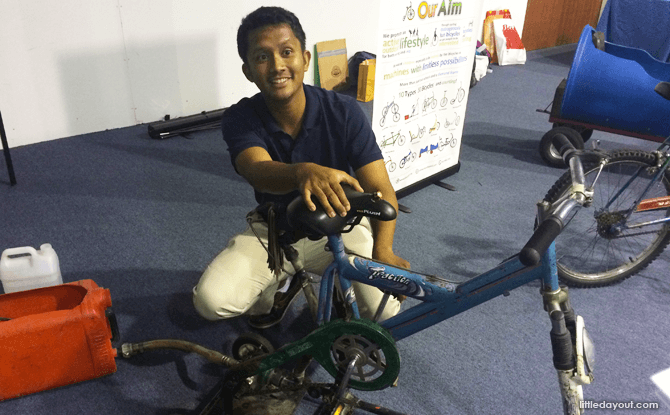 Bikes 4 Fun turns old bicycles into new inventions. Meet them and view their fun, "upcycled" inventions at Maker Faire Singapore.
Cultivating Changemakers
Other events taking place as part of the Singapore Science Festival 2015 include the Science Buskers Festival, Sidewalk Astronomy along with many others.
For more information, visit the Festival website and Facebook page.
SINGAPORE SCIENCE FESTIVAL KEY EVENTS
X-periment!
10 to 12 July
11 am to 8 pm
VivoCity, Level 1, Central Court
Free entry
Science Shows by Science Bob, USA
10 July
2.30 pm, 5.30 pm & 7.30 pm
11 July
12.30 pm, 2.30 pm, 5.30 pm & 7.30 pm
12 July
12.30 pm, 2.30 pm, 6 pm & 7.30 pm
VivoCity, Level 1, Central Court
Free entry
Maker Faire Singapore
11 July
11 am to 7 pm
12 July
10 am to 6 pm
15 Tampines Street 11
, Singapore 529454
Free entry
Science Buskers Festival
1 July 
11.30 am to 6 pm
12 July
11.30 am to 7.30 pm
VivoCity, Level 1, East & West Boulevard Atrium
Free entry