The seventh edition of Singapore's signature visual arts celebration, Singapore Art Week 2019 (SAW), will see the little red dot transform into a vibrant canvas of possibilities, as Art Takes Over for nine exciting days from 19 to 27 January 2019.
Singapore Art Week 2019 will be a collective and multi-disciplinary effort, bringing together new and old partners, such as emerging artmakers, and established galleries and museums, all of whom are intent on engaging a wider audience through innovative and memorable art experiences.
Singapore Art Week 2019 audiences can look forward to offerings beyond the usual art fairs, gallery openings, public art and lifestyle events. The various programmes will take place island-wide, from site-specific installations around the Civic District, Little India and other public areas, to malls, unconventional spaces, and even the Singapore River.
Whether you are an art enthusiast, or just an Everyday Joe, Singapore Art Week 2019 promises new and inspiring ways of experiencing art, as it presents Singapore's diverse visual arts landscape in the most accessible way possible.
---
-- Story continues below --
Singapore Art Week 2019
---
S.E.A. Focus at Gillman Barracks
Gillman Barracks, Singapore's leading visual arts destination, will host over 20 multi-disciplinary programmes during Singapore Art Week 2019. From their flagship open house event Art After Dark, to the debut of Adaptations, an exhibition that intersects art and technology, Gillman Barracks will celebrate all things art in conjunction with SAW2019.
Gillman Barracks will also be the anchor venue for the inaugural edition of S.E.A. Focus, an initiative by STPI – Creative Workshop & Gallery, supported by the National Arts Council (NAC).
Held from 24 to 27 January 2019, S.E.A. Focus – a boutique art fair – will cast a spotlight on established and emerging Southeast Asian artists, with the aim of developing and nurturing a deeper appreciation for the rapidly-evolving contemporary art scene in the region.
An exciting host of programmes catering to broad audiences have been lined up, including: #SEAcommunity, designed to deepen children's appreciation of art; and #SEAspotlight, a series of talks by well-known artists, gallerists, and curators from the region.
Art After Dark, Gillman Barracks' flagship night-time open house event and perennial crowd-favourite, will take place on 25 January 2019, as part of SAW2019.
Featuring new exhibition openings by resident galleries such as Ota Fine Arts, ShanghART Singapore, and Yavuz Gallery. Besides the visual art experiences, visitors can also soak up live musical performances by established producer Intriguant, and musical stalwarts Vandetta aka Vanessa Fernandez, and MAS1A.
Rounding off the night will be F&B pop-ups from the likes of Hopscotch, Super Simple, and The 1925.
---
Light to Night Festival 2019: Traces and Echoes
Another highlight of SAW2019 is the Light To Night Festival 2019: Traces and Echoes, which will run from 18 January to 24 February 2019.
The Light to Night Festival returns to the Civic District, and brings with it accessible artworks, and a range of creative and artistic expressions to audiences.
Look out for the return of Art Skins on Monuments by Brandon Tay and Safaun Johari, outdoor installations by Tell Your Children and MessyMsxi, as well audio installation, Under the Five Trees in Esplanade Park, and the Common Life exhibition which will take you on a visual and poetic journey across scenes in everyday Singaporean neighbourhoods.
Empress Lawn and Connaught Drive look set to be transformed during the Festival with a wide array of food and craft stalls, perfect for picnicking and taking in the vibrancy of the Civic District.
---
ARTWALK Little India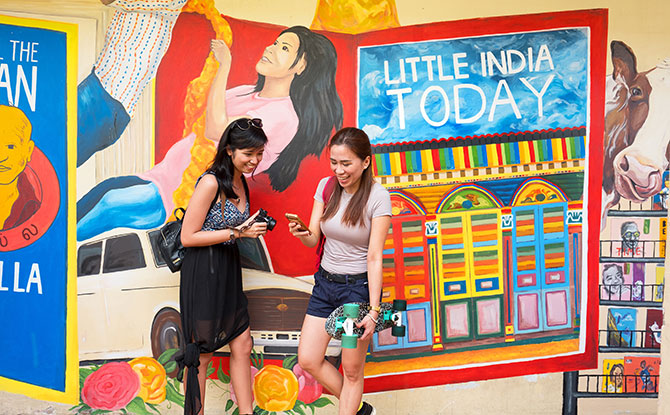 ARTWALK Little India is an annual multidisciplinary public arts project set in the cultural precinct of Little India. Presented by the Singapore Tourism Board and LASALLE College of the Arts, with the support of Little India Shopkeepers and Heritage Association (LISHA), ARTWALK returns for its fifth edition during SAW2019 from 18 January to 2 February 2019.
ARTWALK Little India 2019: Image and Sound of Fragrance points to the scents we pick up that may evoke specific emotions and memories. It may conjure up a smile, stir up a fear, alleviate a pain, or even create a sense of peace.
ARTWALK Little India aims to transforms scents into visuals, and turn noise into music. From live storytelling by Kamini Ramachandran, to performances by Kathak guru, Jyotika Joshi, an exhibition by various artists at UltraSuperNew Gallery, mural paintings, and artworks by students of LASALLE, there's a little something for everyone at ARTWALK Little India.
Visit www.artweek.sg for the full SAW2019 event line-up. For programme updates and previews, follow SAW on Facebook at www.facebook.com/sgartweek and Instagram via @sgartweek.