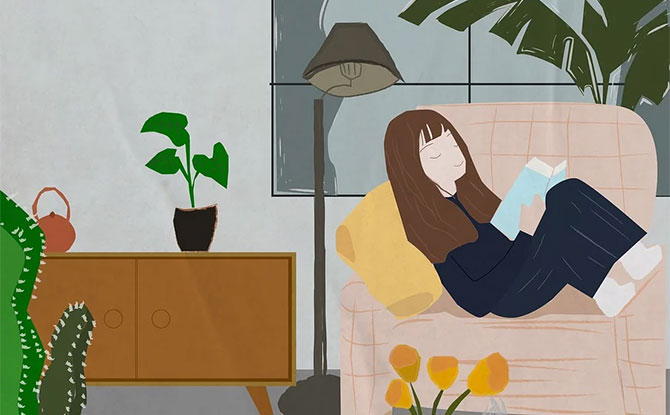 National Library Board's Read! Fest is back from 23 June to 31 July 2023, celebrating the joys of reading with a pop-up showcase and more.
In this eighth edition of Read! Fest, there are a variety of events for all to participate in. In addition to an interactive pop-up at Funan Mall, there will also be a charity book drive, author talks and many other programmes.
Read! Fest is also taking its message out of the libraries to unexpected places such as a wet market and a void deck of a housing block in Ang Mo Kio too.
---
Highlights of Read! Fest
Books Exploring the Theme "Flourish"
One of the highlights of Read! Fest 2023 are 12 Singapore and international books that explore the theme of "Flourish". These offer different perspectives including how one may thrive as an individual, in relationships, and as members of society.
---
-- Story continues below --
Amongst the books – which include titles in English, Chinese, Malay and Tamil – is Maybe You Should Talk to Someoneby Lori Gottlieb, a memoir of a therapist's own mental health journey.
Another book is Wet Market to Table by Pamelia Chia. This highlights uncommonly used vegetables, fruits and herbs found in Singapore wet markets and recipes on how to use them.
Kerusi Rantai Celung Keramat (The Chair. A Chain. A Holy Cage: A Collection of Short Stories Post-2000) by author Wan Jumaiah Mohd Jubri expounds on the importance of history, power, and cultural heritage while அறம்:உண்மை மனிதர்களின் கதைகள் (Morality: Stories of Real People) by Jeyamohan isa collection of short stories on 21st century virtues and real life heroes.
---
Pop-up Showcase at Funan Mall (23 June to 9 July 2023)
The Read! Fest showcase at Funan Mall, which is young working adults, invites members of the public to discover ways to flourish by engaging in activities to contemplate happiness and their relationships with others.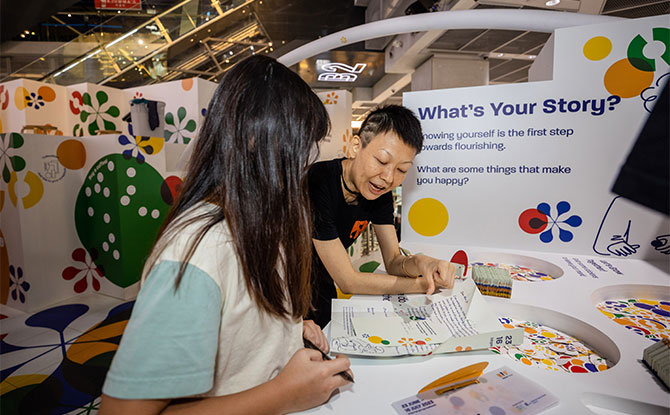 Visitors can engage with the theme by assembling their own unique scrapbook based on what flourishing means to them.
They can also listen to excerpts of the texts, and there will also be a 20-minute drama performance inspired by themes in the Read! Fest titles on weekends.
---
Talks featuring Singapore and International writers
Read! Fest will also feature talks and workshops with Singapore and international writers including Felix Cheong, Verena Tay, Pamelia Chia, Elizabeth Strout (2009 Pulitzer Prize winner in fiction), and Lori Gottlieb (2019 New York Times non-fiction bestseller).
---
Learning Trails and Workshops
Go on learning trails in a HDB void deck and the Chinatown Complex wet market as part of the Read! Fest experience.
In addition, there are workshops on flash fiction writing and upcycling embroidery, and a panel discussion on how writers turn grief into art.
These programmes will be held online, in libraries, and surprising places like MUJI at Plaza Singapura and a void deck in Ang Mo Kio.
There are also online workshops such as the Fabulously Felted Vegetables Friends workshop where can participants can create felt versions of vegetables.
---
Read for Books
The Read for Books charity initiative will kick off on 1 July 2023 and will run for a month.
This is an opportunity for friends, family and colleagues to come together to read together for a good cause.
For every 10 people who read for 15 minutes, one book will be donated to selected beneficiaries.
The three beneficiaries for 2023 are NLB's community initiatives – WondeRead, kidsREAD and Ready to READ@NLB, Starter Kit & Programmes for Babies and Toddlers.
Get more details about Read for Books.
---
Big Book Giveaway
There is also the Big Book Giveaway (15 and 16 July).
During this community event, pre-loved books can be taken home for free to spread the joy of reading. In 2023, this event will be held at four libraries: Jurong Regional Library, Toa Payoh Public Library, Tampines Regional Library and Woodlands Regional Library.
Get more details about the Big Book Giveaway.
---
Empowering More to Read, Learn and Discover
NLB's Chief Executive Officer, Mr Ng Cher Pong, said: "NLB is happy to bring back more physical programming in unexpected places with Read! Fest this year. Since 2014, each edition has offered opportunities for everyone to discover new reads and perspectives through the power of the written word."
"As we emerge from the pandemic, we want to take this opportunity to explore how we can find new ways to thrive and flourish as individuals and together as a community. Read! Fest contributes to our LAB25 (Libraries and Archives Blueprint 2025) goals of building a vibrant Learning Marketplace and being an Equaliser by empowering more to read, learn, and discover," he added
The full line-up of programmes for Read! Fest 2023, and registration for them can be done at the Read! Fest 2023 website.
You may also be interested in this charity.
If you love books, have you paid a visit to Singapore's latest regional library – Punggol Regional Library?