When the tide is out, it is time to explore! Usher in the Lunar New Year with spectacular sponges, magnificent crabs (NOT for eating), clams, sea urchins and more! Given the limited number of festive visitations, the great outdoors are always open for visits. Explore with us for an evening of colours, wildlife and seabreeze.
After all the feasting and munching, it's time to "prowl" the shores.
Intertidal Exploration with Little Day Out at Punggol Beach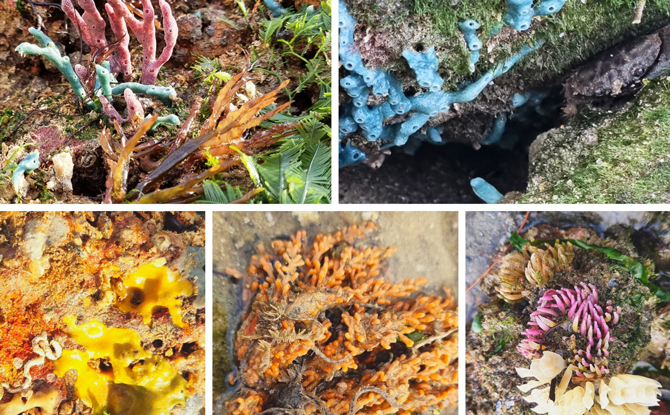 Punggol Beach, while tucked away, in the north-eastern region of Singapore, is home to much marine life which gets exposed at low tides.
Take the chance to witness the explosion of colours in sponges – orange, blue, champagne, purple and green. Friends of Spongbob perhaps? They are nestled in the beach's rocky area and also host to Brittle Stars.
Eager to find Mister Krabs? Look for Thunder Crabs, Flower Crabs, Purple Climber Crabs and of course Hermit Crabs.
Try to spot the shy Onch Slug, which might be invisible to your eyes as it camouflages amidst the algae.
Other lifeforms encrusting the rocks include tiny mussels, fan worms, rock oysters and barnacles. Check out the hard corals, sea urchins, ascidians, clams, drills and more!
Little Day Out's Punggol Beach Intertidal Walk
Date: 2 February 2022, Wednesday
Time: 5 to 7pm
Venue: Punggol Beach (nearest parking is at Punggol Settlement)
Register here.
Our Guide
Professional nature guide Gloria Seow, Vice Chairperson of Nature Society (Singapore)'s Education Committee will be helming the event together with other guides. She has been organising the popular Fun with Nature Family series since 2008.
Safety Guidelines and Intertidal Etiquette
As responsible explorers, we will be adhering to an intertidal etiquette. This includes the following:
Not touching the creatures as they might sting or bite to defend themselves.
Not handling animals and no poking at them with objects.
Your guide may hand you the animals that safe to touch. Handle them with care.
Don't remove animals from their home, take pictures!
Watch where you are stepping in case you trample on something!
Respect wildlife, clear our trash.
Leave nothing but footprints.
Sign up for Little Day Out's Punggol Beach Intertidal Walk here! (Registration has closed).
---
Love what we are offering but can't make it this time round? Register your interest with us for our next adventure.