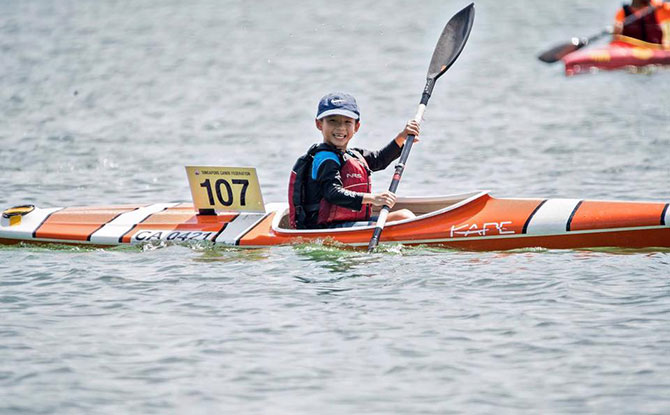 Spend a Sunday out under the sun at PAssion Wave @ Marinay Bay's Waterfront Carnival on 13 November 2022 and get to try out various waterfront lifestyle activities.
The PAssion Wave @ Marinay Bay Waterfront Carnival is a ticketed event that will feature a variety of land and water sports try-outs. Many of these are family- and kid-friendly, offering a chance for parents and children to spend some time together while doing the activities.
PAssion Wave @ Marinay Bay's Waterfront Carnival: Sports Try-outs
Land-based activities include,
Archery by Salt & Light Archery: Tan Si Lie (Israel), a SEA Games medallist and MOE-certified coach from Salt & Light Archery, will be there to guide participants in the sport. There will also be an exhibition of archery by national archers.
Kin-Ball: This new team sport involves three teams of four competing with a large ball. It has been growing in popularity in recent years.
Boccia Try-outs: An inclusive sport that was first developed for persons with cerebral palsy but is now played worldwide by participants with a range of physical disabilities.
Laser Air Pistol: Participants will be guided by Kiat Xuan, a National modern pentathlon athlete and a Singapore Sports School alumni
Strider Bike: This bike is a no-pedal and no-gears bicycle aimed at teaching balance and steering to young children.
E-trishaw tryouts by Cycling Without Age
Water-based activities include
Kid-In-A-Kayak (KIAK): Suitable for kids of primary school age, the activity hopes to introduce children to the fun of kayaking and develop their interest in paddle sports.
Kayaking Try-Outs
Dragonboat Try-Outs
There will also be lifestyle classes covering herb propagation and terrarium making, along with educational booths covering various topics such as the importance of sustainability and the conservation of the environment.
---
Carnival Activities
As part of the carnival experience, participants will get to enjoy snacks such as popcorn and candy floss from the food booths. Kids can look forward to carnival activities like airbrush tattoos, inflatable obstacle courses, electronic animal rides and more.
Tickets to the PAssion Wave @ Marinay Bay's Waterfront Carnival are available at $10 per person and include a redeemable goodie bag. The event will be held at PASSION WAVE @ MARINA BAY, 11 Rhu Cross, Singapore 437440
Find out more or purchase tickets to about Waterfront Carnival here.