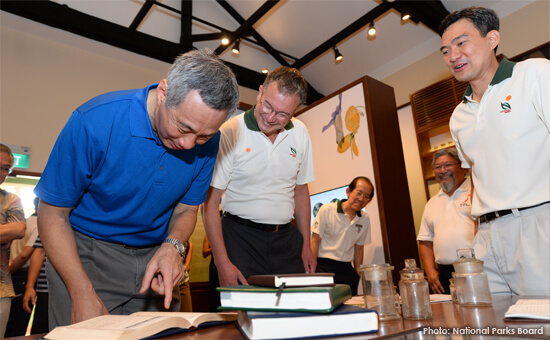 Visitors to the Singapore Botanic Gardens can now discover more about its 154-year history at the newly opened SBG Heritage Museum. Together with its companion building, the eco-friendly CDL Green Gallery, the SBG Heritage Museum was officially opened by Prime Minister Lee Hsien Loong on 30 November 2013.
Located at Holttum Hall, beside the Botany Centre at the Tanglin Core, the two-storey SBG Heritage Museum houses artifacts and recounts the rich history of the Singapore Botanic Gardens. These are presented through information panels and interactive touch-screen displays.
On the lawn opposite the SBG Heritage Museum is the CDL Green Gallery, Singapore's first purposefully built zero energy Green Gallery. Through the use of eco-friendly technologies, the building has been accorded the BCA Green Mark Platinum status, the highest tier of green buildings in Singapore, and is self-sufficient for its operating needs.
The CDL Green Gallery will host exhibitions that feature botanical art, cultural use of plants and orchids. From 30 November 2013 to 30 June 2014, it is hosting its first exhibition, 'Living in a Garden', on Singapore's greening journey.
Together with the opening of the SBG Heritage Museum and CDL Green Gallery, a series of activities are being organised at the Singapore Botanic Gardens between 30 Nov to 15 Dec to commemorate 50 Years of Greening Singapore. These are part of the National Park Board's efforts to raise the awareness of Singapore's green heritage and vision of a City in a Garden.
Mr Poon Hong Yuen, CEO, NParks, said: "While the government is committed to sustaining our green environment, our City in a Garden would only flourish if the community is actively involved. Through the exhibits, we hope that more Singaporeans will better appreciate our green heritage, and join us in creating our City in a Garden."
Both the exhibits in the SBG Heritage Museum and the completed Green Gallery are supported by City Development Limited.
Mr Kwek Leng Joo, Managing Director, CDL said, "In celebration of CDL's 50th anniversary this year and in support of the Gardens' nomination bid as Singapore's first UNESCO World Heritage Site, we are delighted to leverage our green building expertise and gather like-minded partners to contribute to the development of these green icons as our gift to the nation.  Singapore has won many accolades on our economic success, we sincerely hope to do our part to help Singapore win international recognition of our cultural heritage."
Find out more about to expect inside the SBG Heritage Museum and CDL Green Gallery.