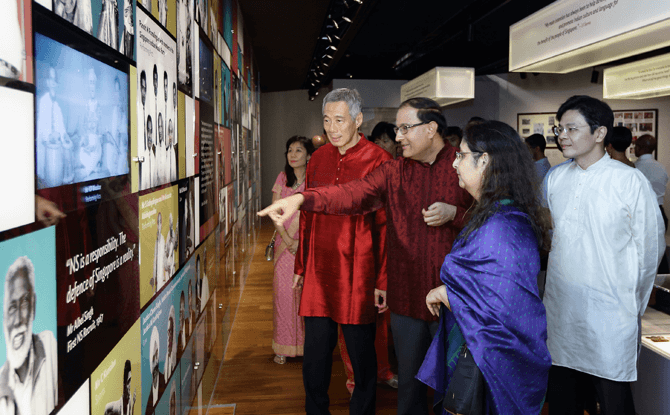 The Indian Heritage Centre opens its doors to the public today, 8 May 2015. Located at Campbell Lane, the new centre was launch by Prime Minister Lee Hsien Loong.
Managed by the National Heritage Board, the Indian Heritage Centre's thematic galleries showcase the diverse stories of the various groups within Singapore's Indian Community. Visitors will also be able to learn about the historical links between the Indian sub-continent and Southeast Asia, as well as be introduced to Singapore's pioneers within the Indian community.
Artefacts, many of which have been sourced from the community, are also on display. These include a handbag made from parachute cords that was handcrafted during World War Two and the Chettinad Doorway which has more than 5,000 intricately carved figures.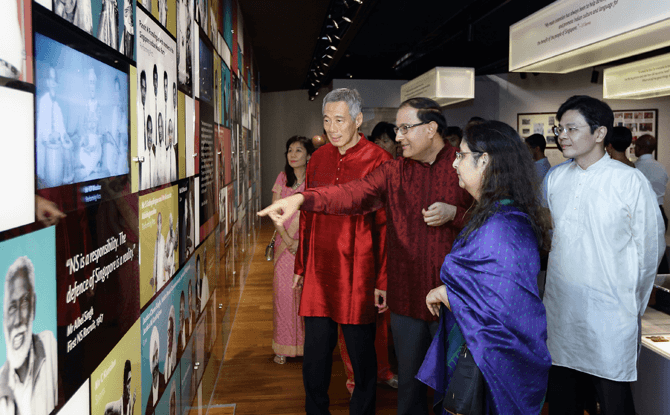 Guest-of-honour Prime Minister Lee Hsien Loong touring the Indian Heritage Centre after officiating its launch. Photo courtesy of Ministry of Culture, Community and Youth.
The Indian Heritage Centre is also employing technology to reach out to new audiences. There will be multimedia role-playing games for youths and special audio guides for children. Augmented reality has also been incorporated into the galleries with visitors being able to listen to a virtual personal guide and "interact" with selected artefacts through their mobile phones or handheld devices available at the centre.
To mark its opening, admission to the Indian Heritage Centre is free for the month of May. Thereafter, it is free for all Singapore Citizens, Permanent Residents and those aged six and below. Overseas visitors will have to pay admission fees.
The Indian Heritage Centre has also organised an inaugural month-long IHC CultureFest that will feature activities from different regions in India through both traditional and contemporary performances, workshops and film screenings.
For more information, visit the Indian Heritage Centre website.