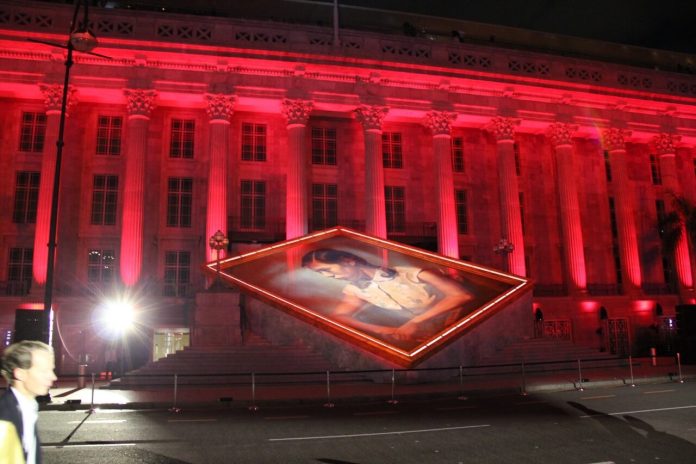 National Gallery Singapore opens with a two-week celebration from 24 November 2015.
During the opening celebrations, the public can look forward to more than 20 activities, a carnival on the Padang and a light show set against the National Gallery's historic façade.
Admission to the National Gallery's two permanent galleries will also be free for all during this opening period. Nonetheless, to maintain a comfortable in-gallery experience, visitors will need to book a time slot to enter the National Gallery.Tickets can be booked online from 5 November onwards and each person can book a maximum of five tickets at a time.
Carnival, A Light Show and Performances
A highlight of the opening celebrations is an Art Carnival organised on the Padang. Five large tents will be erected in front of the National Gallery. The tents will be individually themed Passion, Struggle, Community, Purpose and Rebirth.
Inside the tents, visitors can explore interactive art installations, engage in community art workshops and tuck in to gastronomic delights.
In the evenings, the Share the Hope façade show will take centre stage, utilising the National Gallery as a grand canvas. Combining sound and visual imagery, audiences will be brought on a journey through different worlds in a 10-minute show that draws on the Gallery's collection. The Share the Hope façade show is sponsored by Cartier.
Visitors can look forward to performances, film screenings and talks during the Opening Celebrations. They will also be able to explore the National Gallery's historic buildings that used to function as City Hall and the Supreme Court.
Amongst the activities planned include a "confessional booth" where visitors can share their thoughts with an artist who will interpret them into a unique artwork for on the spot. Roving dancers and musicians will also be staging performances inspired by the Gallery's collection.
Young children will be able to enjoy the Keppel Centre for Art Education. Comprising four spaces where kids can create and encounter art, it includes an immersive artwork occupying an entire room, creating the experience of stepping into a painting.
Gallery Explorer App and Guide
To facilitate the exploration of the Gallery's massive 64,000 square metre space and large collection of artwork, visitors can download a newly-developed Gallery Explorer app.
Using intelligent indoor location-aware technology, the app will be able to guide visitors through the Gallery's voluminous space. It will also serve as a digital guide to appreciating the artworks. The self-guided tours available through the app include Building Highlights, DBS Singapore Gallery Highlights and UOB Southeast Asia Gallery Highlights.
The app also incorporates social sharing functions, allowing visitors to share their experiences via social media.
The Gallery Explorer app will be available for free from Apple's App Store from 18 November onwards and Google Play Store shortly after. The Gallery Explorer was developed together with Accenture, the Gallery's Innovation Partner.
VISITOR INFORMATION FOR NATIONAL GALLERY OF SINGAPORE'S OPENING CELEBRATIONS
24 Nov to 6 Dec 2015
Mon to Thu: 10 am to 7 pm;
Fri, Sat & Sun: 10 am to 11 pm
Entry to the Gallery building by tickets only. Tickets are available online from 5 Nov, 10 am onwards till 6 Dec through https://tickets.nationalgallery.sg
Each booking will provide a maximum of five tickets at a time.
AFTER OPENING CELEBRATIONS
7 Dec 2015 onwards
Mon to Thu, Sun and Public Holidays: 10 am to 7 pm;
Fri, Sat & Eve of Public Holidays: 10 am to 10 pm
Free admission for Singapore Citizens and PRs and children six years and under (except for selected exhibitons)
$20 for non-Singaporeans
$15 for concession holder and children between seven and 12 years old.
Related Article