Swensen's has added some three dishes for August 2020 to provide a local spin to its menu. Following its recent addition of new ice cream flavours like Bandung, it has now introduced Nasi Lemak Pizza, Shrimp Laksa Pasta and Beef Rendang Baked Rice for a limited time only.
---
Nasi Lemak Pizza with Boneless Wings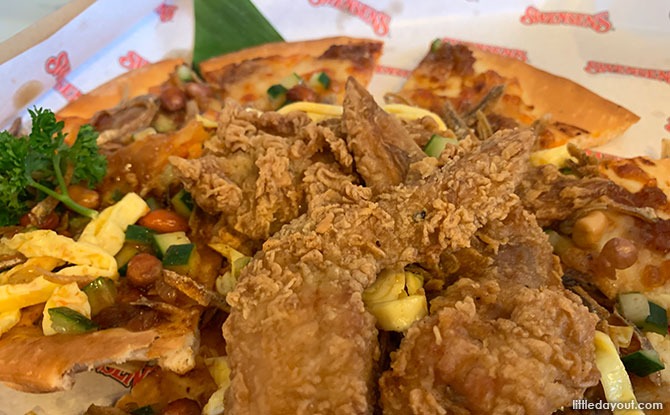 Nasi Lemak without the "nasi" (rice)? We had our doubts about this bold take.
The Nasi Lemak Pizza is made with a sambal chilli-cheese base topped with shredded egg, diced cucumbers, roasted peanuts, ikan bilis (fried anchovies). It is topped off with boneless chicken wings. (Yes, you don't have to worry about bones in this Nasi Lemak!)
---
-- Story continues below --
A drizzle of coconut-infused olive oil lends some flavour to the missing coconut rice.
We'd say that the biggest selling point of the Nasi Lemak Pizza is the novelty factor. And perhaps the chicken wings.
---
Beef Rendang Baked Rice
Frequent diners at Swensens will know that baked rice is a signature dish on its menu. The Beef Rendang Baked Rice is a local take on the signature dish and features a tender sirloin, fragrant rendang gravy and a generous amount of cheese.
---
Shrimp Laksa Pasta
This was the dish we enjoyed the most.
Laksa is one of the dishes that every true red-and-white Singaporean will know, and this adaptation of our local favourite features spaghetti tossed in a rich, creamy laksa sauce, and finished with shrimp, egg and fried taupok (beancurd).
The Shrimp Laksa Pasta wasn't too spicy and enjoyable even to someone who isn't a fan of spicy foods. If you do want an extra kick, we'd imagine this would also go excellent with some sambal.
---
Swensen's 'Confirm Shiok!' Set for Two
To celebrate Singapore's 55th birthday this year, Swensen's is offering it local flavours in a special 'Confirm Shiok Set for 2'.
The set consists of two Soups of the Day, choice of two 'Confirm Shiok!' Delights (i.e. the Shrimp Laksa Pasta, Beef Rendang Baked Rice and Nasi Lemak Pizza with Boneless Wings) and two Sundaes (choose from the best-selling Salted Gula Melaka Heaven or Hazel Daze). The Swensen's set comes with two soft drinks as well.
This set is available for both dine-in and takeaway from 22 Swensen's outlets islandwide as well as for delivery via Grabfood, Deliveroo and Foodpanda.