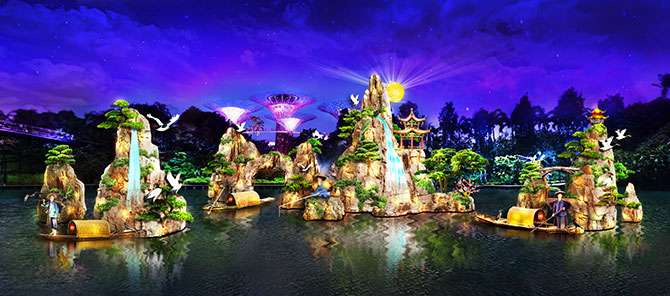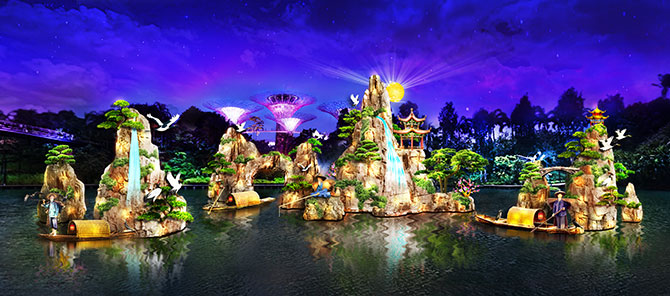 Pay a visit to Mid Autumn Festival 2019 at Gardens by the Bay for an encounter with breath-taking lanterns that depict stories of rich tradition and heritage.
Enjoy 14 spectacular lantern sets depicting stories of rich tradition and heritage throughout the Gardens. Don't miss the tallest and widest ever display of floating lanterns stretching over 120m, and take a stroll within a giant revolving lantern!
Mid Autumn Festival 2019 at Gardens by the Bay Highlights
Lanterns at Gardens  by the Bay
Admire the Giant Revolving Lantern (巨型走马灯), measuring 30 metres in diameter and wrapped around a Supertree. This super-sized lantern set is a reimagining of the traditional "Zou Ma Deng" (走马灯), which rotates because of the heat of the candle within and casts shadowed designs of a horse trotting on its panels. This lantern allows visitors to walk through it and view the story of Chang E and Hou Yi.
---
-- Story continues below --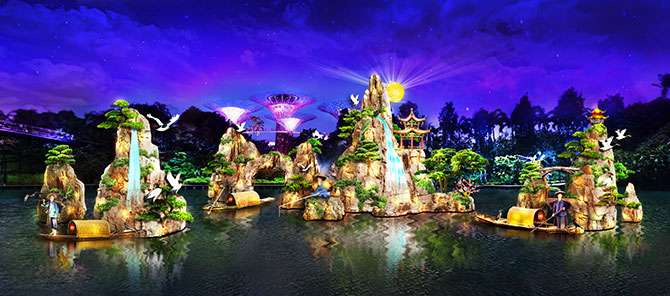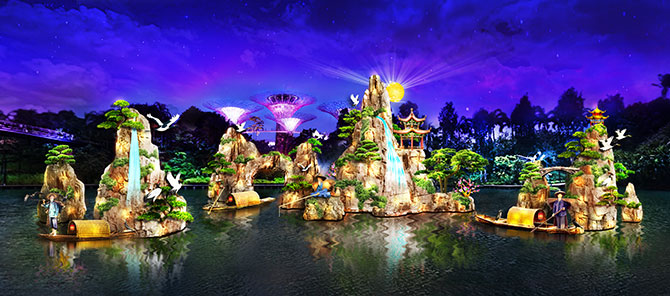 Gardens by the Bay's Dragonfly Lake will also be illuminated with two floating lantern sets – Water Colours (山明水秀), a Chinese landscape painting of mountains and a waterfall brought to three-dimensional life, and Martial Arts (武山徒步) where characters practise their moves amidst nature. They are spread over 120 metres on water, forming the longest lantern installation at the Gardens to date. 
Airmesh
The 30 sqm cantilevered state-of-the-art 3D-printed steel structure is a reinterpretation of the traditional lantern. It offers unprecedented perspectives through the day with its play on colours, shades and reflections.
Colonnade of Lights
Stroll by the Colonnade of Lights and enjoy a display of 2,000 lanterns painted by the community
Illuminations of Joy
Illuminations of Joy invites you to journey through a series of creative expressions mapped on lanterns hand painted by Seniors.
Cultural Performances
Gather with family and friends to celebrate Mid-Autumn Festival 2019 at Gardens by the Bay with performances of the traditional arts
Mass Lantern Walk
Take a stroll through the Gardens amidst beautiful lantern sets, led by a magnificent LED Dragon! There will be free LED paper lanterns (whilst stocks last) for participants who take part in the walk.
Garden Rhapsody: A Journey Through Asia
Immerse yourself in the rich and diverse soundscape, as the Supertrees light up your imagination of this magnificent part of the world!
Lantern Riddles
A traditional game, lantern riddles are often enjoyed during the Mid-Autumn Festival. Have a go and discover more about the Chinese language and culture!
Food Street
Indulge in a spread of Asian delights at the Colonnade at the Supertree Grove!
---
Event Information
Mid Autumn Festival 2019 at Gardens by the Bay
Start date: 30/8/19 0:00
End date: 15/9/19 23:59