Reversi or Othello is an easy-to-play, family-friendly game that even the youngest can enjoy. That's why Masuda Kiribako, a 90-year-old traditional box making company from Japan's Fukuoka Prefecture, has chosen to craft this board game with a "green" twist.
Established in 1929, Masuda Kiribako is known for its handcrafted traditional boxes made from Paulownia wood. The boxes made from the light and fine-grained wood are used as gift boxes, bookends, toys and more.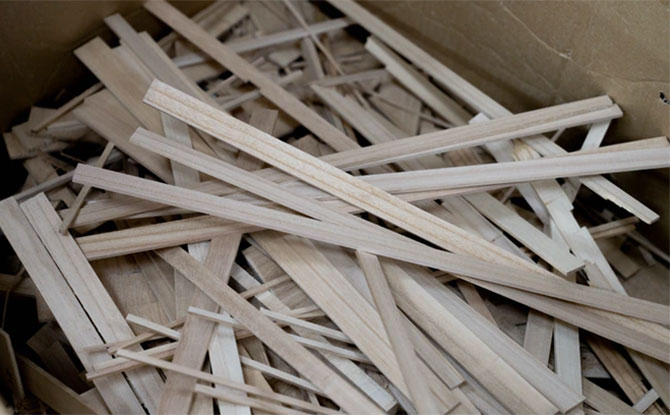 However, as there tends to be a lot of wood pieces leftover after production, they decided to come up with ways to utilise the spare bits of timber.
Hirofumi Fujii, CEO of Masuda Kiribako, noticed that over the last year or so, due to the pandemic, many children have been stuck indoors. This led Masuda Kiribako to decide to use the wood to craft a game which both adults and children can enjoy together.
As he puts it, "We want children to know the smell of wood and the texture of wood corners from an early age."
---
Haco Toy Reversi by Masuda Kiribako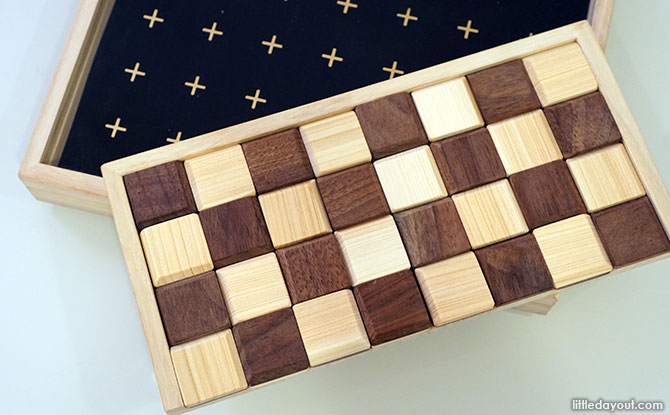 The Haco Toy Reversi which they have crafted is an elegantly-designed board game.
It comes in a 28 cm x 28 cm box with playing pieces inside. Each playing piece has two sides, one dark and one light. They almost look like pieces of chocolate! The playing pieces are laid out on two trays. The acrylic lid of the box functions as the playing surface.
This clever design means that each player can take one tray and have all the pieces ready to play.
---
Playing Reversi or Othello, a Family-Friendly Game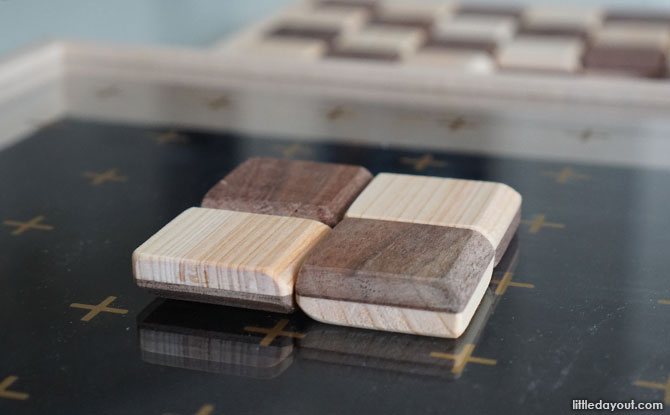 For those not familiar with the game of reversi, each player starts by choosing a colour – dark or light.
Game play begins with four pieces in the centre of the board. Players then take turns putting down one piece at a time, building out from the four original pieces.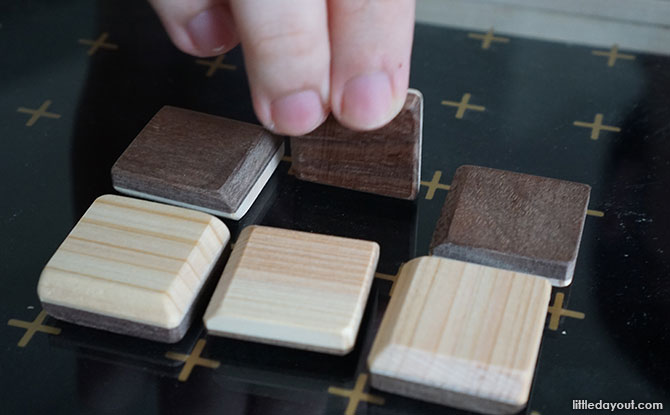 When a player puts down his or her coloured piece, all the opponent's pieces that are in a line between the newly-placed piece and any other of his or her pieces will be "reversed".
The objective is for a player to dominate the board with their coloured pieces.
It is a simple and fun game with a hint of strategy.
---
Elegant and Lasting Design
Masuda Kiribako's well-crafted Haco Toy Reversi makes playing the game feel even more dramatic.
There is something special about the texture of the smooth wooden pieces. The playing pieces have even been thoughtfully beveled so that they can be easily flipped over or reversed.
The wooden box set could well be given as a unique gift or treasured as a keepsake.
At the end of the game, it is as simple as keeping the pieces back on the tray, into the box and putting the lid back on.
The board game combines clean Japanese design with a green, no-waste philosophy. It is also available in an octagonal DecoBoco checkered board design.
"We hope people can create memories in learning about wood when they are playing with this product," said Fujii-san.
If you are interested in the Masuda Kiribako Reversi board game, it is being offered as a Kickstarter project here.