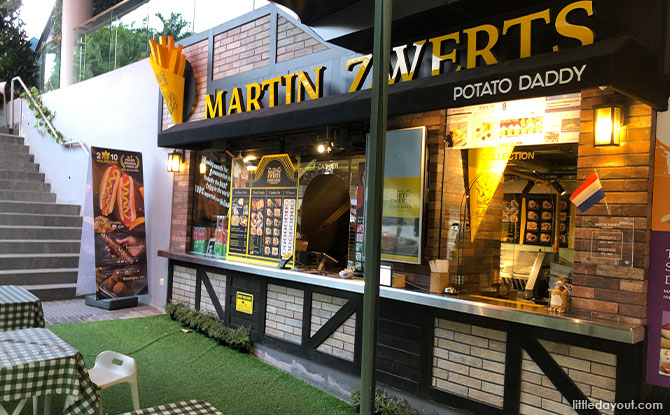 Fries are a great snack to be enjoyed any time of the day, on the go or over a good chat. Located in Holland Village, Martin Zwerts Potato Daddy was established in 1948 in Eindhoven, Netherlands and are best known for their Dutch Patat Frites. They have been awarded as the No.1 Frites in the Netherlands for 8 years in a row and now, locals can enjoy these fries without having to take a flight over!
---
Dutch Patat Frites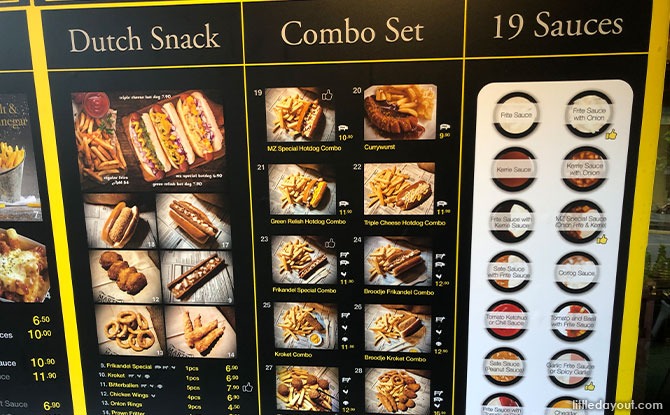 Patat Frites are usually thick-cut and served in a cone with a sauce of your choice. At Martin Zwerts, there are 19 different sauces to choose from and other delicious bites to enjoy. All the potatoes, sauces and even equipment used are imported directly from Holland.
Alongside their signature fries, Martin Zwerts also serve other items on the menu such as Dutch snacks and dishes. These include Frikandel, a dark-coloured sausage-like meat product that is deep-fried and Krokets, a typical Dutch croquette made of meat ragout or salpicon covered in breadcrumbs, and deep-fried until golden and crispy.
There are also Bitterballen, a smaller, rounder version of sausage-shaped croquettes typically containing meat ragout. There is a choice of three types of meats: mushroom, beef or chicken. While often translated as "bitter balls," this delicious dish does not have a bitter taste.
---
MZ Special Hotdog Combo
We tried the MZ Special Hotdog Combo which comes with a hot dog bun and fries with a dipping sauce of choice. The hotdog bun was made with pork sausage in between a soft bun and topped with onions and sauce. Our first thought on the hotdog bun was that the bun was extremely fluffy and there was a hint of sweetness to the bread. As someone who likes onions, the generous toppings were very appreciated.
---
Martin Zwerts Fries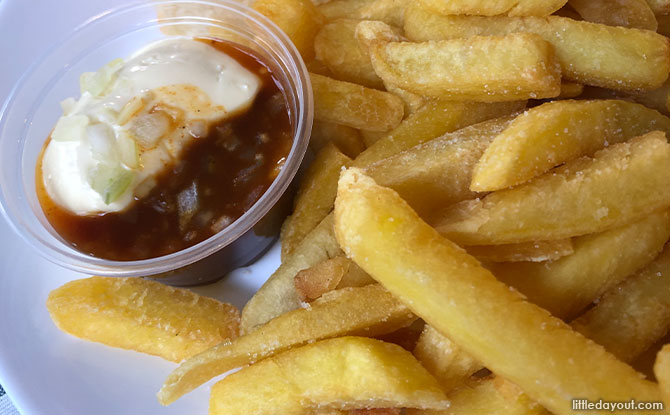 Martin Zwerts' fries are made from 100% premium Dutch potatoes and all ingredients are non-genetically Modified and hormone-free. It is cooked using 100% Vegetable oil that is freshly replaced daily for best taste and quality. We enjoyed how well seasoned the fries were and how crisp they were as well. The potatoes in the fries were still fluffy and even after a while, the fries were not soggy.
---
Sauces at Martin Zwerts
There are 19 different sauces that you can choose to have alongside the fries that you order. We tried the MZ special sauce that comes with two fragrant flavours, onion frite and kerrie sauce. The onion sauce was savoury with a hint of heat and the frite sauce was similar to that of mayonnaise. We would definitely return to try the rest of the sauces.
---
Martin Zwerts at Holland Village
Their store is located opposite Tai Chong Bakery at Holland Piazza @ Holland Village. There is outdoor seating for dine-in and there are extra charges for takeaway orders.
No. 3 Lorong Liput, B1-07 Holland Piazza @ Holland Village (Opposite Tai Cheong Bakery) Singapore 277725