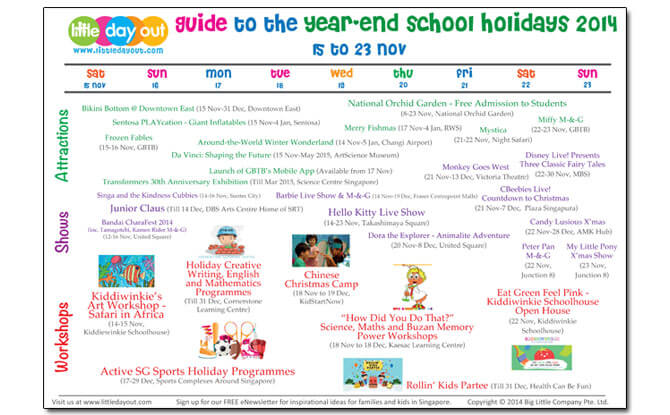 Wondering how to plan for the holidays in the coming weeks while the kids are off from school?
You can do so easily with Little Day Out's signature holiday calendar and guide to the November and December holidays, providing a week-by-week view of what are the events and activities taking place around Singapore the school holidays.
We have compiled the various shows, exhibitions and workshops for you to decide on what you want to do. Of course, there are even more events and activities for the kids and these can be found on our Little Day Out Year-end Holiday Page and even more on our website's event section.
Stay Updated With the Year-end Holiday Calendar 2014
Be sure to visit often as the pages and the holiday calendar will be updated as and when new events are released.
To get the most out of the Little Day Out Year-end Holiday Calendar 2014, you can mark out the events you wish to attend and even keep a copy of the Calendar on your fridge door for easy reference.
The various event dates and details are as accurate as possible. However, do bear in mind that things do change. You may wish to double-check the dates and times of the various events closer to the date to avoid disappointment – especially for those which have limited capacity.
Download your free copy of Little Day Out's Year-end Holiday 2014 for kids and families below.
Happy holidays!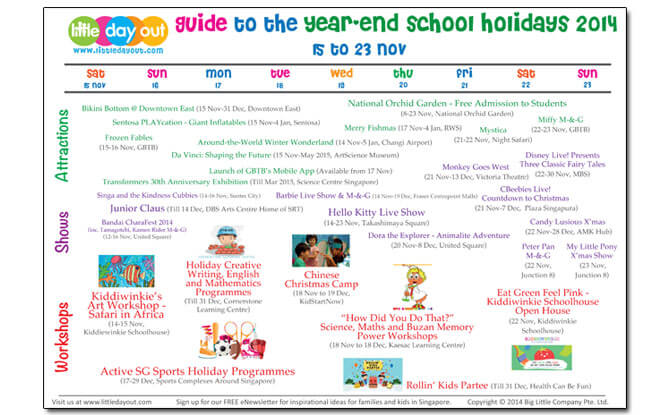 For more on what to do this November/December holidays with your kids, be sure to visit our Year-end Holiday Guide Page!