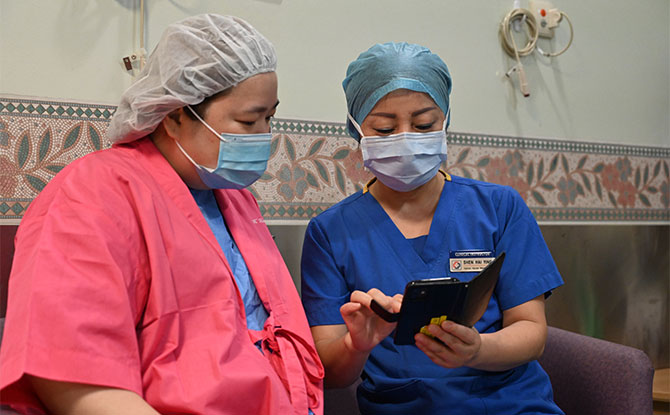 All patients undergoing elective Caesarean section at KK Women's and Children's Hospital (KKH) will be offered music-based intervention as part of the KKH birthing journey. Dubbed Healing Tunes, this is Singapore's first music-based intervention programme to reduce anxiety and pain magnification in women undergoing elective Caesarean sections.
---
Music-based intervention to Manage Anxiety during Elective Caesarean Sections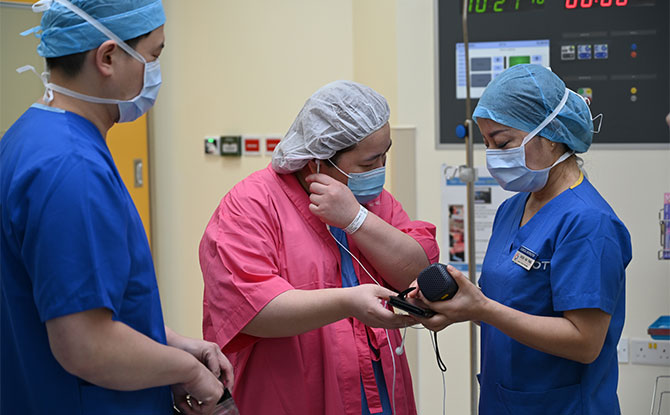 According to a study of 108 women at KKH, patients who had music-based intervention when undergoing elective Caesarean sections had their anxiety scores were halved. In addition, pain magnification (when an individual thinks of the pain in the worst possible outcome, and feels helpless or hopeless, making it difficult to cope) scores were reduced by 35 percent.
"It is important to manage anxiety in the patient's journey – before, during and after surgery. Anxiety is often associated with increased blood pressure, heart and breathing rates, adding stress on the patient's body during surgery. Patients with pre-existing anxiety also tend to have higher pain scores after Caesarean delivery, which may lead to an increased risk of developing persistent pain and postnatal depression. Addressing anxiety places our patients in the optimal state for their surgery and recovery," added Associate Professor Sng Ban Leong, Senior Author of the study, and Head and Senior Consultant, Department of Women's Anaesthesia, KKH.
Conventionally, anxiety related to surgery is treated with medications. However, in recent times, music-based intervention has emerged as an effective tool to ease anxiety.
---
-- Story continues below --
Ms Kayla Wong, Senior Music Therapist, Child Life, Art and Music Therapy Programmes (CHAMPs) said, "Evidence shows that music-based interventions can be effective for reducing anxiety, which in turn can make the Caesarean surgery experience less daunting. Listening to music that the patient prefers has the effect of increasing relaxation, bringing on the associated benefit of alleviating anxiety."
---
Healing Tunes Process
Patients can choose their preferred tunes from a selection of songs that spans genres. A playlist is then created for them to listen to before, during and after surgery.
The music is listened to via a mini speaker in the operating theatre.
According to Ms Shen Haiying, Senior Nurse Manager, Operating Theatres, KKH, "Nine out of 10 pregnant patients have taken up the music-based intervention since its implementation a month ago."
There are plans to gradually expand the music-based intervention programme to benefit more patients who require other types of surgeries. Healing Tunes is part of KKH's continuous efforts to enhance the patient experience to ensure that it is as comfortable and stress-free as possible.
You enjoyed reading this story, you may also enjoy this other story on preparing for baby's arrival or this about the PaedsENGAGE programme.