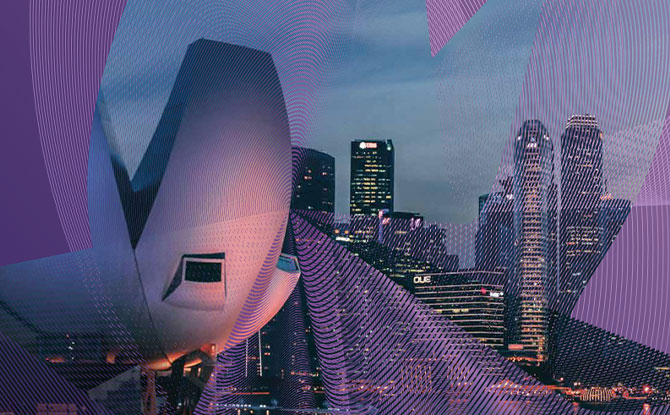 After a two-year hiatus, i Light Singapore will be returning for its eighth edition from 3 to 26 June 2022. Visitors can yet again immerse in the creative artworks of professional and student artists that hope to raise awareness of sustainability and inspire environmentally-friendly habits.
---
i Light 2022: Spark of Light
Themed "Spark of Light", each edition of the i Light Festival starting this year will be anchored on colour from the visible light spectrum. In 2022, the chosen colour is violet. Violet is the colour which has the shortest wavelength with the most powerful electromagnetic energy in the visible light spectrum. Violet is also a colour that signifies the awakening of the senses, akin to the spark of an idea in one's mind.
Mr Lim Eng Hwee, Chief Executive Officer, URA said, "The return of i Light Singapore will bring back buzz and vibrancy to the city centre, as Singapore progressively eases safe management measures and moves towards living with COVID-19. We hope this year's lineup of artworks and programmes will further invigorate Marina Bay and bring cheer and delight to festival-goers. At the same time, we hope that visitors will be encouraged to reflect on our individual relationships with the environment and with one another, such as how small but consistent changes to daily habits can contribute positively to the environment, and strengthen our relationships in a post-pandemic world."
Highlighted works to look out for at Spark of Light 2022
The artworks showcased at i Light this year are created by local and international artists who showcase their creative interpretations of topics that aim to encourage conversations about our lifestyles and consumption behaviour to build a more sustainable future
Alone Together by Ping Lim and Ian Grossberg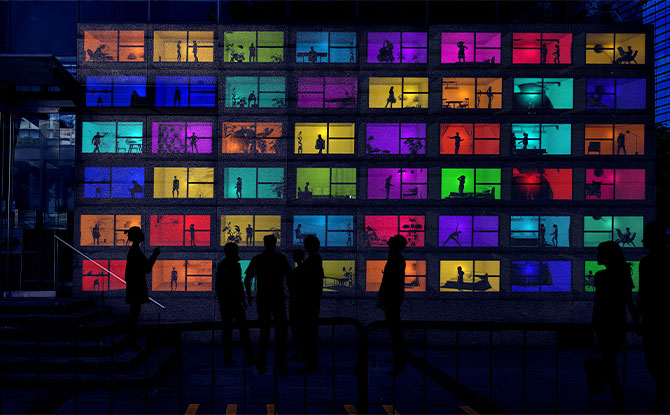 Created by Singaporean artist Ping Lim and her American collaborator, Ian Grossberg, this installation features an interactive projection that captures the familiar collective experience of living in isolation during the pandemic. The installation is inspired by the scenes of housing estates in Singapore and captures vignettes of private moments that tell a story of people's lives when they were confined to their homes. Visitors are also invited to become part of this shared memory through real-time interaction using their own mobile phones.
Fallen by Nerdist x ARTINA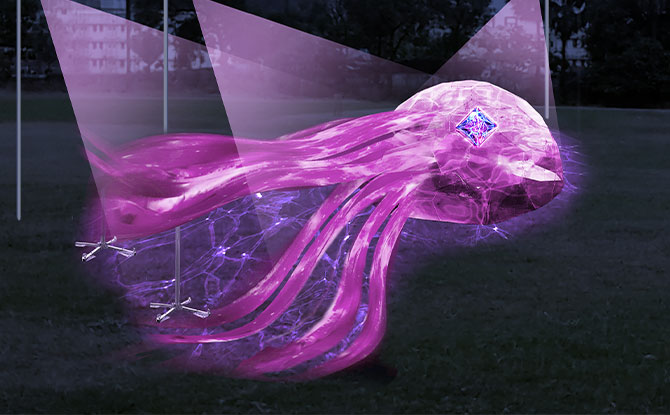 Another highlight is Fallen by South Korean artist group Nerdist x ARTINA. This installation features a projection mapping artwork on a recycled transparent dome and bubble wrap. The exhibit imagines the story of a jellyfish from space that crash-landed on Earth after consuming trash jettisoned into orbit by humans who ran out of disposal space. The artwork is a play on the current plight of excessive waste and the artist hopes to remind visitors of the effect of their lifestyles on the environment.
---
See a multisensory light art experience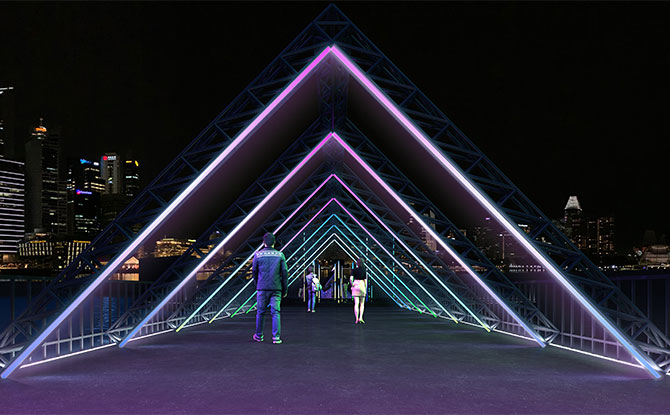 Apart from the artworks, the Festival will also feature a series of other complementary programmes above the Marina Bay waterbody at the Lower Boardwalk. Named "Lightwave: Isle of Light" visitors will board a specially constructed floating pontoon for a multi-sensory journey. There will be five unique zones with immersive features such as holographic projections, illuminated motion-capture graphics and shadows, to light beams that are made to replicate a mystical forest. Tickets to Lightwave: Isle of Light can be purchased from Klook from 5 May 2022 at the link here. Each weekday ticket is $8, and each weekend ticket is $10. Bundled tickets at discounted prices are available.
More details on the full lineup of artworks and programmes at the Festival will be announced later in the month of May.
i Light Singapore 2022, presented by DBS, will be held from 7.30 pm to 11.00 pm daily with extended hours to 12.00 am on Fridays and Saturdays. Admission is free, while charges apply for certain programmes. Visit the site here for more information.