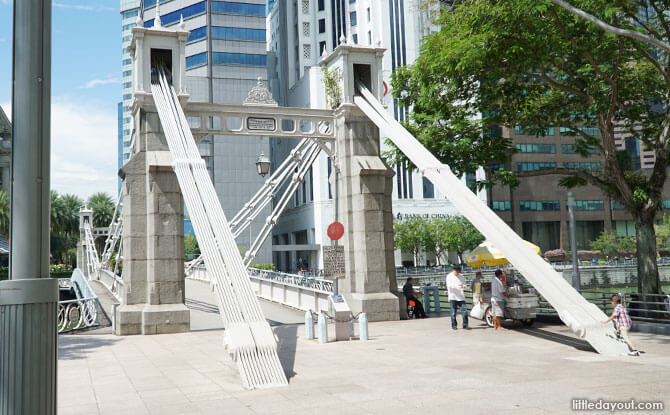 One of the most recognisable bridges across the Singapore, Cavenagh Bridge is also the oldest to survive in its original form.
Bridge at the Mouth of Singapore River
The bridge was completed in 1869 and was one of the first suspension bridges in Southeast Asia. It was the third bridge to be built across the Singapore River and intended to celebrate the 50thanniversary of Singapore's founding by Raffles in 1819.
Cavenagh Bridge was designed by Colonel George Chancellor Collyer, chief engineer of the Straits Settlements, and Rowland Mason Ordish, a consulting engineer from the Public Works Department.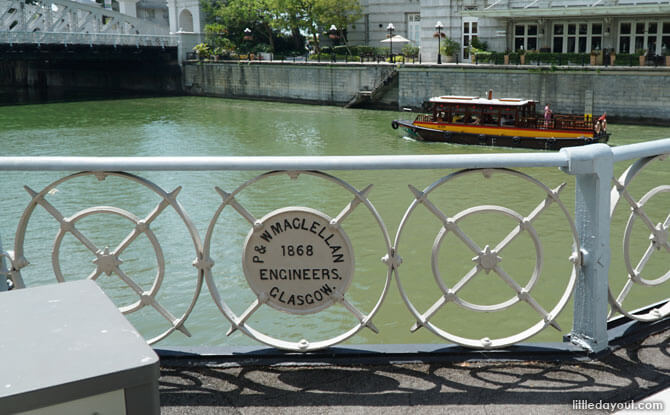 The steel bridge was made in Glasgow, Scotland by P&W MacLellan, a company that only ceased trading in 1979, and was shipped to Singapore to be assembled. It was the last major civil structure to be put together by Indian convict labour in Singapore.
Who is Cavenagh?
Cavenagh Bridge is named after the last British India-appointed Governor of the Straits Settlements, William Orfeur Cavenagh. It was originally supposed to be named Edinburgh Bridge to commemorate the Duke of Edinburgh's visit to Singapore in 1869 but was eventually named in honour of Cavenagh.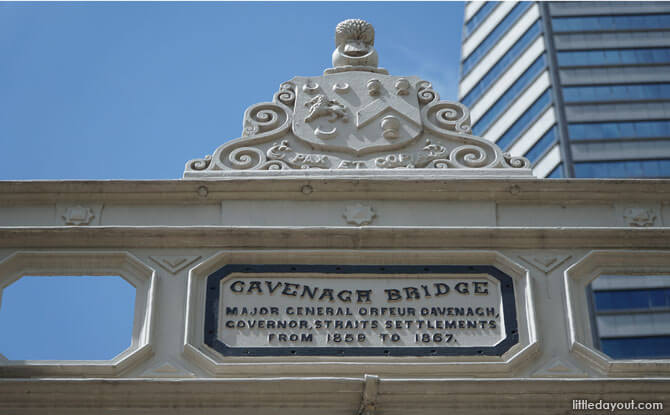 The Cavenagh family's coat of arms can still be seen on the crossbeams top of the bridge.
Cavenagh Bridge Connections
When it opened, rickshaws and ox carts were able to use the bridge to cross the Singapore River near to its mouth. Before then, people would have to pay a boatman to ferry them from one side of the river to the other.
Heavy traffic on the Cavenagh Bridge eventually led to the construction of Anderson bridge in 1910 to accommodate the increased flow of vehicles. Cavenagh Bridge was converted into a pedestrian bridge.
A historical police signboard from that period can be found at both ends of the bridge declaring it to be off-limits to vehicles where "laden weight exceeds 3 cwt. and to all cattle and horses."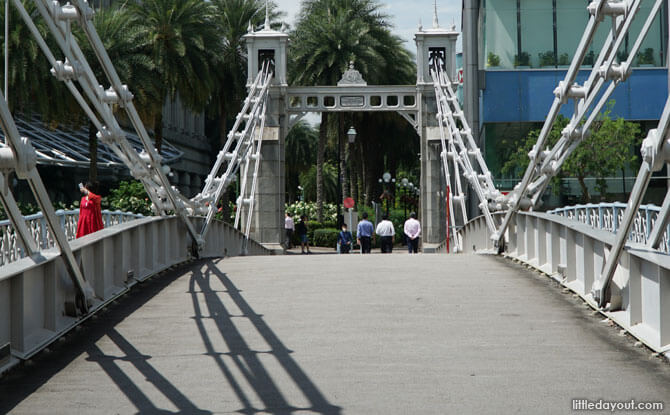 In 1987, Cavenagh Bridge was given a refurbishment to strengthen its structure. Today, it serves as a convenient connection between Fullerton Hotel, the former General Post Office, and the old Empress Place where the Asian Civilisations Museum and the Victoria Theatre and Concert Hall are located.
This article is part of a series by Little Day Out on the stories behind places in Singapore.
References
http://eresources.nlb.gov.sg/infopedia/articles/SIP_2_2004-12-17.html
National Heritage Board (2018). Singapore Trails – Singapore River Walk & Jubilee Walk. Singapore: Straits Times Press.
Dhoraisingam S Samuel (1992). Singapore's Heritage Through Places of Historical Interest. Singapore: Elixir Consultancy Services.