We all remember stories from Aesop's fables, don't we?
These short little tales existed long before Under One Roof's Tan Ah Teck ever said, "This reminds me of a story!" and have remained popular ever since.
Aesop was a slave from ancient Greece who made a name as a storyteller. His short stories, often involving animals, held nuggets of truth that always ended with a morale or lesson.
Even today, Aesop's fables are great stories that allow parents to illustrate ideas and lessons to their children. Many books have told memorable stories such as The Goose Who Laid the Golden Egg, The Lion and the Mouse and countless others.
In conjunction with I Theatre's upcoming theatre production of Aesop's Fables (26 February to 21 March 2015, Jubilee Hall, Singapore), Little Day Out is happy to present the Aesop's Fables Printable Activity Sheets.
Get Aesop's Fables Printable Activity Sheets
These printable activity sheets provide a fun and engaging way to introduce five of Aesop's fables to kids. These sheets are based on the fables of The Lion and the Mouse, The Goose Who Laid Golden Eggs, The North Wind and the Sun, The Fox and the Crow, and The Jay and the Peacock.
Also, be sure to catch I Theatre's first musical extravaganza of 2015, Aesop's Fables. I Theatre's skilled actors will be bringing eight of the best fables to life on stage with catchy songs, amazing props and imaginative storytelling. Going by the energy and excitement generated by their past productions such as Ant and The Grasshopper, Grimm's Fairytales and Puss in Boots, you can be sure its going to be an amazing time.
Be sure to book your tickets and get the Aesop's Fables printables from Little Day Out Shop today.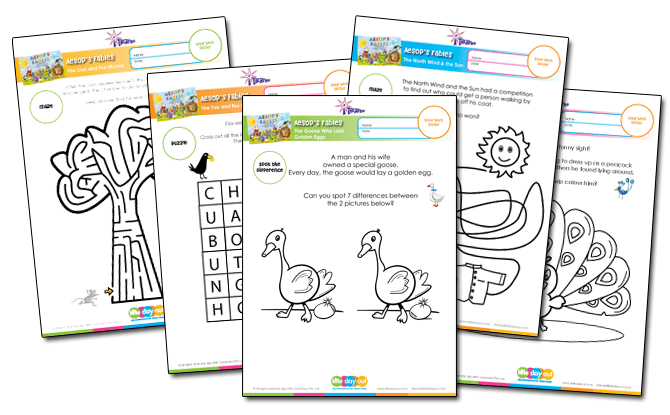 AESOP'S FABLES
SINGAPORE
Date: 26 February to 21 March 2015
Venue: Jubilee Hall, Raffles Hotel
KUALA LUMPUR
Date: 9 to 15 February 2015
Venue: PJ Live Arts, Kuala Lumpur
Recommended for: 3 to 13 year olds and families
Duration: 50 minutes with no interval
Tickets available through:
SISTIC Website www.sistic.com.sg
SISTIC Hotline (65) 6348 5555
SISTIC Authorised Agents islandwide