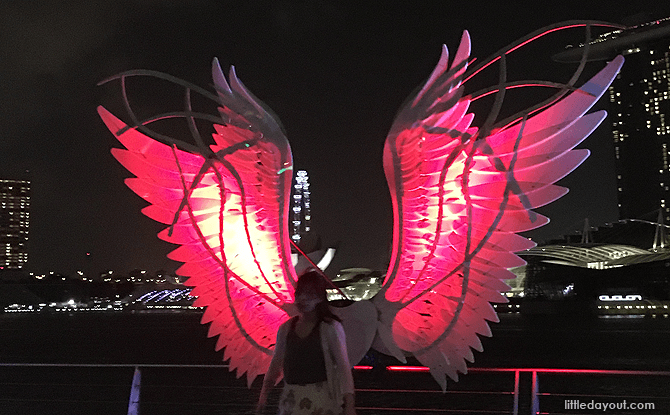 Described by some as the crown jewel in the Singapore skyline, Marina Bay is set to sparkle even brighter from this weekend till 27 March as i Light Marina Bay, Asia's leading sustainable light art festival, returns.
This fourth edition of the festival will see the waterfront glittering with more than 20 light installations. Taking inspiration from the theme "In Praise of Shadows", artists presenting at the festival come from countries like Singapore, Japan, New Zealand, Norway and the US. New to the festival are four local tertiary institutions will also be presenting artworks for the first time.
But don't think i Light Marina Bay is just a show of lights. In addition to the light art installations, there are plenty of other activities to look forward to at the festival include a carnival, outdoor camping trip under the city skyline and food from PasarBella, food trucks and a craft beer festival.
Here are X highlights of what families can look out for at this year's i Light Marina Bay.
---
-- Story continues below --
Light Art Installations
1. What a Loving & Beautiful World
One of the coolest installations at this year's festival, the lotus-shaped façade of ArtScience Museum gets transformed into a canvas with video projection. The public can visit a website (http://ilight.team-lab.com/) and interactively 'swipe' Chinese characters up to the art installation.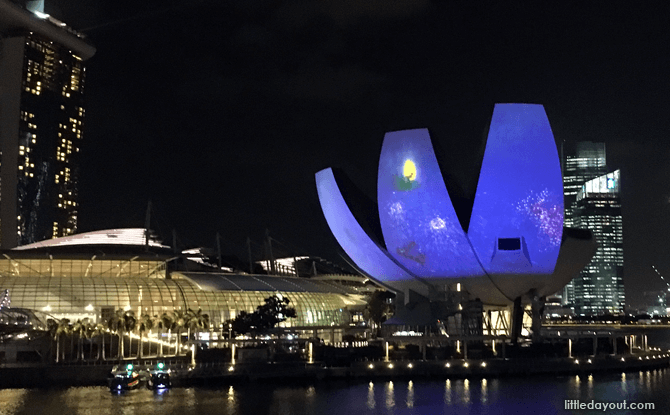 2. Clockwork Stories
This work by the Nanyang Polytechnic School of Design 'breathes out' bubbles. Interact with it through different contraptions and watch the bubbles come out. A playground and bubble machine in one – awesome!
3. Torrent
Torrent visualizes the patterns you leave in your wake with a virtual shadow created against a monochromatic landscape, transporting viewers into a dreamlike landscape. More importantly, it is just fun to wave your hands around and see your digital shadow appear on screen.
4. Angels of Freedom
These five sets of over-sized colourful wings is a fun spot to pose for a snap along at The Promontory.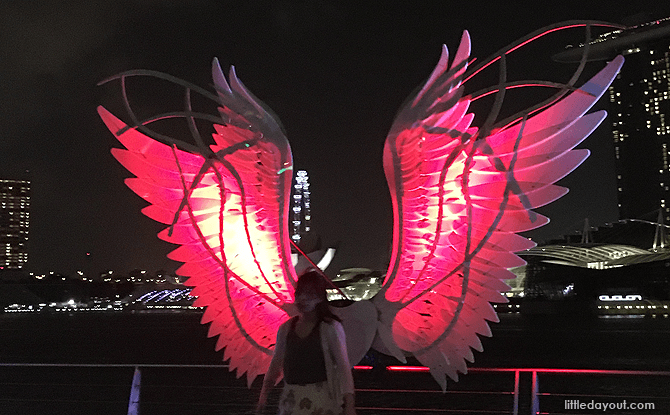 5. Groove Light
The shadows cast from 3D printed lanterns create a network of geometric shapes at this light installation. Viewers can shift the lanterns around to modify the lightscape.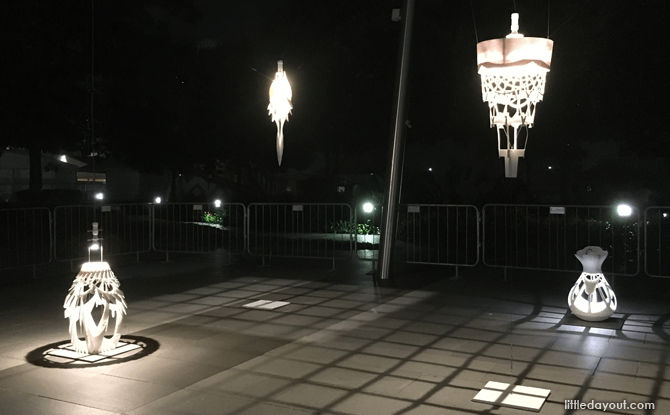 Other light installations to look out for include the drumming Sonic Tower, multi-coloured rocket ship at Ground Control to Major Tom and walk-in kaleidoscope, Light Origami at OUE Bayfront.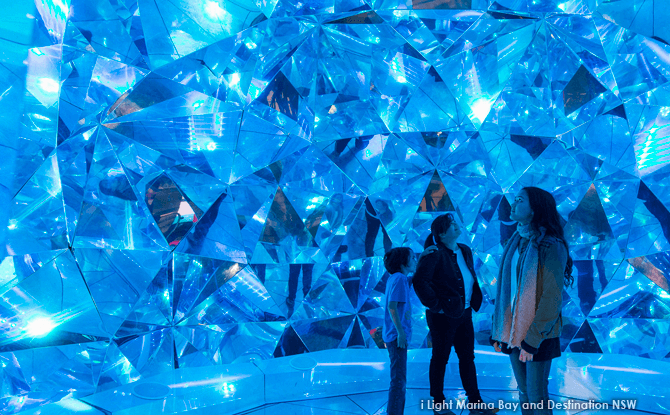 Other Activities
6. i Light Carnival by the Bay
Daily, 4 to 27 March, 7.30 pm to 11 pm
Bayfront Avenue & The Float @ Marina Bay
Enjoy rides and old-fashioned fun at Uncle Ringo's carnival.  Located next to Marina Bay Sands, there will be bumper cars and other favourites at this carnival.
7. LED Kites
11, 12, 18, 19, 25, 26 March, 9 pm to 11 pm
Bayfront Event Space
The skies around Marina Bay will be graced by LED kites flying in tandem to the music. Keep an eye out for them as they pirouette through the sky in an aerial performance every Friday and Saturday between 11 to 26 March.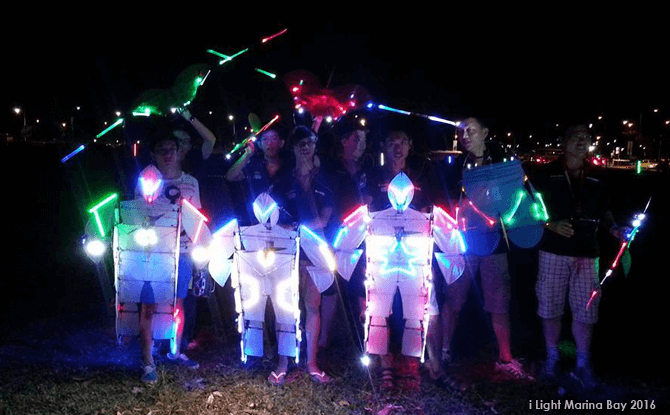 8. Kids Fiesta
12 & 13 March, 4 pm to 10.30 pm
The Float @ Marina Bay
Kids Fiesta is sure to keep the family entertained with more than 20 activites including an outdoor ice skating rink. Kids get to meet their favourite DC Comics characters, join in the Battle of the Knights, play on a mega bouncy castle and try out an electric scooter park. Admission is ticketed.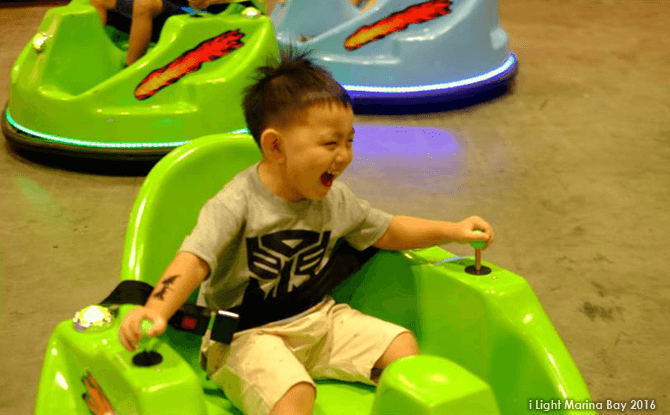 9. Adventure with Dad
12 Mar, 9 am to 13 March, noon
The Float @ Marina Bay
Go on a father and son camping adventure at the Float for some bonding time and create some fun memories. Designed for fathers with sons aged between 12 to 15 years old. Fees are at $350 per father-son pair including camping tent, meals, goodie and camp t-shirt.
10. Ninetbot Experience by Ninebot Asia
Daily, 4 to 27 March, 7.30 pm to 10.30 pm
The Float @ Marina Bay
Experience the future of green transportation by taking the Ninebot Robotic Transporter around a circuit in front of The Float. Fees at $10 to $15 per circuit.
11. Community Drumming Circle
18 to 20 March, 7 pm to 9.30 pm
The Promontory @ Marina Bay
The Community Drumming Circle is made up of a number of CCs and RCs that hold regular drumming sessions. Join them at The Promontory as they come together to make music. Anyone from as young as  four years old is welcome to join in.
12. LED Light Bulb Exchange
Daily, 4 to 27 March, 7.30 pm to 11 pm
Information Kiosk B (outside Marina Bay Sands)
Exchange your used incandescent light bulb for a new, energy saving LEDB bulb from Philips! Whilst stocks last.